Rail timetable change 2018
A new timetable was introduced on 20 May, affecting passengers right across the rail network with almost half of Britain's rail services rescheduled.
Unprecedented delays, confusion and cancellations have made life miserable in recent weeks for some Northern, Thameslink and Great Northern passengers.
The latest promise of special compensation above and beyond the usual is welcome. See our demands on behalf of passengers here and see our guide to claiming here. But passengers' first priority is to get services running so that they can plan their lives with some certainty.
Today's passengers are looking for three things:
stable timetables and reliable services
compensation for poor service, measured against the original timetable promised, not the slimmed down one now on offer
the whole rail industry to pull together to help passengers through this crisis. Lift ticket restrictions and help passengers whichever train company they need to use.
We are pushing to make these things happen on behalf of passengers and are continuing to help more passengers with their complaints to train companies.
Members of the Transport Focus team are out and about looking at how the introduction is going. We're also keen to hear from you – tweet us @transportfocus.
We will use this information to feed back to individual operators on how things are going.
Our National Rail Passenger Survey will help gauge passenger reaction once the changes have settled down.
Thursday 14 June
Turn up and might go
How do you set your alarm for a train that might or might not run? That's what many passengers are asking, as information continues to be patchy. It is turning into a real 'turn up and might go' situation.
Thameslink
Passenger comments and colleague experiences indicate that reliable information is lacking.
Yesterday afternoon a colleague checked to see whether one of the new Horsham to Peterborough trains would be running this morning (14 June). The National Rail Enquiries website confirmed that the 7.34 was planned to run – but when he checked again at about 7am, it was cancelled.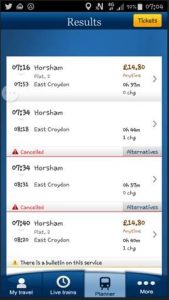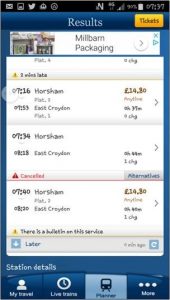 Thinking he'd then catch the 7.40, he made his way to the station. Here the 7.34 was still showing as cancelled, but he could see it at the platform so he checked with staff on the information desk and was told it was definitely cancelled.
He made his way to the platform for the 7.40… and two minutes later there was an announcement to say the 7.34 was running. After a quick dash he managed to catch this train – and yet a recheck of the NRE app still showed it as a cancelled service.
Meanwhile at Three Bridges last night a Littlehampton train arrived just under an hour late.
It was due to split somewhere on the route with only the front four carriages going on to Littlehampton. At least that was what was being reported on the platform by some passengers.
However, because of delays due to a trespasser on the line between Gatwick and Redhill, the whole train was going to skip intermediate stations and go straight to Littlehampton. Platform staff didn't seem to know this, so didn't announce it. Consequently passengers got on, and then off again, asking what was going on – they were frustrated and confused.
There had been some sort of announcement on board but clearly not everyone had heard it or understood it. They looked to station staff and fellow passengers for assistance.
Just as confusing are some of the very vague announcements about cancelled services heard at St Pancras. 'An operational incident' is not clear enough. We have challenged Thameslink to be more honest about the causes and to give assistance with alternative transport.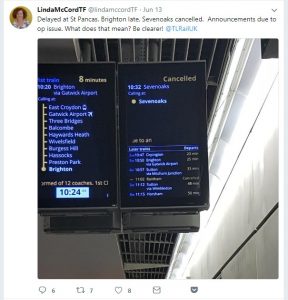 Northern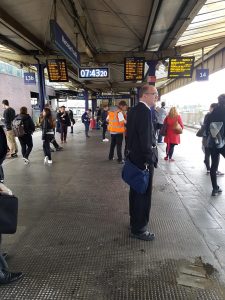 This morning a colleague attempted to get from Manchester Piccadilly to Blackpool North, but the direct train terminated at Preston. There was no announcement – our colleague only realised when the information screen at Leyland showed the train as Preston only.
At Preston, the announcer said the Blackpool train was going from the next platform, but the doors closed by the time he made it. Platform staff helped him get on further down where the conductor was, but the lack of information may mean that passengers were left behind.
On the way back he tried to catch the 2.23 train from Blackpool North to Oxford Road. Though station screens showed it as 'on time' it wasn't, and staff ushered waiting passengers onto a train to Preston instead. There were no announcements or explanations.
Passenger feedback
Passengers responding to our daily survey are indicating poor and confusing information too.
"Messed around going home. Got on a fast train (announced as fast & shown as fast on the display boards). At the next stop I overheard a platform announcement saying it was now slow (nothing announced by the driver). Had to change on to an already packed Farringdon station & then change again at St Albans, where the station was too packed for half the people trying to get to Harpenden to change platforms in time for the next train. In the morning the train was cancelled for no reason."
(Harpenden to City Thameslink)
The usual rail chaos with trains delayed by 30+ minutes or being cancelled. The communication is extremely poor, you are left to figure out your own alternative routes home
(London Bridge to Preston Park)
"Thameslink journeys have been utterly unpredictable so it's nerve wracking as well as frustrating. Will there be a train with room to squeeze on? When will I arrive? How late will I be? (Not will I be late as I know I will be) Should I just give up. After 25 years using the route I've no idea what the timetable is supposed to be. Online information is no use as allegedly on time trains simply disappear between setting off for the station and getting there."
(St Albans to St Pancras)
"Change to train times but no information available at stations."
(Bentley to Doncaster)
"Never sure if a train will turn up, and a lottery whether we get a seat.  Never had this uncertainty before timetable changes."
(Hazel Grove to Manchester Piccadilly)
One angry passenger is avoiding travelling as much as possible:
"It's all a nightmare. The present Great Northern Thameslink chaos has meant I've avoided travelling as far as possible. It's like train roulette – no way of knowing what trains are running or where they're stopping. Last minute cancellations; departure boards both locally and at Kings Cross that are pure fiction; on-train announcements that contradict what was previously displayed; timetable apps that again bear little resemblance to what actually happens; staff totally in the dark about everything."
Wednesday 13 June
We are pleased to see that rail operators heeded our call to allow passengers to travel with any company when affected by the timetable disruption.
National Rail Enquiries has set out useful info for disrupted passengers and you can also see a list of which operators will accept which tickets here.
Yesterday we reminded people to claim compensation when delayed. As the disruption carries on, it will be easy to lose count of delayed journeys. This handy website may help – you can check whether trains were delayed: http://recenttraintimes.co.uk/.
Gaps in services
Transport Focus is scrutinising the impact on passengers at stations where trains have been removed and subsequent cancellations are resulting in long gaps in services.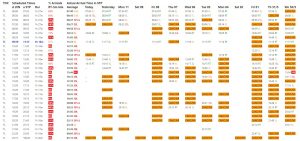 Between 7 and 8am on weekdays there are 5 departures from Littlehaven towards London of both Southern and Thameslink trains. The cancellation of the new Thameslink services means that passengers are either forced to travel to London Victoria, and then onto an already congested tube/bus network, or to change trains at stations such as Three Bridges/East Croydon to reach their intended destination. Often without being confident that their intended connection will arrive as planned. That connection might be considerably busier, and as a result less comfortable, than the direct train they would have caught.
During the off-peak period Littlehaven is fairly well served, with three to five trains an hour, but the frequent removal of the new Thameslink trains again means that passengers either have to change onto another mode once in London, or another Thameslink train at an interchange.
At the other end of the Horsham to Peterborough line passengers at St Neots are hit much harder in the off-peak. There the Peterborough to Horsham trains are meant to make up a half-hourly service, providing the only trains into London. As you can see from the screen grab below from recenttraintimes.co.uk, St Neots passengers have effectively been left without a service and no alternative:
A reliable timetable is critical. Where there is severe detriment like this to passengers we are pushing Thameslink to urgently address the issue and be honest with passengers about the impact.
Passenger feedback
Northern
Comments from passengers responding to our overnight survey reflect the stabilisation of Northern's service:
"2 consecutive days the trains have had only 5 minutes delay….hooray."
(Preston to Bolton)
However, a reliable train service doesn't just mean on time:
"The train was surprisingly on time, it is usually late. On the down side it had only 2 carriages instead of normal 4."
(Atherton to Salford)
And the emergency timetable means some passengers have had to change their plans:
"Again due to the emergency timetable I am getting a train 20 mins earlier, due to change of route the train is full of suitcases and busy… Just weary."
(Widnes to Manchester Oxford Road)
Some passengers have given up on rail travel and found another way to make their journeys:
"Before the timetable changes there was a direct train from Stockport to Kirkby. Following the timetable changes this train was removed. I now have to go Stockport to Salford Crescent then from there to Kirkby. The first day of the new timetable the journey took 4.25 hours due to cancellations. The second day took 3 hours or so. By the third day I gave up and borrowed my son's car which I have done every day since. These changes together with Lime St closing means there is no longer any certainty I can get to work and back in a reasonable manner."
Thameslink and Great Northern
Some passengers have noticed an improvement:
"My train the 07.15 departure was not cancelled today. Indeed it ran virtually on time. This is only the second time that this has happened since the new timetable was introduced."
(East Grinstead to London Bridge)
"Amazed we could actually get a train and not wait half an hour."
(Harpenden to St Pancras)
When this is not delivered, as continues to be the case on many Thameslink and Great Northern trains, passengers become bored:
"I am just tired of never being sure if the trains will run as per the timetable or how long my journey may be if they are cancelled or delayed."
(Harpenden to St Albans)
People become angry as they try to figure out what services are actually going to run:
"I went to London Bridge for the 11.30 to Redhill. This train was cancelled as the 11.18 to Rainham was stuck on platform 4 with no driver thus blocking any other trains from departing southbound. The 11.35 train to E.Croydon & Gatwick was cancelled. The 11.51 to Redhill arrived several minutes late & arrived 15 minutes late in Redhill or half an hour after 1 should have arrived at Redhill. On the way back I was lucky as when I got to Redhill station at 14.01, the 13.49 train to London Bridge was running 15 minutes late & I caught this train but it then got held up by a previous slow running train at Purley. It arrived at London bridge at 14.45 & unsurprisingly the 14.48 Thameslink train to Abbey was cancelled!"
Tuesday 12 June
This is the second week of Northern's emergency timetable, and industry statistics show services have begun to stabilise as a result of the reduced services and use of replacement buses on some routes.
On Thameslink and Great Northern this morning there are still clear problems with a number of late notice cancellations and delays on services from the north into St Pancras and London Farringdon.
One colleague travelled from Kings Cross from Ely on an extremely busy service with two stops scheduled. The driver announced a further two stops – this made the journey very stuffy and unpleasant and over 15 minutes late. There was much grumbling from passengers. The driver apologised for the delay – however, it was over the amount of time that allows passengers to claim compensation through Delay Repay 15 so why not announce that?
We are gathering daily input from passengers through a short daily survey. We want to hear how passengers are feeling, the impact on their daily lives and if they are seeing any improvement week on week.
We are using this information to demonstrate to rail companies how badly people's lives are impacted, and to encourage a generous compensation offer. Last night we heard that Northern passengers will receive a cash sum equivalent to one month's travel on the worst-affected routes. But passengers will want to know who is eligible and how they claim so they can decide if this is a good deal.
For more on what we think about compensation see our news release  or see our guide to claiming.
We have also published our letter to Secretary of State Chris Grayling here.
Passenger feedback
Thameslink and Great Northern
Some passengers are angry about confusing information both online and at stations including one NHS worker:
"- Wrong information shown on National Rail Website – Wrong information provided by Gatwick Airport Train Staff. – Advised to take wrong (very slow) Thameslink train to East Croydon to change to a connecting Southern train. Once we eventually got to East Croydon, the connecting Southern Train was 15 minutes late.
"I trusted the Train Station staff which made me very stressed, angry and late. If they had told me to wait at Gatwick Station for 5-10mins I would have been able to get the direct Gatwick Express train to Victoria, for which I have an annual gold card ticket. I would have got to work on-time.
"I was 30 minutes late for taking over from my colleague (a lone 24hour on-call worker in a stressful NHS central London hospital). I myself, also a 24hour on-call lone worker in the NHS, arrived at my work stressed and out of breath from running. This could have dangerous, unintended consequences for patients in the NHS." 
(Gatwick to Victoria passenger)
Passengers are frustrated by constant delays and the impact on being late to work and worried about how this is impacting on their reputation:
"Every train, every morning, has been delayed by 5 – 10 minutes. This may not sound much but it means arriving at work 10 – 15 minutes late every day – or having to leave the house 10 minutes earlier, well before 07:00. This is putting my position at work at risk as I am seen as unreliable." 
(Tulse Hill to London Blackfriars)
One passenger travelling from Royston to Cambridge summed up his indifference:
"It was a normal journey, nothing special and better this week as the train was a train and on time!"
Northern
Where the emergency timetable means trains are replaced by buses some passengers are losing out:
"I had to get a rail replacement bus from Ormskirk to Preston as the service I needed to use is one of several peak hour services swapped for rail replacement bus services in the emergency timetable. Journey takes extra 35 minutes."
(Ormskirk to Blackpool North)
Others are seeing the benefits of stabilising performance:
"Leeds – Southport services seem to be stabilising, the 1620 departure hasn't been cancelled since the middle of last week. This is an improvement. Trans Pennine services seem to be in less disarray, less disruption due to them running late."
(Leeds to Mirfield)
Passengers haven't got what they paid for and want compensation:
"Train was 29 minutes late and was unable to get on that or the next one. Had to get a bus. I have a yearly season ticket and have paid nearly £40 out on bus journeys since the new timetable due to cancelled, delayed and overcrowded trains. I have paid for a service and am not able to access it! I am unsure as to whether or not it is worth me renewing my season ticket in July."
(Swinton to Manchester Victoria)
Friday 8 June
The end of a torrid week for passengers on Thameslink (GTR) and Northern.
There is still no sign of the promised stability on Thameslink, with some passengers facing unacceptable gaps between services after cancellations. Some early, more promising, signs following the introduction of a temporary timetable on Northern.
See our letters to both operators here.
In the letters, as well as calling for better services and compensation, we invited the operators to attend special Board meetings in public.
These will be an opportunity to question the operators on what went wrong and, importantly, exactly what is being done to get things back on track.
Relaxing ticket restrictions
We pushed GTR this week to relax ticket restrictions so that passengers can get the first train that comes going to where they want to be. We suggested that passengers with tickets normally valid on Southern or Thameslink-only should for now be able to use the Gatwick Express. This is now happening.
Case study from last night
Abi, who is eight months pregnant, had a four-hour trek home from Huntingdon that included a slow crawl on a coach to Hitchin.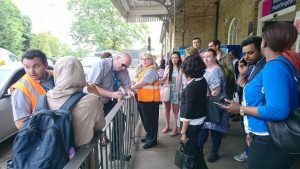 In a diary she kept for us, she described herself as 'hungry and sad' as the minutes ticked away and she still had no idea whether she had made the right decision to get on the coach rather than wait for a train.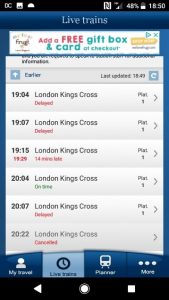 The journey should have taken 55 mins on Thameslink, and then another hour from Finsbury Park to South London. It actually took over four hours after successive cancellations at Huntingdon.
She concluded: "I think it's easier for me to be amused/upbeat by the complete bedlam because I only do this one or twice a week. I cannot imagine how soul destroying it would be to be stuck in this every single day."
Thameslink cancellations and poor information
A colleague tried to travel to City Thameslink from Harpenden this morning. Arriving at 9.50am, there was no train until 10.22. He and fellow passengers kept checking the information boards wondering why there were no trains going south. There was no explanation. Eventually a train arrived, extremely crowded, more like an early morning commuter service than a mid-morning off-peak train.
Replacement buses in the Lake District
Despite the temporary timetable that takes out 165 trains, Northern passengers continued to experience delays and cancellations.
We have been monitoring the situation on the line between Windermere and Oxenholme in Cumbria, where much of the impact is felt. See our recent report.
Today we went back to the area to find out how passengers are finding the replacement bus service . We found plenty of staff at Oxenholme and clear information about where to find the buses. However, the bus timetable means some long waits for connecting trains – more than 45 minutes on occasion.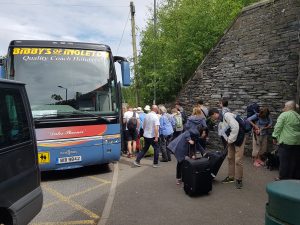 At Kendal we found volunteers from the Lakes Line Rail User Group helping out providing information to passengers. At 11.30am school children flooded through after exams and overwhelmed the mini-buses – some passengers were left behind until extra buses arrived.
Some passengers felt that at least the buses were better than unreliable trains – but frustrated that this is what it had come to.
Next week we're going to be out asking passengers on the Windermere route to complete a simple survey about their experiences using the buses.
Thursday 7 June
Passengers continued to face too many delays and cancellations today. It appears to affect both commuters early in the morning and those travelling outside of this really busy time.
Those planning to use Thameslink peak trains into St Pancras this morning would seriously question the impact of any stability in services promised by GTR earlier in the week as they faced delayed and cancelled trains yet again.
Some cancellations and delays at St P on the Thameslink line. This was the situation at 08.30. Otherwise fairly ok. pic.twitter.com/SMISQWnQmt

— Toby Cotton (@TobiasCotton) June 7, 2018
The experience for those travelling to Kings Cross was better.
However, for those travelling later on the morning, the service did not improve – if anything it appeared to get worse.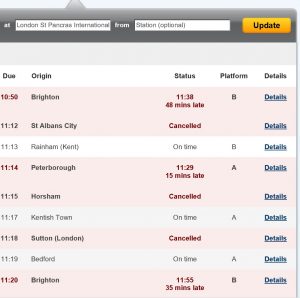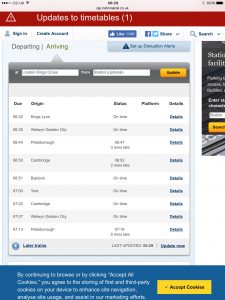 The situation really did not improve through the morning as trains from Brighton to London St Pancras were impacted by severe delays. Passengers arriving at Horsham and Sutton stations found their services cancelled.
We challenged GTR this morning about automatic delay repay as we were made aware that some passengers had heard this method of receiving compensation had been removed by the operator.
We were assured that the operator had not removed this facility for its season ticket holders and these continue to be processed as normal.
Where some confusion may have arisen for passengers is that in wanting to ensure that passengers get the compensation they are entitled to, GTR advised passengers that they may be best submitting a manual claim. So, trying to do the right thing but got muddled up in communications.
Wednesday 6 June
Passengers on routes in the North West are being forced to adapt to the emergency timetable introduced by Northern on Monday. We have continued to monitor services.
This morning there were still delays and cancellations that will have undoubtedly spoiled passengers' days, but so far not the widespread chaos of recent weeks. Passengers should expect nothing less since 165 trains have been taken out of the normal timetable and will be hoping the service begins to stabilise.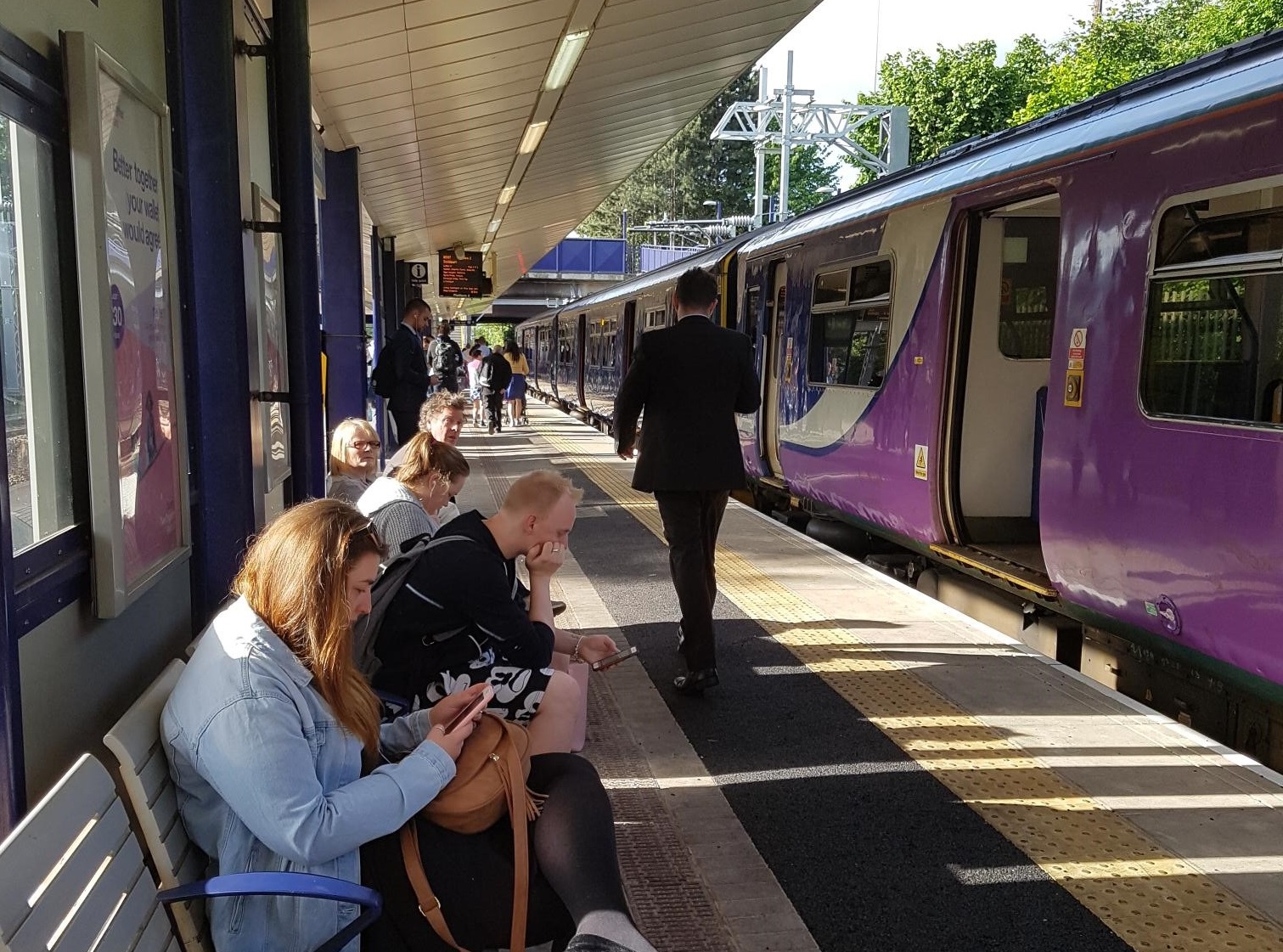 Trains arriving from North of Manchester were noticeably quieter this morning, while we have heard reports of increases in passengers on buses and cars on the road. Is this a sign that some passengers have had enough and are abandoning the train?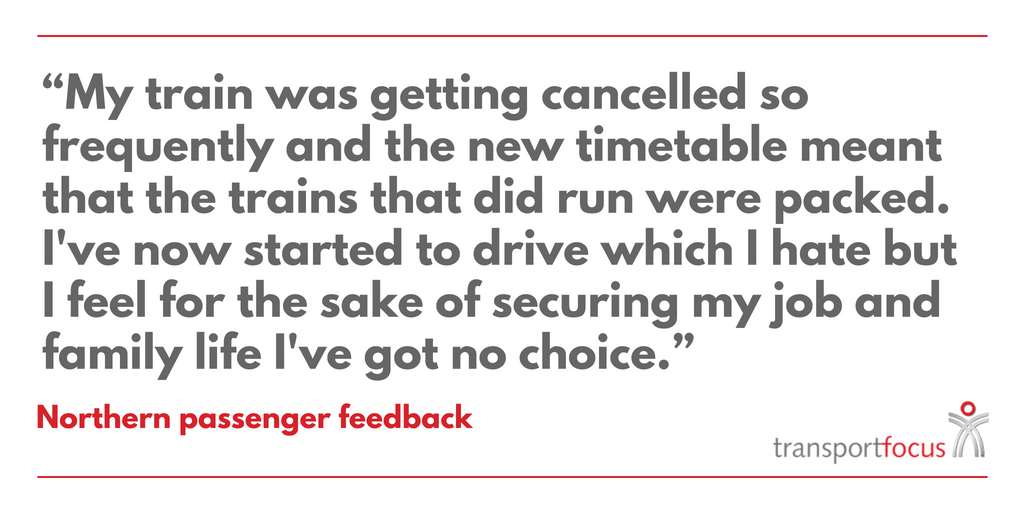 Where lines have been sacrificed and left with a bus replacement service passengers have every reason to feel aggrieved, not least on the Lakes Line in Cumbria where buses replace all trains for the next two weeks. We are calling for Northern to offer passengers Delay Repay compensation against the full timetable as Govia Thameslink Railway has.
Passengers deserve compensation if they are 30 minutes late or more in arriving at their destination because their service has been removed from the timetable or replaced by a bus. It's vital the special compensation scheme announced this week reflects the extent of the disruption to people's lives. Passengers will be keenly awaiting details from Northern about how to claim.
What's needed now is certainty about the timetable for the coming weeks. Northern have said it won't run a full service until the end of July, but what should passengers planning a journey for next week do? They need a published timetable they can rely on.
Thameslink passengers call for better information
Colleagues were out on the ground during the Tuesday 5 June morning peak reporting services through London Bridge and Victoria were running okay. When we looked online it showed a few services delayed arriving into St Pancras and Kings Cross.
A colleague reported it being extremely crowded during 5 June morning peak 0735 Wimbledon Chase to City Thameslink service.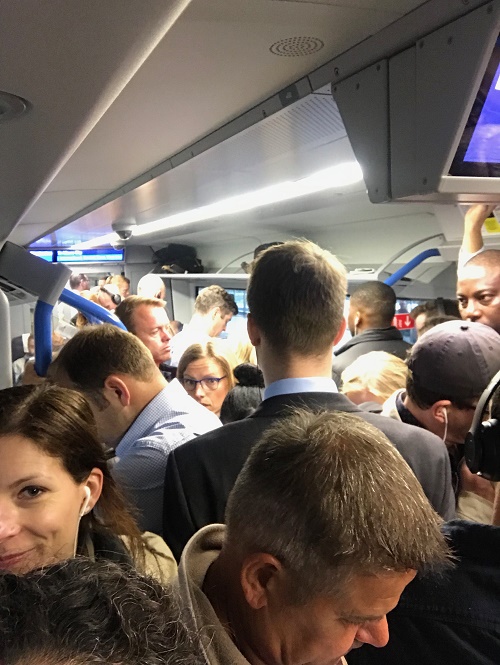 The evening peak so far this week has been a real mixed bag. Colleagues reported a relatively normal service at Victoria. However, passengers arriving at City Thameslink were faced with cancellations. Services from St Pancras to Bedford all looked fine but services to Luton and Peterborough were cancelled.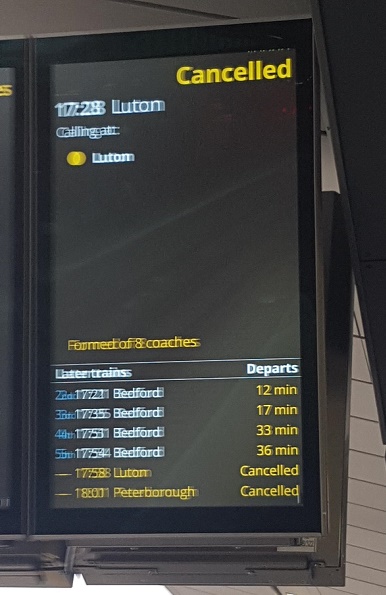 Information updates online are not helping passengers and can be confusing. A colleague needing confidence on times of trains home to pick up their kids checked as instructed by GTR only to be faced with confusing information about disruption.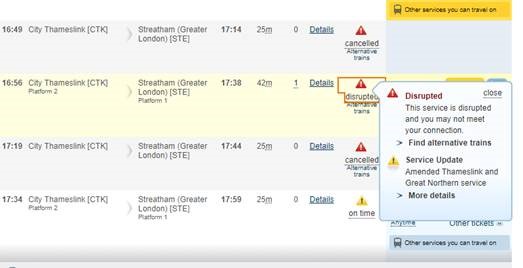 She fed back to say…
"What the hell does this mean?! My service is disrupted – does that mean delayed or cancelled?? I now have no idea whether I'll make it back for nursery pickup and I can't realistically be leaving work in time to get a 4.30 train home!"
Tuesday 5 June
Unprecedented delays and cancellations continue to make life miserable for some Northern, Thameslink and Great Northern passengers.
The announcement of special compensation above and beyond the usual is welcome. But passengers' first priority is to get services running so that they can plan their lives with some certainty.
An inquiry into what has happened and why is welcome – including an understanding of how, despite strong assurances, these welcome investments and potential improvements have gone so sour.
The relative roles played by governments, Network Rail and train companies need to be analysed and understood so that timetable planning can be put back on a proper footing for the long term. This can't be allowed to happen again at the next timetable change in December.
On 4 June our chief executive met with Nick Brown, chief executive of Govia Thameslink Railway and pushed on the following improvements:
stable timetable that allows passengers to plan better
better information and lots of staff on the ground
compensation over and above Delay Repay 15.
GTR assured him that they are working hard to develop the stability and information for passengers. They agreed that better compensation is required.
Yet more disruption for passengers…
Members of the Transport Focus team continue to go out and about looking at how well the introduction is going.
It was not a good start on Thameslink on Monday 4 June as early morning delays and cancellations into London St Pancras showed.
Later in the morning passengers at Blackfriars were faced with a screen full of cancellations and delays.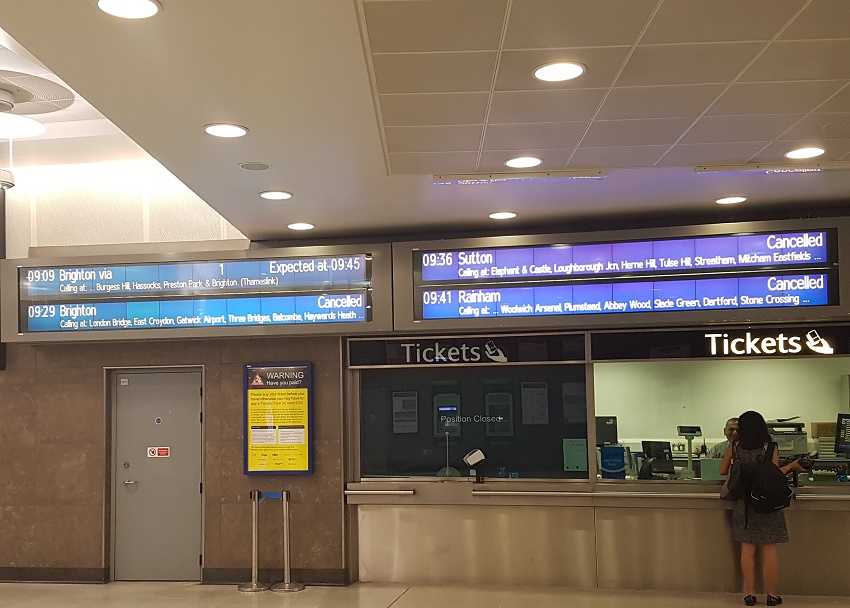 Passengers expecting to catch trains from London Bridge also faced delays and cancellations.

Northern rail emergency timetable
Despite the introduction of the emergency timetable Northern passengers faced more disruption.
@northernassist Not happy! Again the 07:12 is cancelled. @AndyBurnhamGM pic.twitter.com/PWy3mcyWvQ

— Becky M (@BeckyMatley7) June 4, 2018
Under the new timetable around 165 trains a day have been cut until the end of next month.
All services on the Lakes Line to and from Preston, Lancaster and Oxenholme are operating as a replacement bus service.
One passenger told us about the impact the timetable disruption is having on their life:
"I travel on the Bolton to Manchester line and, to be honest, it's hard to know where to start. Since before the introduction of the new timetables, Northern were cancelling or delaying trains during rush hour. Introducing the new timetables has exacerbated the disruption… Travelling to work has become a complete lottery…."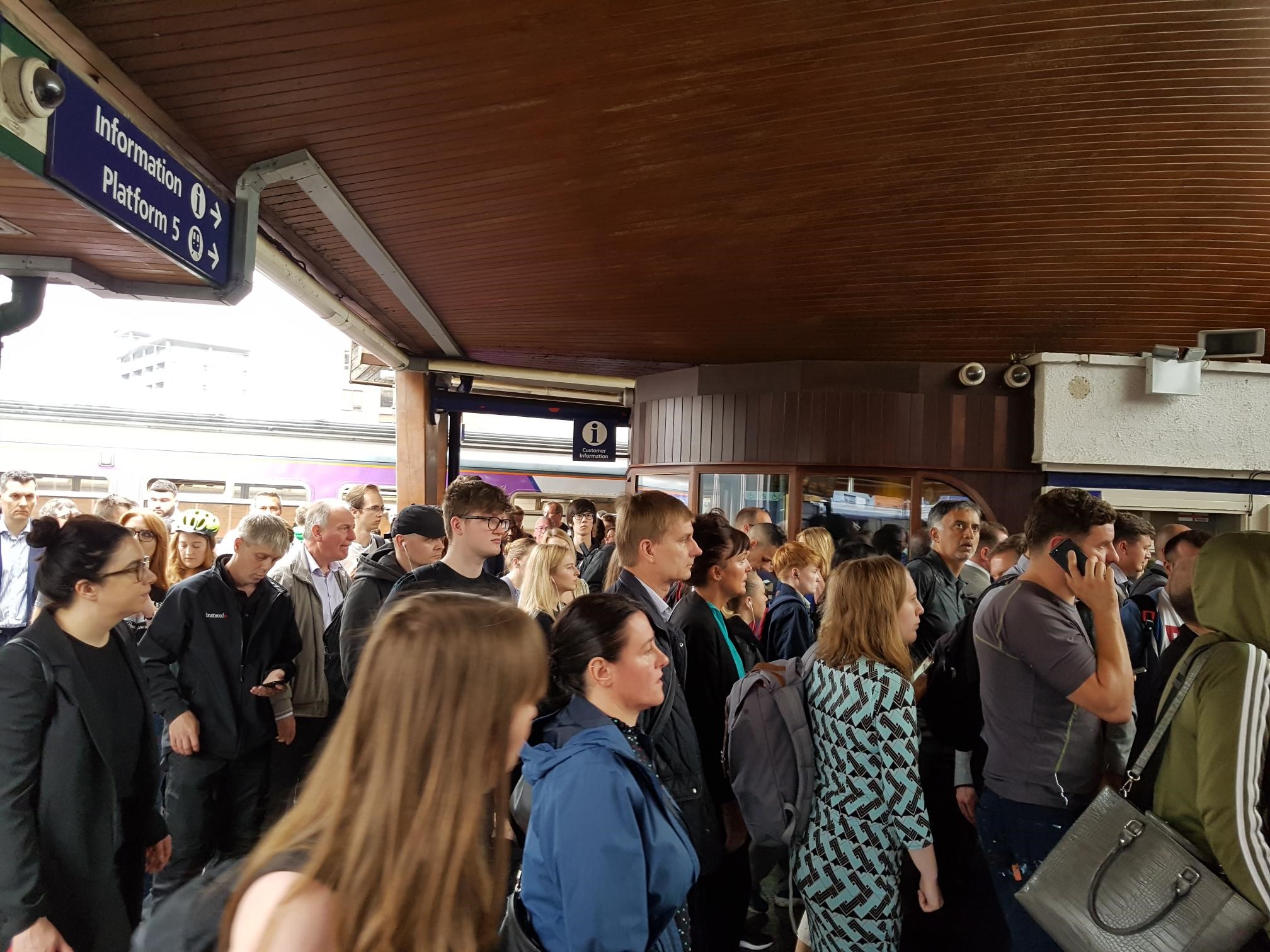 Northern has announced a temporary change to its timetable to help reduce delays and cancellations.
Passengers have clearly been let down and will want to see services back to normal as soon as possible. They need accurate information, at stations and online, now.
Continuing poor performance has eroded their trust in the railway. To start rebuilding that trust we want to see an honest, realistic interim plan that leads to a return of reliable services.
Passengers deserve better compensation for the misery they have experienced, especially commuters who have paid in advance through their season ticket.
We continue to monitor the impact of the timetable changes. Transport Focus has discussed recovery plans with senior staff at Govia Thameslink Railway and Northern.
We are calling for:
delivery of a reliable timetable quickly, one that passengers can trust and not have to check every time they travel
a focus on accurate, clear and consistent information that allows passengers to make decisions about their journeys
compensation that goes beyond the minimal obligation of Delay Repay.
Cancelled and delayed trains
This has clearly been another very frustrating week for passengers on some Northern and GTR train services with many trains were either delayed, cancelled and crowded when a service did turn up.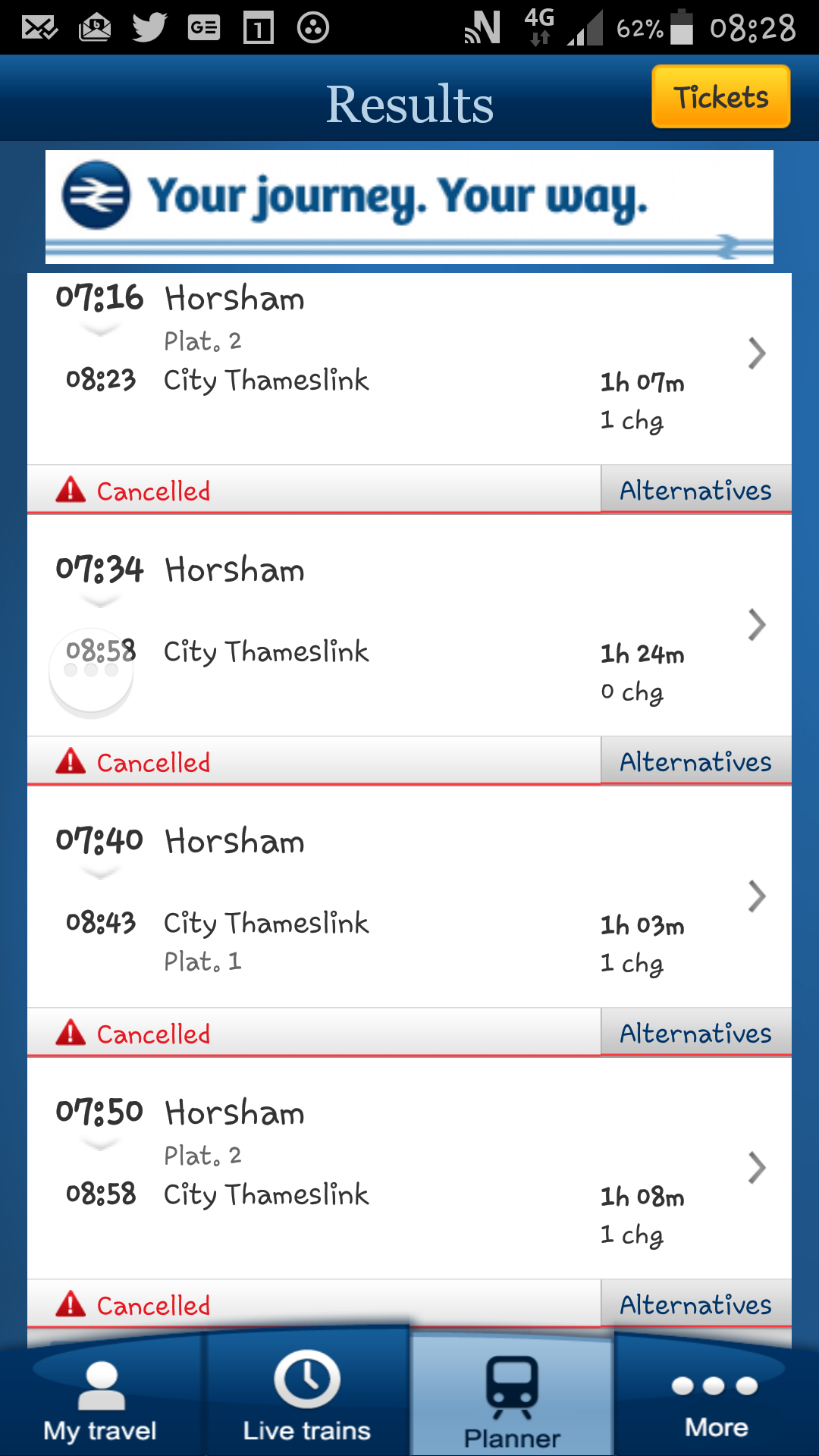 This morning a colleague was stuck at Horsham with pretty much every service between seven and eight o'clock cancelled.
The 07.34 service is one of the new Thameslink services that appears on the online journey planner one day, and not there the next. It was showing this morning on journey planners and on the station screen as running but then cancelled just one minute before departure.
Lack of confidence in information
The lack of confidence in information both online and at stations is adding to passenger frustration.
A colleague relayed a commute from Finsbury Park to Welwyn Garden City this week. Trains are now much longer and therefore less crowded. However, the main frustration from the timetable change is that all the information is wrong on the app. So she will turn up at the station and the app says that everything is running normally and then there won't be a train for twenty minutes.
Our colleague said that it's particularly frustrating as the staff also have no idea what information is correct. Whilst she appreciated that it wasn't their fault, it meant there is no one to ask for updates. The other day the staff announced 'We've lost a train, it's just gone missing!' which obviously isn't helpful info for anyone.
She feels this lack of information is the most frustrating part of the whole change because it really affects her ability to plan.
Mixed experiences for passengers
A member of a rail user group reported that the main impact on him has just been restricted choice travelling Harpenden to and from London. Out of 12 journeys this week he had a seat on all of them, six right time journeys and just one journey that triggered Delay Repay where delays are 15 minutes or more.
A fellow member of the group who travels from Leagrave to West Hampstead reports out of their 10 journeys one journey was on time and five journeys were more than 15 minutes delays. Six of the journeys were so crowded that passengers were "crushed" against one another.
All Northern services between Oxenholme and Windermere have been cancelled.
One passenger travelling on Northern wrote us to tell about his concerns:
'I really hope things improve. I have now stopped using the train as Northern cannot be relied upon.
I don't envisage seeing any improvements on the horizon. What a mess it is…
The wider issue here is how and why were Northern allowed to even proceed with the new timetable if they knew it was going to fail?
Or did they not even realise this? It is also interesting to note that the staffing issue was quite late to emerge as a reason for the disruption. I am amazed that there is no accountability anywhere.
I value bodies like Transport Focus as they really do get the issues from the perspective of the customer. My concern is how much Northern have not been honest – the delayed infrastructure handback from Network Rail has been exaggerated. There is no owning up to their staffing issues or allowing Rest Day Working to be pulled – surely they knew this would impact on delivery of the timetable.
Anyway, thank you again for your efforts and please do keep the pressure on them.'

Passengers just do not trust the new timetable. Too often this week they have turned up at stations expecting to catch a particular train only to find it is not running or delayed.
---
Monday update
Delays and cancellations continue for passengers on Thameslink and Northern services.
Members of the Transport Focus team continue to go out and about looking at how the introduction of the timetable is going, how passengers are impacted and how operators are handling the disruption.
During the return to work after the bank holiday, on Tuesday, there were more than 250 cancellations on Northern rail services. Transport Focus also observed many delays and cancellations on Govia Thameslink Railway services.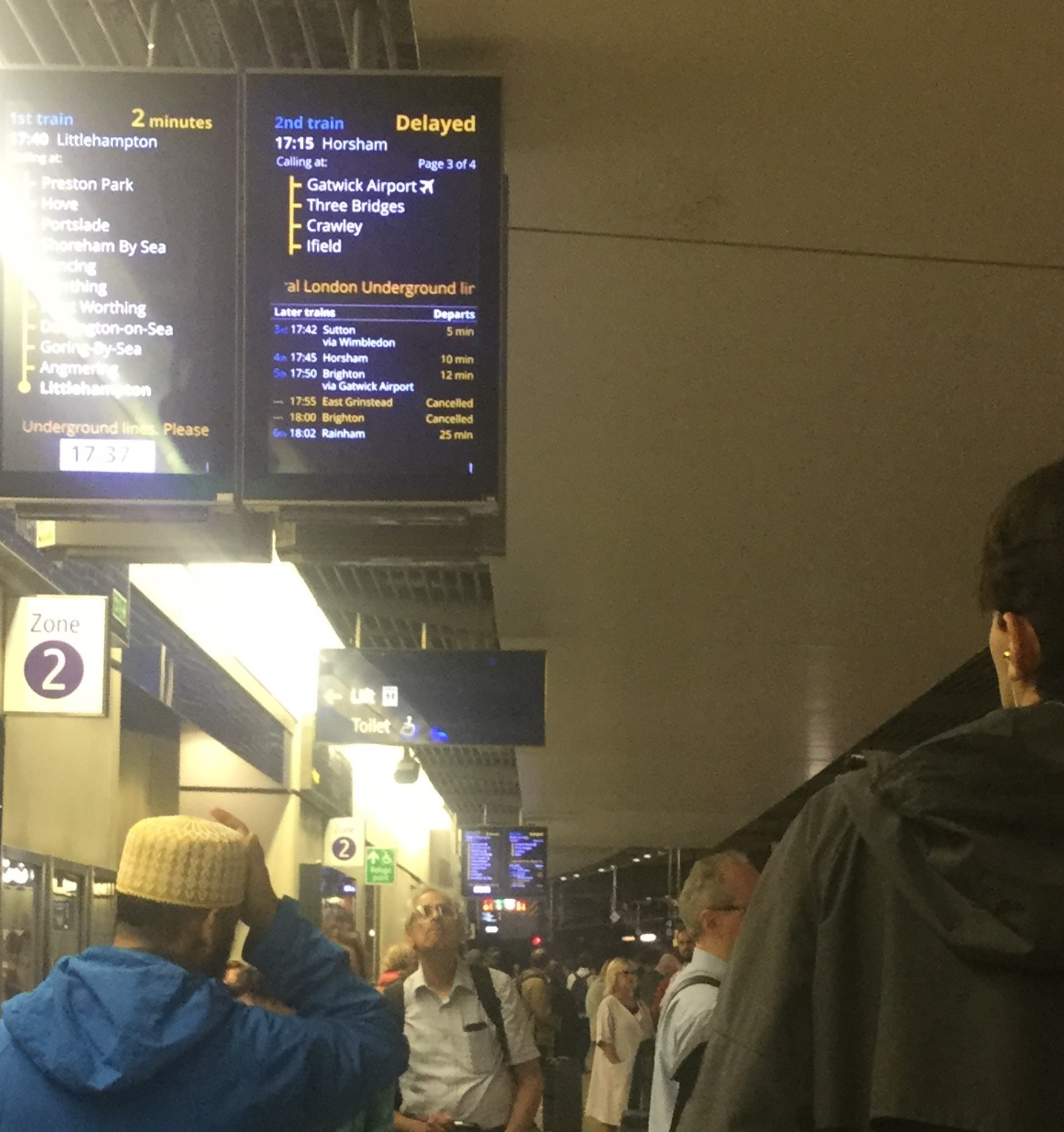 It is clear commuters have been let down and will want to see services back to normal as soon as possible. They need accurate information, at stations and online, which matches what is actually happening on the ground. Train operators and Network Rail need to show that they can run things reliably even when bringing in change.
We want to know when passengers can expect to see this settle down and when they can rely on the new timetable. We're also calling for generous compensation for passengers when things do go wrong.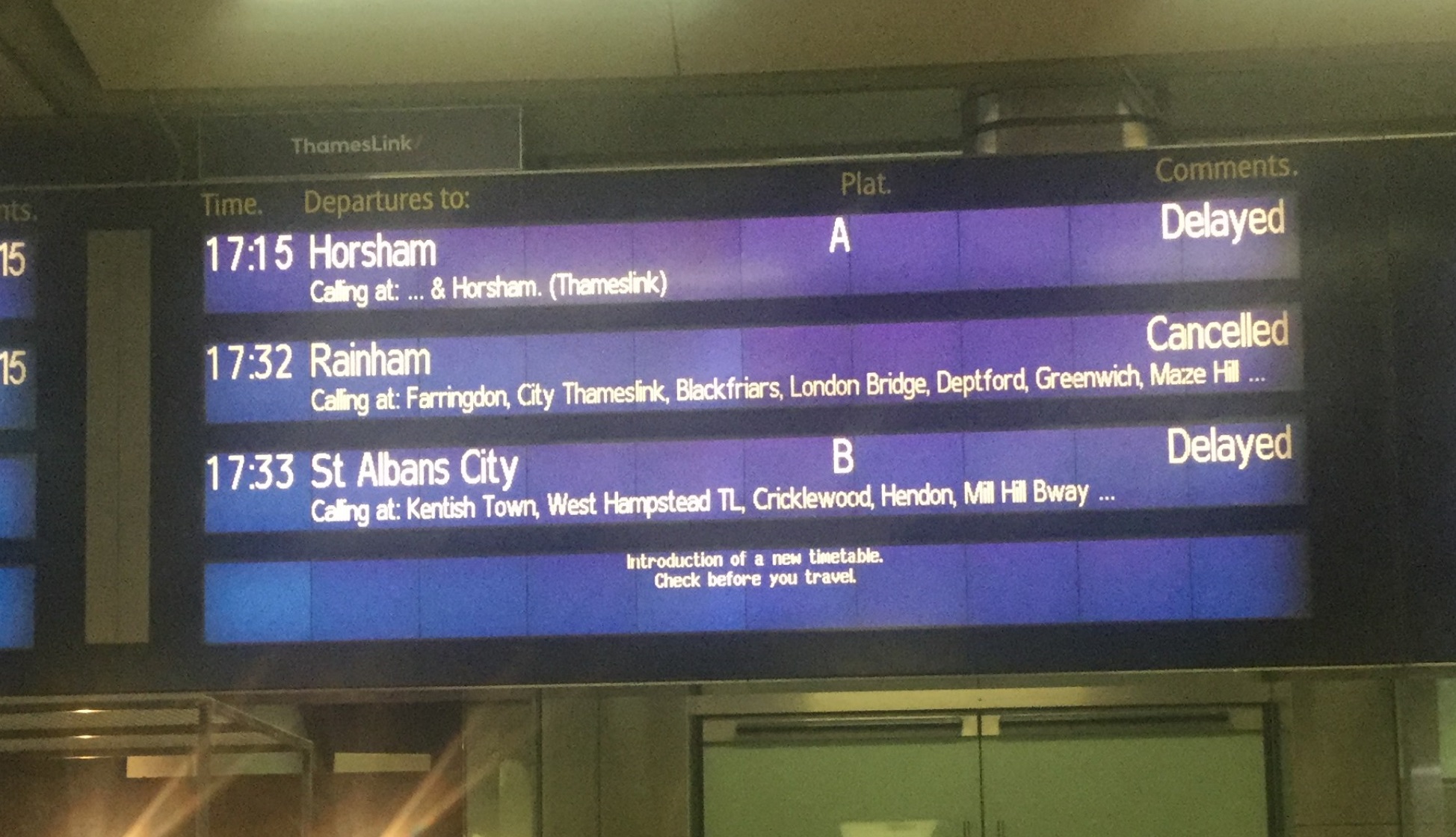 As many commuters get back to work after the half-term holiday next week we will be looking to operators to get the timetable back on track.
In the meantime, train operators must:
be generous with compensation when things do go wrong
have plenty of staff on the ground to help passengers
make sure there is clear, accurate and concise information at the station and online.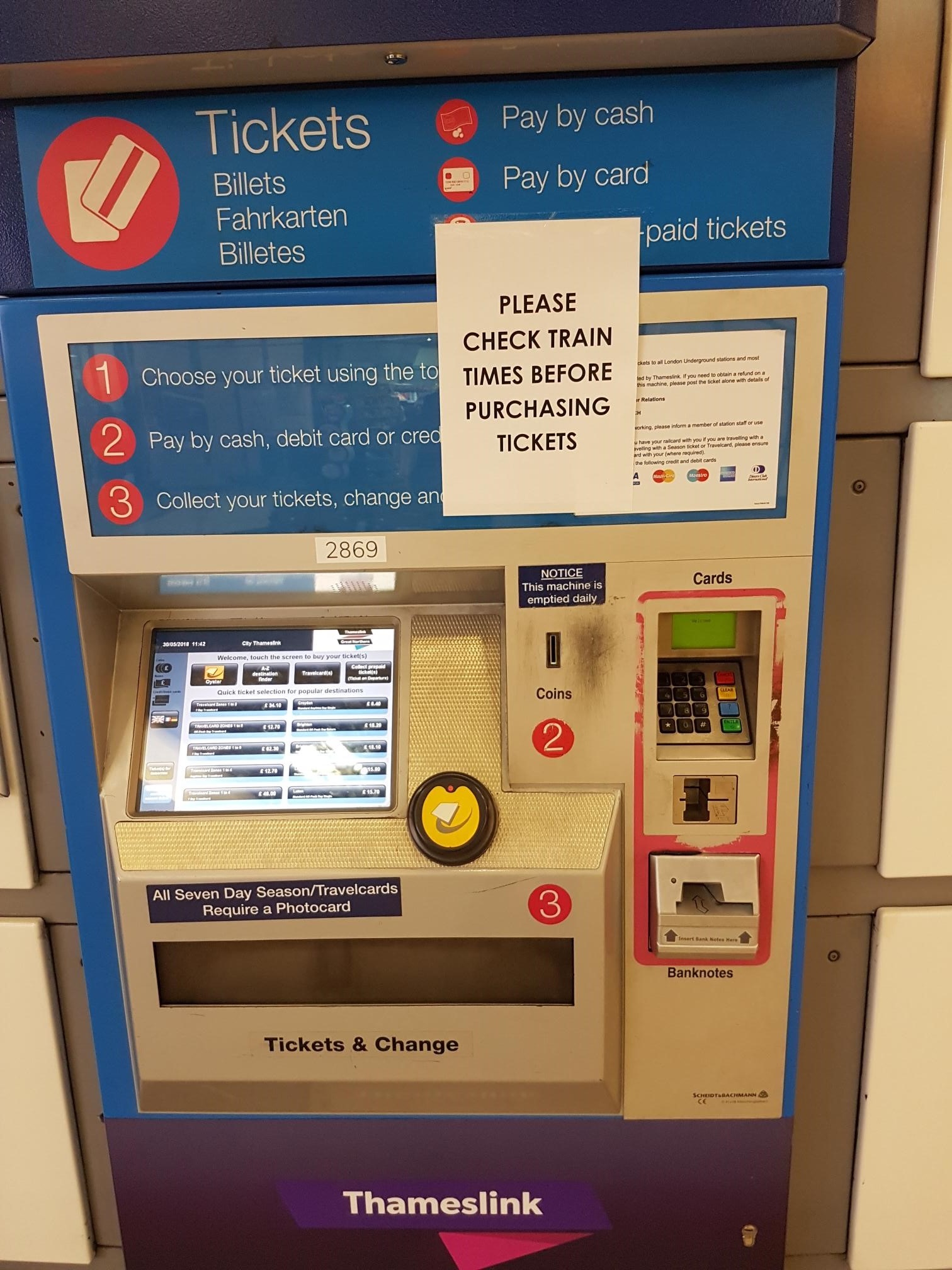 We're still keen to hear from you. How has the timetable affected your journey? You can tell us about your experience by tweeting us @transportfocus.
We continue to use this information to feed back to individual operators, transport authorities and Government on where things can be improved.
How did it all go?
Some Northern passengers had a torrid time. Many trains delayed or cancelled in the North West. One in seven of its services were cancelled on the first morning, with a further 17 per cent delayed by at least five minutes. There were lots of staff around and good information at places like Bolton but this no substitute for sticking to the basic promise of the railways: running the trains on time.

We were at St Pancras from early morning right through the peak Thameslink rush hour. Yes, some trains were cancelled and some delayed but generally it seemed alright. What was noticeable was the crowding. Changing times is pushing people into different, already busy services. Trains need to be as long as possible. While an eight-carriage train might have worked in the past the pressure on the system means 12 carriages are needed. We will keep a close eye on these crowding levels.
Transport Focus have also been out on Great Northern and Southern reporting similar experiences. Lots of Govia Thameslink Railway staff were actively helping passengers get to grips with the changes.

So, as passengers get used to the new times and as the industry gets used to running them hopefully teething problems will get ironed out.
You can read more about this in our chief executive's latest blog here.