Nine Future Stories
Nine Future Stories
These are potential stories of future passenger expectations and needs. They demonstrate the mix of key contextual and consumer trends.
Instead of painting a single vision of the future, the stories are intended to bring to life the most important developing passenger mindsets with some potential specific examples of how the future may look.
They represent opportunities for innovation in services and are designed to inspire action.
1 – Total access
A key priority for the future is a public transport system which champions access and inclusion for all segments of society.
This impacts those who are vulnerable or with disabilities, poorer or lower-skilled workers, and families with a need for more flexible childcare arrangements
For many of the groups, particularly older people and school children, a much greater value will be placed upon the safety of public transport. Clear, easily understood way-finding and guidance systems will be required at all points of the journey.
For those groups making decisions about the financial cost of work-related journeys, questions regarding how far the Government or businesses might be able to assist grow more and more relevant
To cope with these requirements, there is a need for more flexibility in the physical and service design.
"For older people it is difficult – they are not so attracted to carrying luggage, going up steps, carrying your shopping onto the bus; everything that has typically been associated with public transport."
Dr Robin Hickman, transport studies unit, Oxford/Halcrow
"Are urban transport systems planned to fully account for women's transport needs?  Women tend to be more 'encumbered' – with infants, shopping etc.  They tend to take a greater share of the caring roles which means more complex journey patterns.  They also have different priorities and perceptions – such as fears about security and concern about air quality issues."
Susan Claris, ARUP
Examples:
Madrid follows a universal 'design for all' approach to its city centre planning. Such planning not only re-considers what public space is, in conceptual terms, but also pays particular attention to the specific way it can be physically navigated by all sections of society.
 It includes smart design details such as tactile paving for elderly and partially-sighted citizens, ergonomic street furniture, well-lit and accessible restrooms, and swiftly comprehensible way-finding
The Berlin-Brandenberg line (VBB) has developed its online journey planning tools within the framework of the research project 'Baim' (BMWi) to ensure that those requiring 'barrier-free' or 'limited access' public transport routes are well catered for.
Implications
It is a crucial to put social inclusion at the heart of the public transport service. This suggests:
An opportunity for partnership with relevant bodies such as Age UK
Using 'design for all' principles across the passenger journey: how can the needs of poorer people, mothers, older people, children, and disabled people be taken into consideration for ease of access
Safety becomes a greater priority, underlining the need for a staff presence.
A mobile app allows a range of passengers to plan public transport journeys according to their specific requirements. This is about equipping more marginal groups with tools to navigate and overcome potential barriers.
* * * Back to top of page * * *
2 – Customised and flowing experience
The willingness of passengers to accept a 'one-size-fits-all' system will decrease over time as industries and services offer bespoke solutions, enabled by technology, with the aim of empowering the customer.
If transport mimics trends seen across many other service industries, people will expect more individualized information
Flexible, personally-responsive developments could signal the end of the traditional timetable.  Passengers will be alerted to journey changes via their personal mobile devices.
Flow and a sense of personal control, not just speed, is the priority here. Passengers should never be held up by having to wait for information.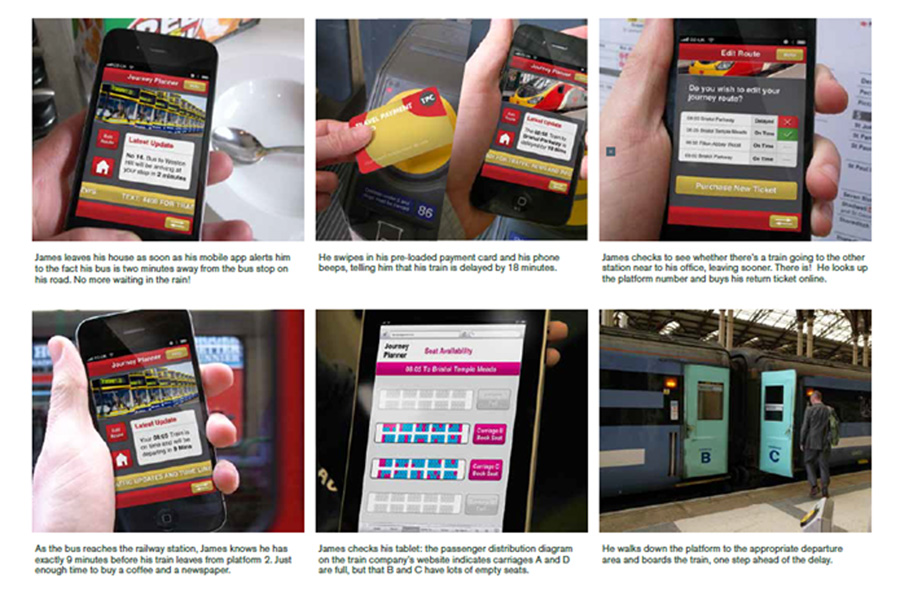 "The future of transport is as much about the transport of information as it is physical mobility."
Dr Michael Hulme, Social Futures Observatory
"The way people went about [their] lives was more uniform in the past – the residential unit, where people worked, where people socialized. Now it's more mixed, more diverse, lots of economic decision makers with different needs. Groups of people living together have their own needs, their own money – separate money.  Fundamentally, this means more independent decision makers, and an ever greater appetite for personalization."
Dr Richard Batley, director of research, Institute for Transport Studies, University of Leeds
Implications
This is first and foremost a challenge for fluid information provision and exchange to provide a feeling of personal control
There will be a focus on real-time data provision, open source data services, filtered for personal relevance
The increased diversity of journeys and needs requires a deeper segmentation of passenger needs as the willingness of passengers to accept a 'one-size-fits-all' system will diminish over time.
Examples
The Spotify mobile app provides the same content and level of functionality as the PC/Mac version, thus increasing the 'flow' of the user's day. Time away from the computer ceases to become time away from the music collection and listening options.
Digital signage at car parks displays the number of free parking spaces in the different zones, suggesting the route you could take as you drive. This is a simple idea that removes the chance of breaking up the flow of customers' experience.
* * * Back to top of page * * *
3  – Collaborative travel
Travel will become more collaborative over the next decade, both in terms of how people travel and how the industry interacts with travellers.
In a world where collaboration with peers is more productive, efficient, and transparent, people will expect to become partners with, rather than customers of, service providers
Grassroots communities which provide travel solutions to fellow passengers will grow. There will be further growth in consumer-led, online peer-to-peer travel advice and conversation, sparking a 'democratisation' of travel
Passengers will see an increase in the number of person-to-person – or person-to-object – conversations they are able to participate in, and will expect a more immediate response from these conversations. For example, a train might Tweet to say that it is on time, and has seats available in certain carriages
Companies are already becoming more adept at allowing people to take control and ownership of how they interact with products and services, and at providing more supportive customer service.
"We're looking at lots of different ideas in terms of making the experience on our planes unique. [We're looking at] ways of creating better opportunities to meet one another. At the moment we have a crude version, seat-to-seat chat, but the new version will be internet-enabled, through the seat back, involving social networking and social gaming throughout the craft and maybe craft-to-craft."
David Cush, chief executive, Virgin America
Examples
Some UK councils have set up Safe Route to School schemes: web-based public forums for public communities (parents, schools and pupils themselves) to enable the collaborative sharing of day-to-day information about school journeys.
FixMyTransport is a collaborative website designed to solve specific problems that passengers encounter whilst using public transport. It gives passengers the tools to report their public transport problems to the correct operator or authority.
Implications
The nature of relationships between passengers and travel providers will change, moving from a model of service provision and selling to being an aggregator of information and facilitator of relationships
There is a potential new space for travel agent-style brokers who filter aspects of diverse points of information together for the individual
Providers will need to think more about the value of their lifetime relationship with a traveller, than the next transaction
A more personal relationship between provider and passenger may well lead to expectations of rewards/incentives.
Person-to-object Twitter feed, showing how services might personally relate to their customers.
* * * Back to top of page * * *
4 – Useful mobility
We're not just travelling to places, we are doing more things as we travel. The future is about passengers' ability to remain switched on, tuned in and productive while using the public transport system.
As mobility becomes more complex, and full of more activities, the idea of travel time as 'lost time' could be dramatically reduced, or even made entirely obsolete
As economic conditions and congestion put constraints on physical travel, there is the very real possibility that people will travel less but want to do more when they are on the move
In terms of leisure travel, when the onus to simply get you there is removed, the destination and feeling of exploration begins from the journey's outset – replacing passengers' conventional sense of what constitutes 'the destination'
Public transport can become a hybrid space between office and coffee shop cultures, to remain in step with other trends seen across the rest of the service industry. This will reflect the increasingly dated distinction made between work and play.
"Mobility is less just a means of moving, and more a set of multiple activities."
Professor John Urry, author of Mobilities journal, University of Lancaster
"Energy, transport, business, public services and food supply can no longer be considered in isolation. We need to create integrated mobility systems that will provide people with choice, flexibility and seamless connectivity – whether they are travelling from one place to another or accessing goods and services in all sorts of different ways."
Forum for the Future
Implications
Fundamentally, this is about the public transport infrastructure becoming more valuable to everyday life, which requires greater integration in terms of planning
There is a need to take advantage of new urban environments, which become infused with the "internet of things" and technological or virtual access to goods and services
Initiatives will have to be developed to give people more from their journey time – to offer them more than simply a means of getting from A to B
Examples
In South Korea, a platform-length interactive billboard was installed in a subway station, designed to look like a series of supermarket shelves displaying images and prices of common products, each one with a QR code attached. Customers scanned the code of any product they wished to purchase, and then orders were delivered to the user's home the same day.
Kings Cross Hub is a listed building, one minute from Kings Cross station, where members are offered an 'inspirational place for meeting, working, innovating, learning and connecting'. It borrows elements of a members club, an innovation lab, a 'think and do' tank, a serviced office, a lecture hall and the comforts of home. It attempts to rethink the relationship between work, leisure, and journey time by blending them into one physical area.
* * * Back to top of page * * *
5 – Going local
A number of factors point to the need to plan for a future of more frequent local journeys:
An increased ability to work/connect virtually has strong potential to reduce the need for some longer-distance journeys – but conversely increases the desire to maintain face-to-face contact locally
Older people tend to make more local journeys, and greater numbers of single people will mean more thriving activity hubs within local areas.
Additionally, people are seeking to feel a closer connection to the place where they live and, if visiting, to learn about local nuances and stories
Urban planners are placing increasing focus upon using our suburbs (where 80% of Brits live).  Efficient transport has the potential to enable passengers to travel quickly and smartly in and out of suburbs, offering genuine alternatives to the car. Transport hubs can engage their inhabitants much more by celebrating their localities.
"It's about how you can invest in the right kind of infrastructures for encouraging businesses and residents around local areas like Bicester.  What we want as a place in terms of housing, business, transport.  Railway industry and franchise process needs to be more woven into the thinking of urban planning."
Martin Tugwell, Oxfordshire County Council
"New rail stations should be more integrated into their surroundings than ever before. Where many stations still feel somewhat removed from the city, Zurich is creating a seamless experience where it is impossible to tell where city ends and journey begins."
Tyler Brule, editor-in-chief, Monocle
Imagined floor plan of Brighton station. A destination that offers passengers a variety of services celebrating its unique cultural,  social and geographical sense of place.
Examples
The bike share scheme in Bordeaux forms part of the city's fully-integrated transit system. It has 1545 bikes and 139 stations. The design and implementation are integral parts of a much broader transit system for Bordeaux and its vicinities. Nine out of every 10 bike stations are at a transit stop, and within the city the stations are close together – never more than 300 meters apart. Passengers use a new single Radio Frequency Identification Bordeaux transit card which is valid throughout the region, and allows card holders to use the bikes at a substantially discounted rate.
Freiburg's multi-modal public transport system offers passengers a balanced and culturally integrated array of journey options. It is frequently cited as a public transport model which dictates cultural behaviours in the city, rather than the other way round.
"Trains as linking structures are very good ways of moving a lot of people around very effectively. I think the most important change to make for the future is how we connect things up properly – how we can get to the major centres quickly and efficiently, then from there to what you need to get done that day."
Dr Michael Hulme, Social Futures Observatory
Implications
There will be a greater need to think about the end-to-end journeys of passengers (especially in a future where there may be more high-speed, longer routes like High Speed 2)
It is a real challenge for transport planning to become truly integrated with local urban planning
There is increasing need for partnership with local authorities, to work together to make areas or towns attractive places to live. where mobility needs are adding to a sense of efficiency and quality of life.
* * * Back to top of page * * *
6 – Considered and constrained travellers
Potential mainstream behavioural change towards more sustainable and cleaner travel options is likely to be driven as much by economics as by ethics.
 Increasing awareness of the environmental and financial costs of long-haul travel could persuade many to travel less
People may begin to judge the 'cost' of their journey not just in financial terms, but also in terms of the impact it has on the wider world
We will begin to see fewer, shorter journeys – and these will be less impulsive, and more considered
Increasingly, industries have begun to reward ethically and environmentally minded behaviour, and this might begin to be the norm for public transport too.
"For responsible travellers, the impact of flying on the environment is difficult to ignore, and carbon offsets have become an established tool to reduce the impact of holidaying."
Justin Francis, managing director of Responsible Travel
"Walking, cycling or taking public transport helps reduce congestion and carbon dioxide emissions and will also reduce our overall footprint. Many people are choosing public transport. In the last 10 years the distance travelled on London buses has increased by 37%. The distance travelled by rail has increased by 34%."
WWF, 'Top ten ways to reduce your ecological footprint'
Implications
The cost of journeys will need to be seen as 'worth it' and will be compared against a scale of necessity. We will start to ask if meetings need to be face-to-face, or whether we need to go and get something if it could come to us.
Public transport will need to counter the fact that the automotive industry is developing eco-credentials, challenging the inherent sustainability advantage of public transport
People will expect to be able to compare modes of travel in one place, and to be told the exact price of their journey, as well as its environmental impact.
Smart energy device which tracks the environmental and monetary costs of each journey.  Passengers are able to make their travel decisions based upon a precise combination of financial and environmental information.
* * * Back to top of page * * *
7 – Public transport as app
The technology industry is offering more and more personalised devices which further consumer 'bubbles'. Transport needs to offer safe, protective spaces that provide a comfortable and personalised realm.
The car industry has embraced technological advances in order to maintain relevance in a changing world. The car epitomizes journey control
This will have an effect on what passengers will demand of a public transport system
Operators need to carefully consider the steps they can take to replicate – or even exceed – the high standards of customisation offered by cars
"The future of the car is one of car as app. Transport devices will become technological cocoons…even cars as being extensions of the office, with all the communication devices around passengers."
Dr Michael Hulme, Social Futures Observatory
"We are working on a project now which will lead to a mega city vehicle, designed for urban areas. We are going to design it in such a way that people will see when they look at the car that the future has started. That's one of our aims."
Adrian van Hooydonk, design director, BMW)
Example
Virgin America is planning to offer passengers more entertainment options on flights, including the ability to multi-task across platforms – just as they do in their lives on the ground. They will offer both connectivity to personal devices and accessible dynamic content. The new Red service offers a larger, high-definition touch-screen seatback monitor with full Wi-Fi connectivity and a range of content unrivalled in the skies, along with the ability to use personal electronic devices to connect to the system pre-flight, in-flight and post-flight. Additionally, the system allows flyers to order food and drinks directly to their seat from their screen.
Implications
Technology needs to become an ally. This will create the opportunity to help people design journeys, organise their days, go about their daily activities and connect with others (both on and offline) in a way the car cannot.
While people carry devices around with them, there are some things that they will still need such as a power supply. They will expect the experience to be ergonomically suitable and customised to the device/activity they are doing.
While people are providing their own devices, they still want to be able to elevate their experience by connecting to bigger screens, or dampening out surrounding unwanted noise.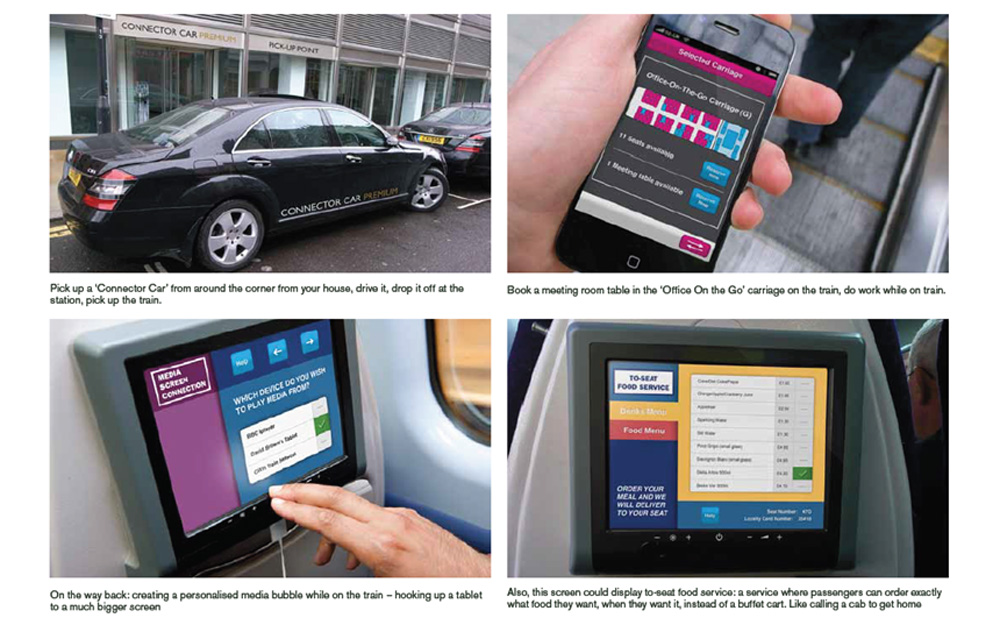 * * * Back to top of page * * *
8 – Emotional journeys
Public transport journeys impact on passengers' emotional moods. Operators must start to engineer services that safeguard that mood.
There is a wider opportunity for transport to be more central to the fabric of daily life
Having a seamless journey can set passengers up for the next part of their day in a positive way. The mark of a truly successful journey, is not noticing the journey
Operators and transport providers have a huge opportunity to forge collaborations with other services here.
"We need to think about ways to influence social norms in positive ways to promote low-carbon, healthier lifestyles. The leading mobility players of the future will plan today to influence these lifestyles, rather than simply relying on putting more vehicles on the road or developing additional infrastructure."
Forum for the Future
"Transport planning needs to be central to social and cultural change – the emphasis upon delivery of quality of life and wider societal demands such as quality of life and climate change, the shape of our environments, rather than just delivering A-B travel in a shorter time."
Robin Hickman, director of research, Institute for Transport Studies, University of Leeds
Examples
SUICA (Super Intelligent Urban Card) cards in Japan have the pre-pay and travel functionality of the Oyster Card but they can also be used in many stores and retail kiosks (with the same light touch way of using), not just in stations but all around the city. Importantly, using the SUICA for small purchases – drinks, food, books – around town doesn't add any baggage – physical or functionality-wise – to the core concept of quick, light, pre-paid travel.
Also in Japan, train line operators commonly own lots of real estate and operate department stores too. At major station hubs, they build department stores on top of the tracks, providing not just great facilities and experiences to newly arrived and soon-to-depart customers, but also a seamless transition from station to place and vice versa. The stores and volume of people naturally attract other leisure companies like hotels and cinemas, creating mini towns on top of stations.
Implications
People will increasingly consider emotional benefits when selecting how they will travel. They will begin to think about how they want to feel when they arrive, not just how to get there
Transport may require success measures beyond speed and time saved to incorporate more emotional measures such as happiness and stress levels
The station experience will become just as important as the actual journey – it impacts the entire journey.
* * * Back to top of page * * *
 9 – Public and private mash up
Transport providers' current approach clearly sees public and private transport systems as distinct and wholly removed from one another.
The current approach may undergo a sea change to one in which private modes begin to borrow from public systems, and public transport takes cues from private travel
Questions surrounding matters of ownership, and how one might 'own' or 'buy into' transport options, are already being asked
 If transport providers begin to focus on their responsibility to facilitate the easy linking up of journey segments – how passengers can most easily navigate their way off their mode of transport and on to the next – then the transition between public and private transport can become truly seamless
Passengers will expect to be given the information, connections and ticketing solutions needed to switch between transport modes easily and nimbly
The aim is an unrestricted form of travel, where passengers are unencumbered by car ownership and are instead free to take advantage of a spectrum of transport systems that work together seamlessly.
"There is the potential for a new business model. At the moment we've got this fragmented mix of modes which don't work together, they aren't even allowed to work together. If train joined with bus, rail, taxi – if they can get together to provide an alternative way of doing things, public transport could be a real force."
Rupert Fausset, Forum for the Future
"An organic nexus system, already commencing in some societies in the rich 'north', would consist of multiple, dense forms of movement mainly of small, ultra-light, smart, probably biofuel or hydrogen-based, de-privatised 'vehicles'. A mixed flow of slow-moving semi-public micro-cars, bikes, hybrid vehicles, pedestrians and mass transport and these are integrated into networks of physical and virtual access."
Professor John Urry, author of Mobilities journal, University of Lancaster
Examples
Car clubs and such schemes expand as commercial organisations get involved (- for example, the Peugeot "Mu" initiative in France will supply anything you need, from a bicycle to a scooter to a car to a van, with options like child seats and rooftop boxes.
In 2011, after two years in operation Dublin's public/private bicycle scheme was hailed a success with plans to increase the number of bikes and stations almost tenfold.  Currently Dublin bikes make double the number of journeys London bikes make per year.
Implications
A more co-ordinated and coherent way of working amongst providers and modes will prioritise customers' journeys rather than the mode itself
Could car-share and station operators work together to take people from carriage to rental car, hassle-free?
This would become a key lever for public transport to make the system more attractive, and efficient and sustainable travel a practical reality for people.