How can I get the best deal?
Looking to reduce the cost of your journey? No one likes to pay more than they need to – and there are ways you can reduce the cost of travel.
Not in a rush? Slower journeys may be cheaper
As we mentioned earlier, being willing to travel at certain times and avoiding peak periods can save you money; as can booking tickets well in advance.
But you might also save money if you are willing to travel on a slower service – you can sometimes trade speed for price. This is more common where there is a choice of operators or routes and where, typically, the fast, direct train is more expensive than the slower/connecting train.
Railway websites and systems tend to default to show the fastest, direct services so these slower but cheaper options aren't always immediately obvious. But you can make websites show them.
When using the journey planner on websites look for a button or link that says something like 'show me slower but cheaper services'. There might not be anything available but it doesn't cost anything to look.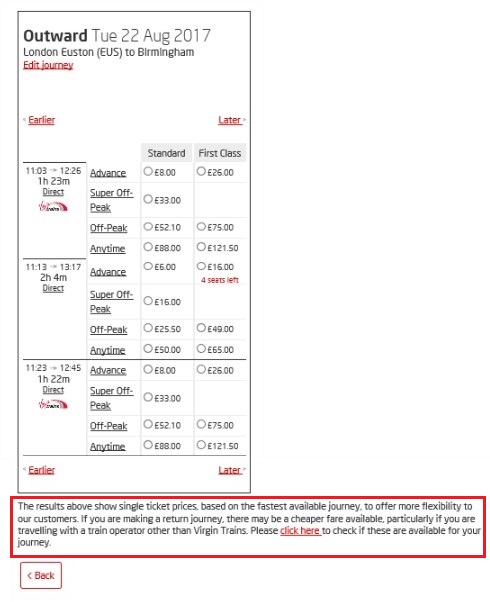 If you are more familiar with the railway you can also force the system to show you different routes by using the 'via' box on a journey planner.
Take, for example, London to Bristol Temple Meads. If you search on Great Western Railway's website you will be shown the fastest, direct fares from London Paddington. If you force the system to look at fares via Salisbury it will show you the slower but cheaper services from London Waterloo.
Looking at London to Bristol a basic search reveals 'walk-up' fares from London Paddington.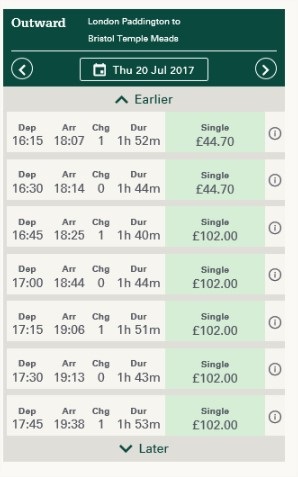 But if you use the 'via box' to show fares via Salisbury…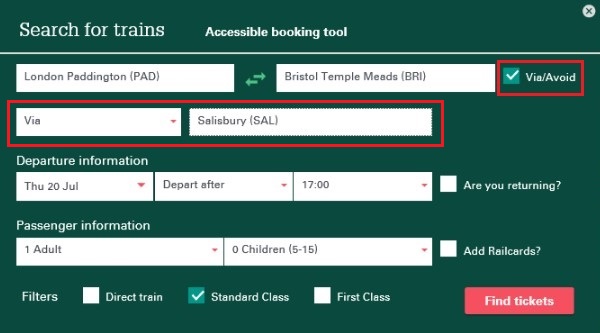 You will see a range of cheaper but considerably slower services from Waterloo.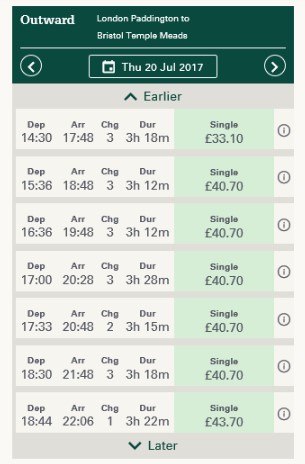 These examples tend to arise where there are two train companies serving the same destination, especially when they take different routes. One of the classic examples is when you are going from London to Birmingham where you have the choice of three different operators: Virgin West Coast, London Midland and Chiltern.
Typically, the more flexibility you want the more you'll tend to pay. So a ticket that allows walk-up travel on all operators will tend to be more expensive than one where you tie yourself to a particular company.
Split your ticket
One of the consequences of having such a complicated fares structure is that it can sometimes be cheaper to buy a combination of tickets that cover your entire journey rather than one 'through' ticket. Breaking your journey down into its component parts like this is known as 'splitting' your ticket.
There are lots of reasons why this occurs. It can be as you move from peak to off-peak periods through your journey. It can be as you move from one train company's pricing structure to another. Or it can be as you mix ticket types – for example a cheaper Advance fare and an off-peak fare.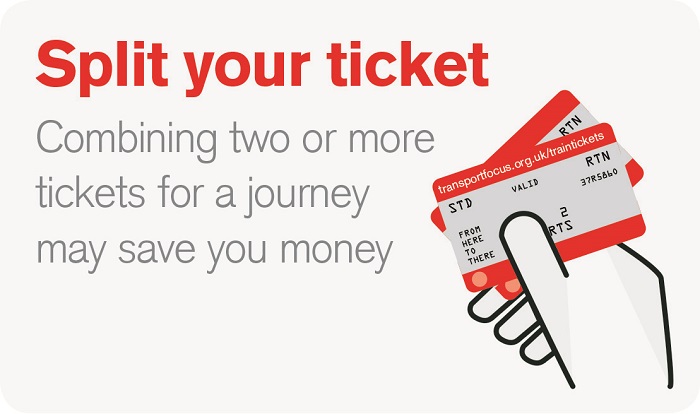 To some extent the cause is immaterial. What is important, however, is to realise that this is perfectly legal – you are not cheating. The terms and conditions attached to your ticket allow combinations of tickets to be used as long as you follow certain rules. If you are combining Anytime/Off Peak tickets then the train must stop at the station (or stations) where you change from one ticket to another. The rules are different if a season ticket is involved – have a look at the National Rail Conditions of Travel for full details.
How do I get from A to B?
There are lots of different ways to start 'splitting'. The simplest these days is to let the internet do the work for you. Putting 'split ticketing' into your search engine will throw up several websites that will look for combinations of tickets for your proposed journey.
Alternatively, you can try different combinations out yourself. The easiest way to start is to look at journeys that involve a natural change of trains anyway. This is safe – the very fact that you are changing trains means that you can't fall foul of the rules on combining tickets at that station. Simply look at the through-fare and then look at the fare for each leg and see what's best.
You don't have to actually get off a train in order to split tickets – you can also do it for a direct journey. Again, it's a case of trying different combinations of stations, but remember the key rule – the train has to stop at the stations where you change from one ticket to the next.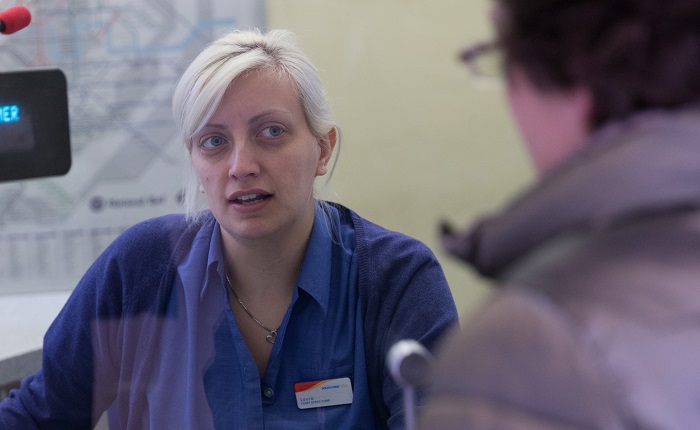 Ticket clerks at stations will sell you combinations of tickets when you ask for them. But they won't (unless you are lucky) do your research for you. If you ask for a ticket from A to C they will sell you one; if you ask for A to B and B to C they will sell you that instead. So do your homework beforehand or buy them yourself online.
As we have seen, avoiding the peak, being flexible on when you travel, booking well in advance and split ticketing can all help you get a cheaper fare. But there are also other ways to reduce the cost of your journey.
Railcards
A number of different Railcards are available. They entitle the holder to a discount on the price of most tickets. Some restrictions apply – so check before buying – but you can save a third on most leisure travel.
The following types of Railcards are available:
Young Person's Railcard: for passengers aged between 16 and 25 inclusive or mature students in full-time education
Senior Railcard: for passengers aged 60 or over
Disabled Person's Railcard: for passengers who are eligible
Friends and Family Railcard: for passengers travelling with children aged between 5 and 15
Two-together Railcard: for two named people travelling together
Network Railcard: for travel on specific routes in London and the south east. Don't be put off by the description – the railway definition of London and the south east is a lot bigger than you might think and covers some services as far West as Weymouth, Exeter and Worcester, and as far East/North as Kings Lynn.
Check out the Railcard website for more details.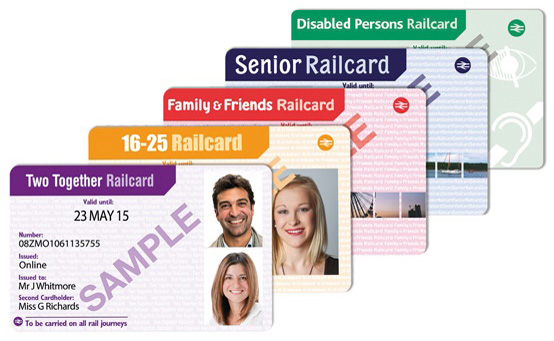 You can use Railcards when buying from a ticket office, a ticket machine or online.
The Railcards above are pretty well known and widely used but did you know there are also some regional Railcards which offer discounts within a specific region such as the Devon and Cornwall Railcard, the Pembrokeshire Railcard and the Highland Railcard. For details on what is available go to the National Rail Enquiries website.
There are restrictions on when some of them can be used and where they can be bought but they are worth checking if you live in those areas.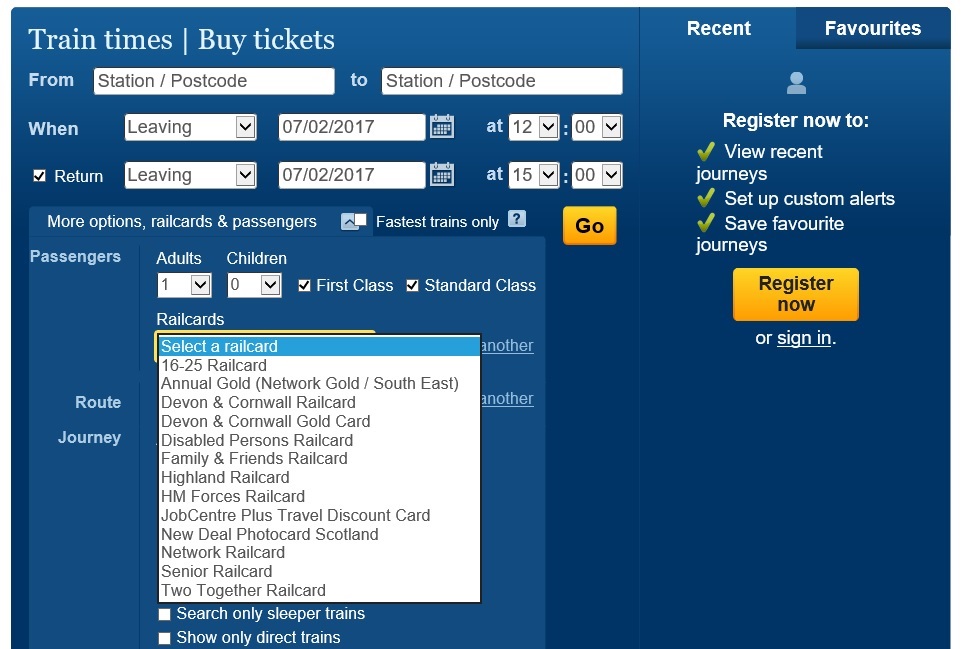 Rangers and Rovers
Many operators offer tickets which allow you to make as many journeys as you like on specified parts of the rail network for a limited period (usually for periods between one and 15 days). One, the All Line Rover, gives unlimited travel across the whole of the network.
There are loads of tickets on offer. The National Rail Enquiries website has a list as well as setting out how and where you can buy them.
They are particularly suited for holidays and tourism. The 'Cotswold Discoverer', for instance, is a one-day ticket offering unlimited travel on rail and bus travel in the area. What's more, you can also use your national railcard to get a discount. So if you fancy a day out, have a look.
Group fares
All train operators offer reductions for groups of 10 or more people.
However, did you know that some train operators also offer discounts for groups of 3 or 4 people (known as Group Save)? They can be cheaper than buying separate tickets for each person, but you must all travel together.
National Rail Enquiries is again a good source for what is available.
The easiest way to get Group Save is from ticket offices – ticket machines do not usually sell them. It can also be hard to find Group Save on websites.
Ideally websites would automatically offer Group Save when enough people are travelling. The following shows that it can be done.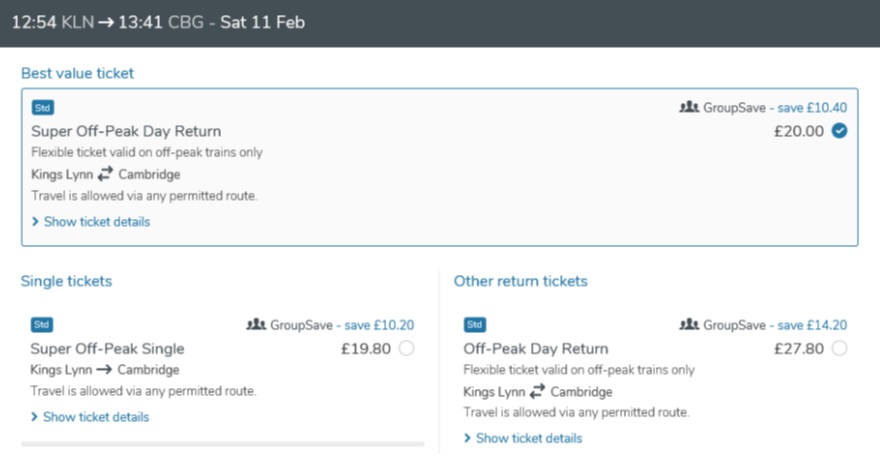 But, if the ticket doesn't automatically appear then take a moment to search for it under the railcards section. It's worth it for the savings. For example: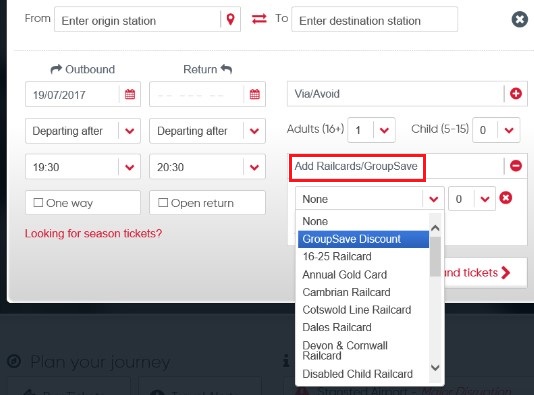 Multi-modal tickets
Some train operators offer tickets which include connections onto other forms of transport – bus, tram, ferry or London Underground connections. These can be cheaper than buying tickets for each element separately. A full list is on the National Rail Enquiries website.
A list of bus add-on tickets can also be seen on the Plusbus website. These can be added to your rail fare and bought at a ticket office or online.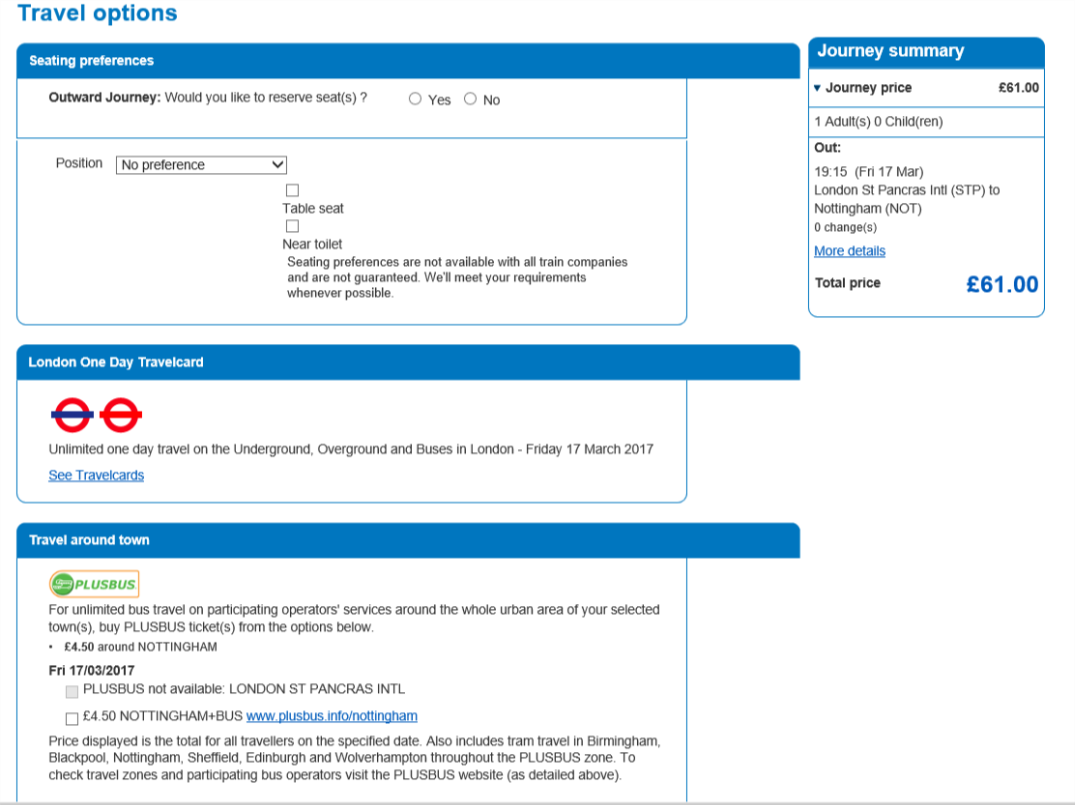 Special offers

Train companies frequently offer promotions and special offers. In London, for instance, they routinely offer 2 for 1 entry into many London tourist attractions on production of a valid rail ticket. The full list of attractions is available at daysoutguide.co.uk/
The easiest way to see what your train company is offering is available on the National Rail Enquiries website here.

Crossing London
Some through journeys require you to cross London – for instance, if you have a Brighton to Manchester through ticket you may well be travelling into Victoria and then catching the tube to Euston to continue your journey.
If you buy a through ticket your travel should include the cost of the tube fare (or Docklands Light Railway or Thameslink services where more appropriate). Make sure you don't pay twice.
To check if the cost of travel across London is included in your ticket, look for the '†' symbol which will be shown on the ticket itself. If it's there then the tube ticket is included. If not then you'll have to pay for the journey separately.
Season tickets
If you are travelling over the same route on a frequent basis it may be cheaper to buy a season ticket. These can be purchased for any seven-day period or any period between one month and a year.
Generally if you are travelling 3-4 days a week then a weekly season will be cheaper than the cost of buying anytime return tickets each day. But on some routes it's closer to 2-3 journeys before you break even – so it's worth checking if you know you're going to make several journeys.
In the same vein, buying a monthly season will be cheaper than buying a number of consecutive weekly tickets; and buying an annual season will be cheaper than buying 12 monthly tickets.
So, if you know you are going to be travelling for the whole year, it is cheaper in the long run (on a cost per journey basis) to buy an annual ticket. This, of course, can require quite an outlay upfront. We have argued that train companies ought to offer a direct debit scheme to help spread the cost – and we'll continue to push this. Until then, it's worth checking to see if your employer offers a season ticket loan.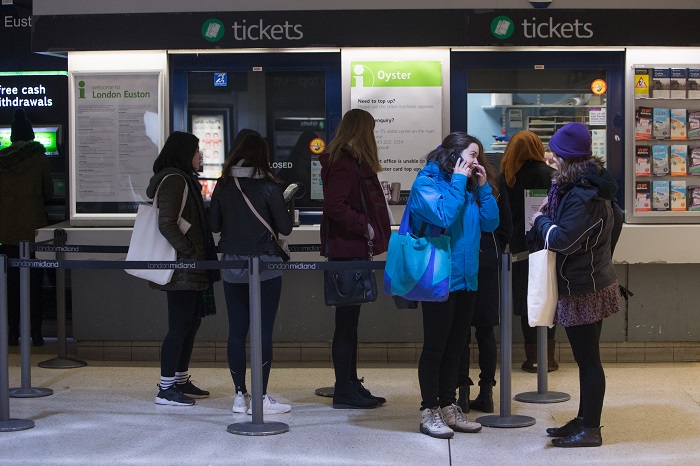 If this isn't possible then there are other financial options: there are commercial finance companies who offer a 'commuter club' type repayment scheme; while some passengers have suggested spreading the cost using a 0% credit card. We're not in a position to provide financial advice – so you'll need to do your own research.
In the London and South East area your annual season ticket also brings other benefits. It also acts as a railcard – called a Gold Card. This gives you (and up to three other adults and up to four children) a discount on many journeys. Click here to find out more.
Time to get smart?
If you are thinking of buying (or renewing) a season ticket then it's also worth looking at how this is provided. Train companies are keen to move people from paper season tickets onto smartcards. To help speed up this transition some offer incentives – c2c's smartcard, for instance, comes with an automatic compensation mechanism when your train is delayed, you don't have to claim, the system knows which train you are on and pays out automatically.
Smart ticketing is also helping to open up new types of tickets. We've long argued that part-time workers get a much worse deal than the traditional five-day a week commuters, despite both being regular customers. Off the back of its smart ticketing product c2c offers a 'flexi-season' whereby you buy a 'bundle' of 10 tickets at a discounted rate and load them onto your smartcard for use as and when. They won't expire at the end of the week. These tickets aren't as common as we'd like but keep your eyes open as we'll keep pushing for their introduction as part of each new rail franchise.