When should I book my tickets?
It does not make any difference when you buy Anytime and Off Peak tickets – they are the same price several weeks in advance as they are on the day itself. Nor do these tickets run out, they are always available. So unless you want to reserve a seat you do not need to book these in advance.
If you buy these tickets well in advance there is a chance that the actual timetable may change before you travel. This is typically when engineering works are being planned around weekends and bank holidays. So we would always recommend you check times closer to the departure date just in case.
Book in advance
It is very different for Advance tickets. When it comes to getting your hands on the cheapest ticket, it pays to get organised early.
Where these exist they are generally made available about 12 weeks in advance – so if you were thinking about Christmas travel you'd be looking around the end of September. But these release dates can change, some may be available later than 12 weeks and some much earlier (Virgin Trains East Coast, for instance, releases up to 24 weeks in advance).
There are also different tiers of Advance tickets, each at a different price-band and, as you might expect, the cheapest ones go on sale first. As these sell out then they move to the next (higher-priced) tier and so on until they have all sold out.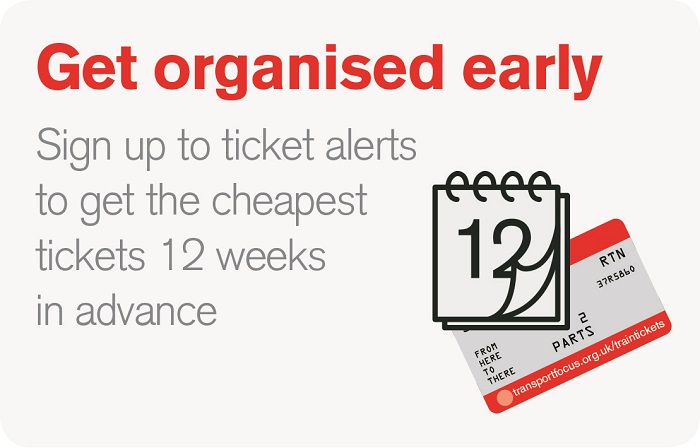 Occasionally cheaper-priced tickets may come back on sale but usually the closer you get to the time of departure (assuming there are any left by then) the more expensive they get.
So, if you want to get the cheapest deal, your best bet is to be organised well in advance and get in early.
Are your travel plans likely to change?
One of the risks of buying in advance is that your plans may change. With Anytime and Off-Peak tickets you can get a refund if you decide not to travel (though an administration fee may be applied). It is important to realise, however, that Advance tickets cannot be refunded if you change your plans and decide not to travel (unless the train you are booked on has been cancelled or is delayed).
In most instances you can change the date and time of the journey as long as you do this before your original train was scheduled to depart. There is usually a fee of £10 per ticket to do this so it can get very expensive if there are a group of you travelling.
One train company, CrossCountry, has decided not to charge this admin fee (subject to some caveats). This welcome step adds a little more peace of mind to the process and we'd urge other operators to think about doing this as well.
Navigating your way through Advance tickets
You can easily find details of when Advance tickets are on sale. Train company and other retailers' websites show the 'booking window' as part of the journey planning process.
Sometimes this is in the form of words shown below.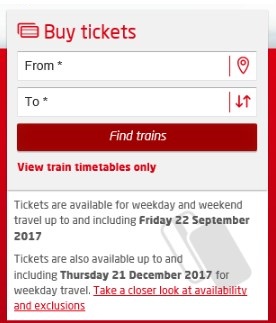 Sometimes it's a case of clicking on the calendar and seeing how far into the future you can go before the dates are 'greyed' out.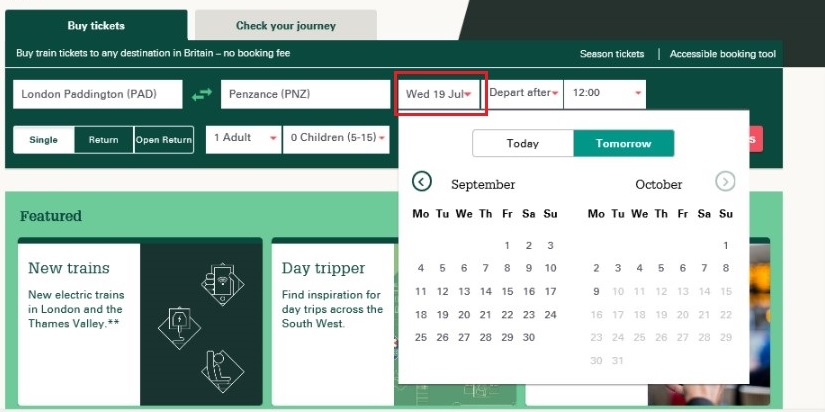 Some websites also offer email alerts that tell you when the cheap ticket you are interested in is available. Sign-up and you'll be sent an email when the tickets go on sale.
Some websites offer a cheapest fare finder
These can take different forms, some show you the cheapest fare for the day you selected; others will show a few days before and after your chosen day; and some have the option to show a monthly view (for when you have the freedom to travel whenever the fares are cheapest).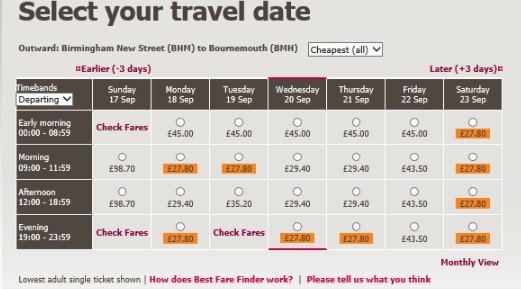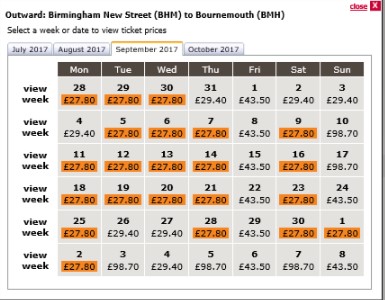 Times running out – buy your ticket now
Some websites tell you when tickets are running out. Some websites show when there are less than nine Advance tickets left – a bit like hotel websites do when rooms are running out. This is something that all long-distance operators will do in 2017.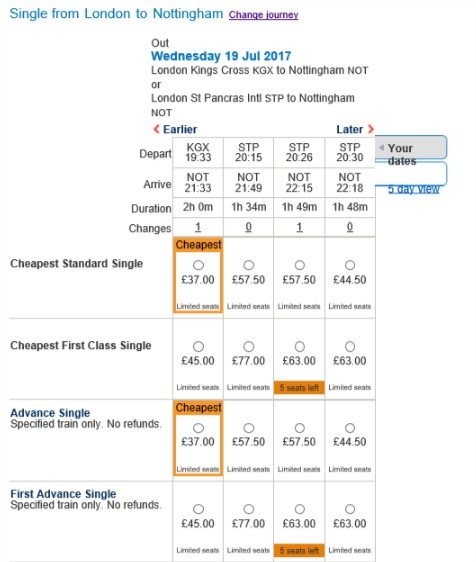 If you want to book Advance tickets for more than one person, it's worth checking the price for one ticket first. If the number of seats available at your preferred price is less than the number of tickets you wish to buy, it may be cheaper to make two separate bookings.
Make one booking for the number available at the lower price, and the rest at the next most expensive price. Otherwise, you may be offered the more expensive fare for the whole group.
As their name implies Advance tickets need to be bought in advance. Until recently this meant buying at least the day before you travel. However, there has recently been a welcome move to sell Advance tickets on the day of travel itself. Cross Country were the first to offer this, allowing purchases up to ten minutes before departure.
Grand Central, Greater Anglia, Northern, TransPennine Express, Virgin Trains East Coast, Virgin Trains West Coast and Caledonian Sleeper now also offer this, but within varying timeframes. Check their websites for details. These still require you to travel on a specific train and they are subject to availability but when available they will offer a saving on the cheapest walk-up fare.
Advance tickets are only valid on the specific train(s) shown on your ticket or booking details. However, if you miss that train because your connecting train was late then you can catch a later service. You must speak to a member of staff first, don't just jump on the next train – it has to be authorised first or else you risk being challenged later on.
If you miss your train for other reasons – your meeting overruns or your bus was late – then the train company is under no obligation to let you travel on a later train. They can require you to buy a brand new ticket. So once again find a member of staff and ask, don't just jump on the next train and hope.