Where should I buy my tickets?
There are a number of places where you can buy tickets:
at the station from a ticket office or ticket vending machine
on the train (but be careful, this only applies in a few circumstances nowadays)
over the phone
using websites and apps.
At the station
A full range of tickets is available from staffed ticket offices at National Rail stations.
You aren't limited to buying tickets just for trains from that station – they should be able to sell tickets to and from any other station as well. Nor should they restrict tickets to just one operator – where a choice exists they should be impartial and advise you on the best ticket for you.
Ticket office opening hours are displayed at each station but are also easily found online as well.
Ticket machines
There are several different types of ticket machine so it is hard to be specific but typically ticket machines sell a reduced range of tickets. For instance most do not sell Advance tickets, while many limit tickets to journeys from that station and for travel 'today' rather than later in the week. The layout and design of ticket machines can also differ from operator to operator. The best way of finding out what the ticket machines at your station offer is to have a go on one and familiarise yourself with how they work in advance.
If you are familiar with the journey you are making and the fare you usually pay then ticket machines can be fine. But if you are new to rail or making a different journey to usual you may want to ask at the ticket office or do some research online before using the ticket machine – it's easier to find something when you know what you are looking for.
Some ticket machines do not sell tickets at all – they are just there to pick up tickets ordered over the internet. These should be clearly marked as such.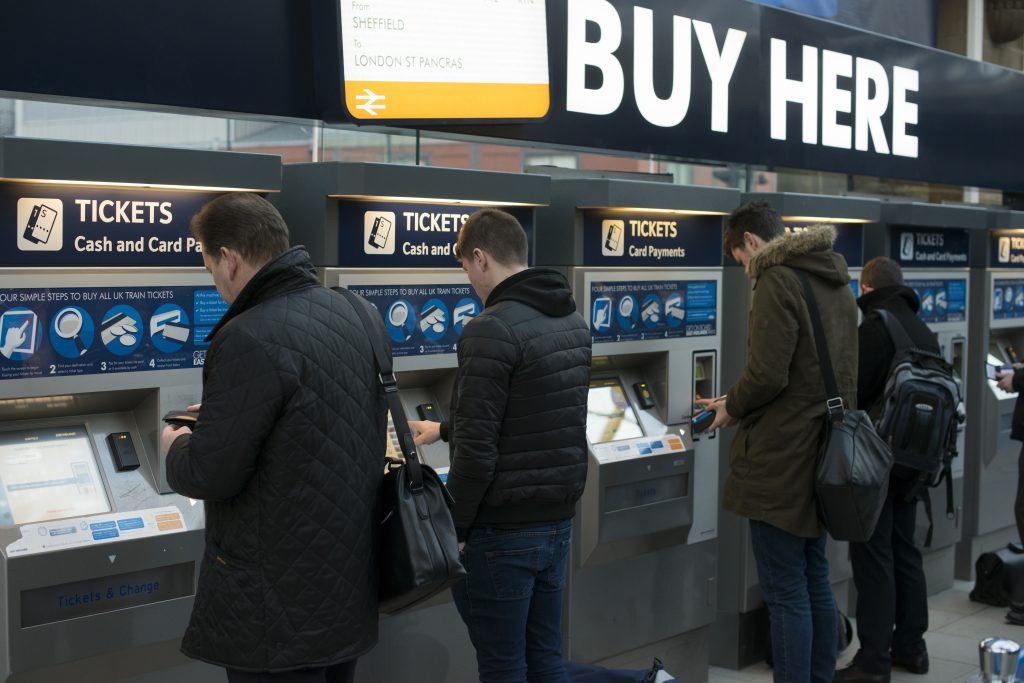 On the train
If you see someone buying a ticket on a train it's easy to assume that this is OK. In reality you need to be really careful or you could end up with a penalty fare or a fine.
The basic rule is that, where ticket facilities exist at the station (and are open/working) or unless there is a notice advising you that you can buy on board the train, you must buy a ticket before getting on.
Telesales
It may have declined in popularity over the years but it is still possible to buy a ticket by speaking to someone over the phone. The main limitation is getting the tickets to you – if they are to be posted you will typically need to allow five days for them to arrive or pay a premium for next day delivery.
Websites
Websites are especially good when it comes to Advance tickets. They also tend to sell tickets for any journey rather than restrict sales to a particular train company or route.
There is a great deal of choice. Each train company has its own site and there is a central, industry-funded website called National Rail Enquiries which provides information across Great Britain. There are also websites provided by non-railway companies, known as third-party retailers – for example the trainline, rail easy, red spotted hanky, which can sell tickets.
The layout and style of the various sites differs enormously. Which style you prefer is very much a personal decision – find the one you like and use it. However, there are some things you should be aware of when buying a ticket.
Booking and credit card fees
Train companies are not allowed to charge a booking fee when selling you a ticket. Third-party retailers can charge a fee – typically somewhere around £1 – £1.50. A credit card fee may also be added in some cases. These companies argue that they provide additional services, such as travel information, journey alerts, easy refund arrangements, which add value to your journey.
Which site you use is entirely your decision but it should be a conscious, informed decision rather than an accident. If you feel the level of service is worth the booking fee then carry on – the important thing is to be aware that you have the choice.
Special offers
Websites show most but not all fares. Train companies can introduce temporary, promotional fares (special offers) and these do not currently appear on all websites. So it is always wise to check the website of the train company you are travelling on to see if any such fares exist.
If in doubt then look on National Rail Enquiries. Enter your journey details and, when times and fares are displayed, click on 'details' and it will tell you who runs the trains.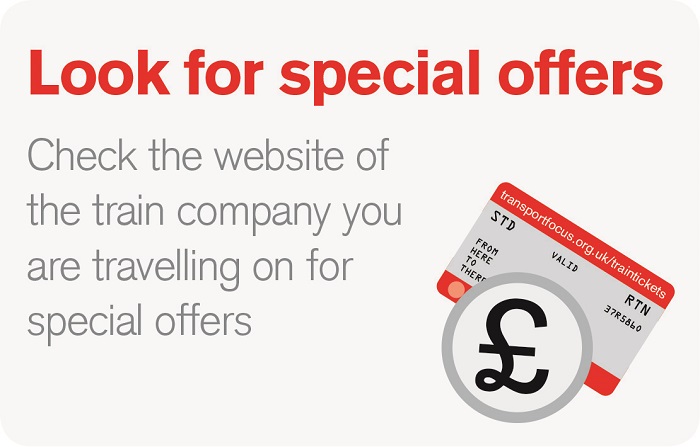 Loyalty schemes
Some train companies incentivise you to buy tickets through their website. For instance, the 'First Group' train companies (TransPennine Express, Hull and Great Western Railway) and Virgin West Coast offer nectar points while, for journeys on its services, East Coast offers free Wi-Fi in standard class provided you buy your ticket through them.
How you want your tickets delivered
When you buy from a website you may be offered a choice in how you receive the ticket(s). This can include:
By post – if by standard post then you will typically need to buy up to 5 days in advance of travel to allow time for them to be safely delivered; special delivery is sometimes available but incurs a charge.
By ticket machine – you can select to pick up your ticket from a ticket machine (sometimes called ticket on departure). You will need the original payment card you used and have to enter a code (which you will be provided with) into the ticket machine. If you have changed bank cards in the meantime then you will need to contact the train company first as your new card won't be recognised.
Print at home – some websites allow you print your own ticket for some journeys. You will also need to bring some form of identification with you when travelling.
Mobile ticketing (an m-ticket) – which is sent to and stored on your mobile phone. You will have to make sure you have your phone with you and that it has enough battery life to last the journey.
Choice is good but there are things you need to be aware of before deciding.
Look out for charges
Where you are given a choice of how you want to get your ticket there will always be at least one option that is free of charge but you may be charged for other modes. If you don't want to pay then shop around to see if another website offers this for free.
Watch out for the small print
No one likes reading terms and conditions but they are important – and this is no different when it comes to tickets. Your ability to change tickets after purchase can differ according to the type of ticket you have.
Typically a print at home ticket can't be changed at all – as soon as they have sent you the email enclosing the ticket to print, that's it.
With mobile tickets there may be an option to 'activate' it prior to use – as long as you haven't done so you may be able to change it.
The rules are all to do with preventing ticket fraud – but that's little consolation if you need to change your plans. So, once again, it's a case of being aware before you buy.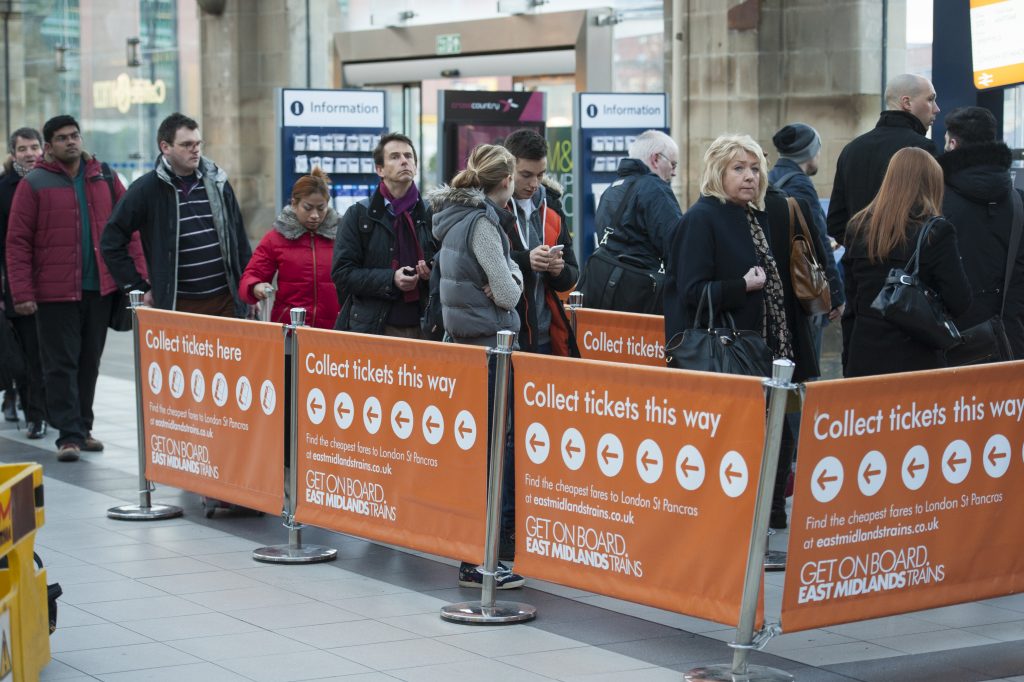 Apps
Recently there has been a real growth in the number of people buying tickets through apps and there are various options available to download.
Apps will typically act just like a website and will sell the same range of tickets to the same destinations at the same prices – they won't just limit sales to a single train company.
Apps are also being used much more to buy m-tickets. These are stored on the app and your phone/device effectively becomes your ticket. You are required to show it to a member of staff and it is your responsibility to ensure that you have enough battery life on your phone to get you through your journey.