A chill wind – managing disruption is key to trust
19 December 2017
The recent cold spell has highlighted again the importance of how disruption is managed and, in particular, the role of useful and accurate information. Our work in this area is bearing fruit.
Following the spate of serious hold-ups on the M6, M1 and M3 we wrote to Highways England chief executive, Jim O'Sullivan, pushing for more to be done to help drivers.
We held detailed meetings with Highways England staff and the police lead on road policing matters, Chief Constable Anthony Bangham, from the West Mercia force. We spoke to CC Bangham about how the police learn from these incidents and how communications with Highways England can be improved. Highways England customer service lead, Mel Clarke, also came to speak to our public Board meeting in Manchester last month.
As a result Highways England is looking at how to improve communications with road users, whether they or the police do it, and to improve the provision of welfare-related essentials like food and drink. They are also working with the police to see if Highways England staff could have an earlier look to see if resurfacing is needed, without compromising evidence. Highways England is also looking at bringing back regional Twitter feeds.
All this work should lead to improvements in communicating with motorists, to stop them joining queues and give them better information about when queues might clear if they are stuck in them. The recent hold-ups on the M5 in freezing weather showed just how important this issue is. We will keep up the pressure in this area.
Our new work on rail passenger priorities for improvement re-emphasised the important of performance and managing disruption well. So, the recent patchy performance on South Western Railway has led us to call SWR and Network Rail to a specially convened public Board meeting on January 9. We will asking about the causes and plans to improve poor performance.
In addition, we have been making waves around the industry obligation to upload timetables at least 12 weeks in advance to ensure passengers book the right tickets. We have seen observance of the T-12 rule become tatty recently so have pressed the industry and the Office of Rail and Road to improve compliance. We will keep monitoring this in the run up to Easter.
On the buses, we have taken part in the Department for Transport's recent workshops on facilitating open data about bus services – following the coming into force of the Bus Services Act. While improving fares and timetable information will be great, having more data about bus performance will help us and passengers really focus on where bus reliability needs improvement. Some bus companies are better than others at putting out data at the moment.
Other wins – big and small!
As a result of our lobbying with Greater Anglia, Network Rail and Highways England, signs for the new Cambridge North station will be put up on the A14 next year
Following our feedback, disruption messages on National Rail Enquiries are now better at showing cleared disruption issues
My colleague noticed Huntingdon bus station clock had stopped. Reported it – 24 hours later, it is working again!
Following ours and others' consultation responses, the proposed closure of Breich station in Scotland has been postponed so alternatives can be considered
Look at this station poster – passenger feedback through the National Rail Passenger Survey drives change at Leeds station: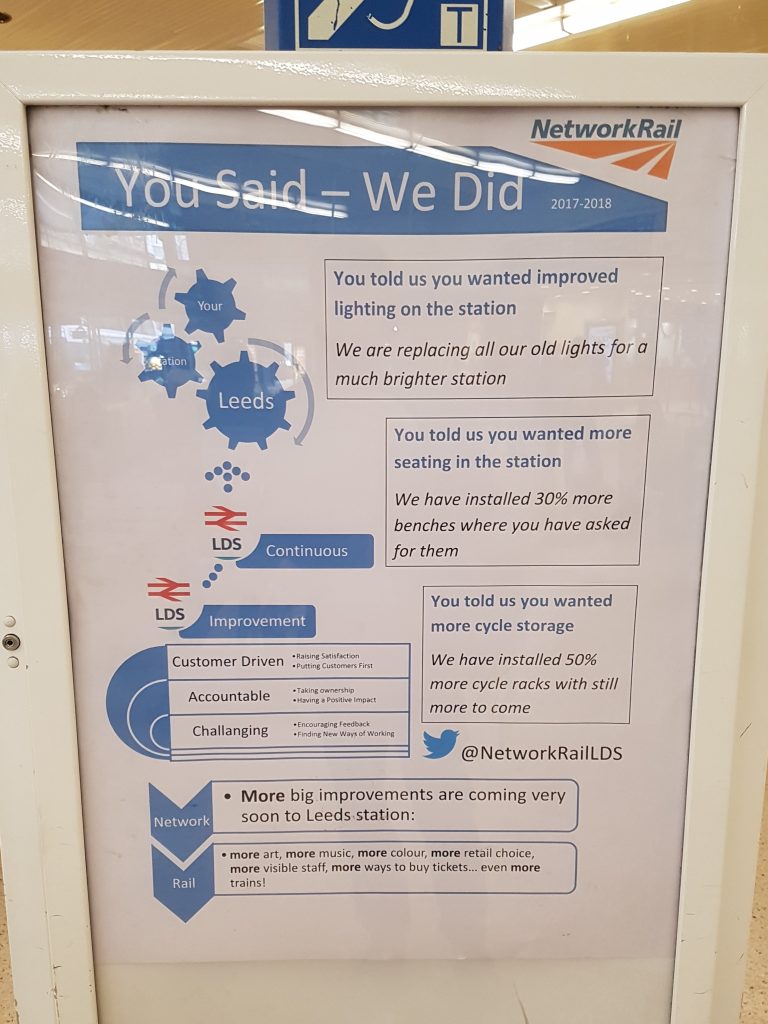 Go home safely
So, set the satnav for home, book your coach and rail tickets and head off soon. Have safe journeys over the festive period and thank you for your interest and support for our work this year. We'll be back next year sticking up for transport users!
In the meantime, tell me what you think about Transport User Voice by completing our survey here. Let me know what you think we should be focusing on next year on behalf of transport users – email me (Anthony.smith@transportfocus.org.uk) or tweet me @AnthonySmithTF.