High Speed Two (HS2) Passenger Panel Insights
High Speed Two: Putting the passenger at the heart of design
High Speed Two (HS2) will create a whole new transport experience, which can only be achieved by really understanding the needs of passengers. In order to achieve this vision, HS2 and Transport Focus commissioned Illuminas to set-up an online community consisting of 40 members, covering a spread of demographics and travel behaviours.
After a successful launch in March 2014, the panel has brought passengers' views to life for HS2 and Transport Focus. From booking tickets, to navigating the station, and locating a seat on board to receiving real-time journey updates – passengers have expressed their needs and aspirations progressively for each stage of the journey.
The following summarises what the panel said in its first two years – please click the stages to view or download more information. The third year's findings are available here.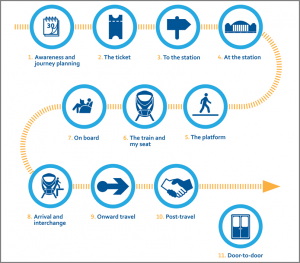 © HS2 Ltd – The passenger journey
Note: The panel were told to disregard practicality in these early stages to try and ensure they proposed ideas that would meet their needs, without having to justify how they would work in practice.