Could have done better?
23 December 2019
The latest incidence of major disruption on the rail network saw rush hour chaos at London Victoria on Wednesday last week.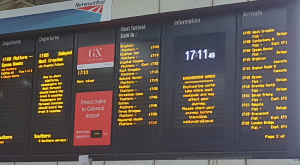 Passengers got to the station only to see the departures board full of cancellations and delays. With platform numbers still displayed for cancelled trains, passengers who went to the platform to board ran into the hundreds of people getting off those, now cancelled, trains. Carnage.
Given the scale of the disruption our staff who were on the ground found little practical advice on what to do. Why can the railway not be more proactive in sending people away when it is clear that no trains are going to run? Surely this would help both the situation, and staff who may be taking the brunt of passenger frustration?
We know that in other situations, a 'gold command' style of crisis management creates a focal point for decision-making and information. Does the railway put such a thing in place for serious disruption?
One colleague found herself giving journey-planning help to a fellow passenger who got on the train at Gatwick. The French passenger had had a sudden death in the family and was trying to get to the Isle of Wight. As a regular traveller, our colleague was able to tell the passenger where to be on the train to give maximum chance of making a three-minute connection!
Although such a story can put things into perspective, it also shows the importance of having plenty of informed staff on hand to help passengers affected, especially when they are less familiar with the journey options available.
A final thought from me – the industry must be held to account when things go wrong. We are pressing hard for improvements for a more reliable service – but in the meantime you can register your frustration by claiming what you can. Make Delay Pay and apply for compensation during disruption.