Excess baggage – the passenger view
10 August 2018
When travelling by train, luggage can present a real challenge for passengers at all stages of their journey, from carting it around the station to finding somewhere on board to store it. We often hear from passengers that travelling with luggage can turn an otherwise pleasant journey into a stressful experience. When planning their trip, passengers consider the getting from A to B in advance and difficulties they may face at any point along the way such as getting on and off different modes of transport.
The customer experience team at High Speed 2 asked for our help to find out more about the amount and type of luggage people take with them when they travel by train. We did a piece of research consisting of over 103,000 passenger observations and found that some 87 per cent of passengers travelled with luggage of some variety and one quarter had more than one item. We all notice the larger items in a crowded carriage, so it may come as a surprise that we found only 15 per cent of travellers carting a large suitcase or holdall, while a healthy majority – 77 per cent – brought only a 'carry on' sized suitcase or bag.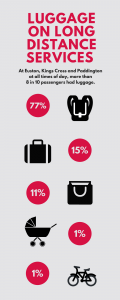 Speaking to different passengers on long distance services we found a strong echo of the same story: that for many of us a major concern is the security of our personal possessions and the ability to keep these belongings in a safe place while on board. We also discovered that a 'safe place' often means still being able to see the bag – some passengers even told us they will choose to forgo getting a seat in order to keep sight of their luggage!
Once on board, moving up and down carriages with luggage was considered almost impossible by some passengers. Coupled with struggling to lift heavy items into overhead racks, or not being able to reach such racks altogether, all available space can quickly become filled with people and bags – contributing directly to a feeling of overcrowding.
If we are to encourage passengers to consider choosing trains, alongside alternative modes of transport, the results of this work clearly suggest more needs to be done to address some of the major points of pain. We know that getting a seat is a high priority. Live information about how full the carriage is on digital displays could help travellers plan better where to board, consequently alleviating overcrowding of both people and luggage. Offering some assistance in stations to those less able to carry their items would also make for a better journey experience. But most importantly, it's vital those who design train carriages set out to provide adequate storage on board so passengers can sit or stand within eyeshot or reach of their bags!
High Speed 2 has used this research to inform the concepts that it is designing for the future stations and trains. It is promising to see High Speed 2 taking steps towards creating a service that is more customer focused and fit for purpose.