Glasgow Subway passengers give seal of approval
27 April 2018
Glasgow Subway passengers are almost all satisfied with their journey, says the independent watchdog.
Transport Focus surveyed almost 500 passengers over three months, at all times of the day and days of the week, to get a rounded picture of satisfaction.
Director David Sidebottom said:
"It's clear that Glasgow Subway users are pretty happy with their service and the value for money it gives. Although this is a subway and not a tram, it compares well with our recent survey of tram passengers. One area that the subway needs to address is the smoothness of the journey. We'll work with Glasgow Subway to unpick these results in more detail and help ensure a continued good service for passengers."
SPT chief executive Gordon Maclennan said:
"These are excellent results that come directly from our passengers. We will need to continue to work hard to maintain, and even improve, our overall satisfaction score but our dedication to staff training and good customer service is clearly demonstrated in these results."
Key results were:
overall satisfaction was 97 per cent
95 per cent were satisfied with punctuality
80 per cent were satisfied with the value for money (this compares to 68 per cent for tram passengers, 65 per cent of bus passengers and 47 per cent of rail passengers in Great Britain (59 per cent of Scotrail passengers))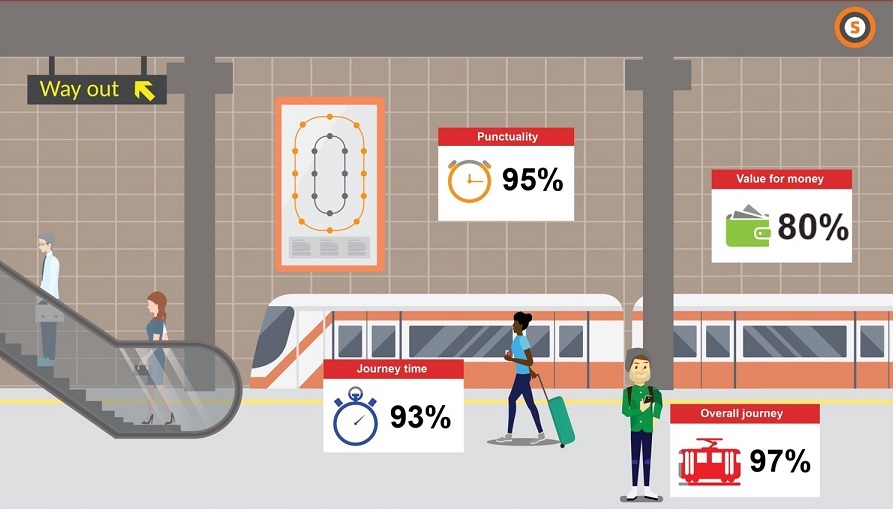 Notes to editors
Click here to see the full survey results.
For further information please contact:
Kieran Watkins, Senior communications officer
Tel: 0300 123 0836 or e-mail: kieran.watkins@transportfocus.org.uk
Transport Focus is the independent transport watchdog representing the interests of:
rail passengers in Great Britain
bus, coach and tram passengers across England outside London
all users of England's motorways and major 'A' roads (the Strategic Road Network).
We work to make a difference for all transport users.