Road User Voice – September 2016 – Take a break – what do people want from services
24 August 2016
Toilets, cafes and rest – Transport Focus challenges the service area industry to exceed customer expectations.
Earlier this summer Transport Focus launched its report Take a break – road users' views about roadside facilities at its London offices.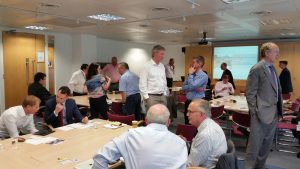 Managing directors of major service area operators, representatives from freight trade bodies, Highways England and the Department for Transport gathered to hear the findings and discuss the recommendations.
Highways England welcomed the report, acknowledging that roadside facilities are an integral part of the user experience of making journeys on their road network and said it would work with service area operators to achieve improvements.
There was a further discussion about how to deliver improvements for users. It included:
concerns from the freight industry about the shortage of places for lorry drivers to take their legally-required rest breaks
that there are difficulties in getting planning permission, with some developments taking 10 to 20 years to be completed
the need for signage to help users of 'A' roads get a sense of the standard they can expect from a service area (that is, fuel only or virtually a motorway service area).
Watch this space for more on our efforts to drive improvements for road users.