Transport User Voice – June 2019 – You and your train company
28 May 2019
A faster Norwich to London service arrives on Greater Anglia
Transport Focus was invited recently to attend the launch of Greater Anglia's new Norwich in 90 / Ipswich in 60 train services.
These new services deliver on a long-held regional aspiration. Businesses and politicians in East Anglia have made the case for faster journey times between Norfolk, Suffolk and London for at least the past 10 years. Realisation of the new services also delivers on a commitment specified in the Greater Anglia franchise.
The new 90-minute service runs each way between Norwich and London, Mondays to Saturdays. It departs Norwich at 09:00 and 17:00, calling at Ipswich at 09:33 and 17:33. It departs London Liverpool Street at 11:00 and 19:00, calling at Ipswich at 11:55 and 19:57. These services reduce the previously fastest journey time between Norwich and London by 12 minutes and London and Norwich by 4 minutes.
Catherine Folca, the person at Transport Focus who manages the stakeholder relationship with Greater Anglia, went along to witness the launch – a high profile event attended by the managing directors of Greater Anglia and Network Rail, local MPs, council members, various other stakeholders in the East Anglian Rail Prospectus and the Great Eastern Main Line Taskforce and journalists from local television and radio. 
The Great Eastern Main Line Taskforce, established in 2009 to champion improvements on the route, will now focus on securing investment for further rail infrastructure upgrades.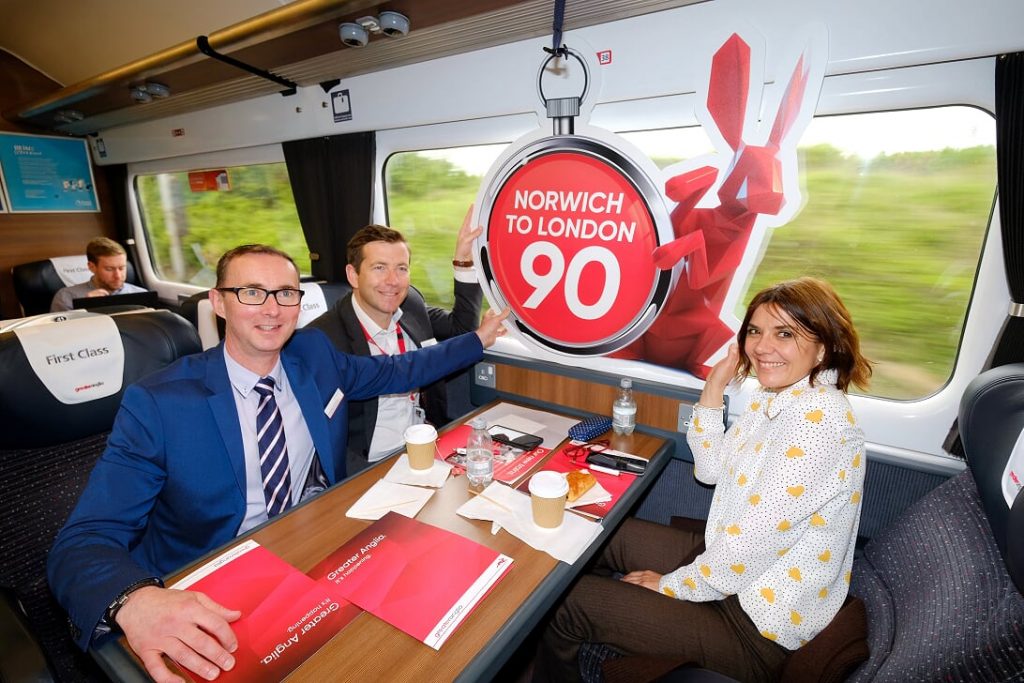 Travelling on the inaugural service, Catherine was delighted that her train from Norwich arrived at London Liverpool Street two minutes early.  
Transport Focus will be monitoring closely the ongoing punctuality of this new service.