Transport User Voice – May 2022 – Around Great Britain
28 April 2022
The West Midlands, Wales, Scotland, and London 
West Midlands 
As founder members of the region's Grand Railway Collaboration, it was great to be involved in its first-ever customer experience away day in March. The event brought together representatives and frontline staff from Network Rail, Chiltern, West Midlands Trains, Avanti, Cross Country, and Transport for Wales to focus on delivering excellence for passengers. Overall, it was a tremendous success.  
We also presented our work at the National Community Rail Conference in Nottingham. It looked at the creation of safe and secure stations backed by our research on the experiences of women and girls on public transport.  
The work was valuable in underpinning and informing the recommendations made to the Secretary of State. Presentations from all parties were well received, including a Transport Focus presentation on our latest passenger insight. 
Our bus work was presented to the West Midlands Bus Passenger Satisfaction Steering Group, part of the West Midlands Bus Alliance chaired by Transport Focus. We are working with local stakeholders to see the early restoration of metro services for West Midlands passengers.  
With less than a hundred days before the launch of the Commonwealth Games, we continue to work in planning public transport provision and delivery as part of the Commonwealth Games Steering Group.  
Scotland 
We welcomed the smooth transition of ScotRail into public control and ownership. This new beginning creates a real opportunity to deliver a railway which is fully focused on being run for the benefit of its users. 
We responded to Transport Scotland and the Convention of Scottish Local Authorities (COSLA) consultation that is seeking to meet a 20 per cent reduction in car kilometres by 2030. This includes a range of transport and non-transport policies that will be introduced to support a reduction in car use. 
Our response focused on barriers to public transport. We have found that two main factors drive modal choice: cost of the journey and convenience. Cost is invariably a comparison between public transport fares and the cost of petrol and parking.  
Convenience can take many forms. For some it's the overall door-to-door journey time that matters, for others it's comfort, the potential to work/relax while travelling or the ability to travel when they want. 
Commissioning a Fair Fares Review in recognition of the fact that public transport fares are increasing while the cost of private car travel is declining, is welcome. It is important to improve the value for money of public transport to make it a better choice for more people compared to private car travel. 
We also responded to the consultation on the draft second Strategic Transport Projects Review (STPR2) for Scotland. The review will inform Scottish Ministers' decisions on transport investment in Scotland for the next 20 years (2022-2042). 
We welcomed the recommendations contained within the draft document and emphasised the need for a focus on delivering on passengers' priorities for improvement across all transport modes.  
Wales 
During the Easter break, we went out to see Transport for Wales' revenue protection team in action at Barry Island station. We know this work is particularly valued by fare-paying passengers. We watched how staff interacted with passengers and learnt more about the work being done to tackle fare evasion across the network. 
We heard first-hand some of the challenges faced by the team whilst conducting this activity and welcomed how staff were supporting passengers to use ticket machines and giving advice about the 'buy before you board' policy. During the visit, we had the opportunity to test the Transport for Wales station audit checklist again as part of our ongoing involvement in the service design panel. 
While in the area, we called in at Barry station to have a look at the work going on there to improve accessibility. A new bridge and lifts (see below) are being installed and a new coffee shop facility has been introduced. The station had been without such a facility for a while so it will be a welcome addition for passengers.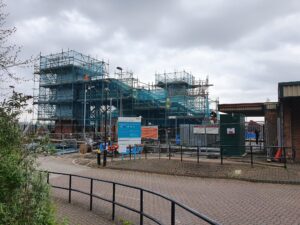 Helpful posters are in place explaining the works and what it means for passengers, which is good practice. A walk around both Barry Island and Barry stations helped us to see what it was like for passengers, noting some issues to feed back to Transport for Wales such as signage, cleanliness, a missing help point, graffiti, and station environment. We will be working closely with Transport for Wales through its Joint Customer Improvement Centre and will be feeding back our observations and pressing for improvements. 
We also saw what the onboard experience was like for passengers. It was good to see conductors out and about engaging with passengers and checking tickets, as well as the British Transport Police patrolling the line. Cleanliness onboard was good, but we noted some issues such as out of date posters and out of order toilet facilities. We have fed this back so they can be fixed.  
We will be out and about across Wales over the coming months working on several initiatives and sampling the passenger experience.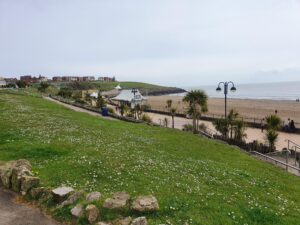 London  
 It's been a quieter month at London TravelWatch as the pre-election period starts, ahead of the local elections on 5 May but there was still a campaign win.  
After significant lobbying, Transport for London announced that it would be reducing the minimum auto-top amount on Oyster cards from £20 to £10. With the cost-of-living crisis and a continued squeeze on people's incomes, not having so much money tied up on Oysters could be a small but significant help to those struggling to get by. The change came into effect on 30 March, so if you've got an Oyster card you can make that change in your account settings now. 
Behind the scenes, the organisation continues its work on prioritising London's buses and engaging with key stakeholders to share its research on personal security. A significant development on that front is that London TravelWatch's video on bystander behaviour can now be accessed directly from Transport for London's homepage. 
The organisation also has some new research about what London's passengers want from the railways as we emerge from the pandemic and look ahead to the new setup under Great British Railways. It aims to publish that sometime in May so look out for it as it contains some interesting findings… 
Back to newsletter.