Transport User Voice – September 2019 – You & your train company
02 September 2019
Updates about three rail franchises
After little news about franchising for quite some time, there have been some significant developments over recent weeks.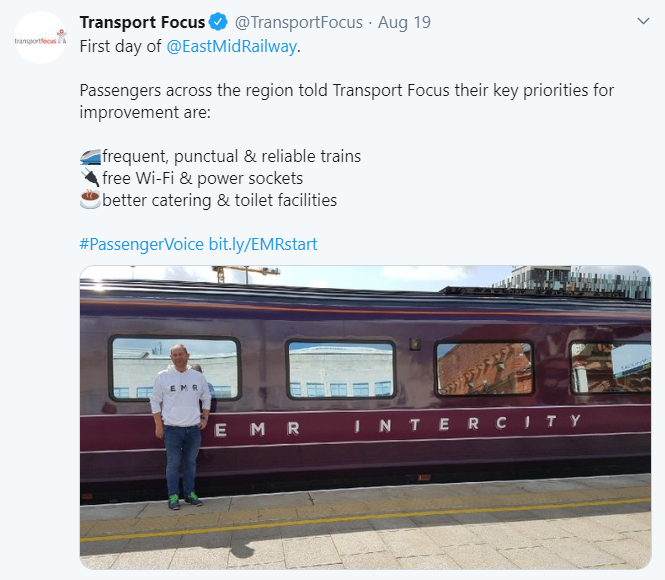 East Midlands Railway launches
Abellio formally took over the East Midlands franchise from Stagecoach on Sunday 18th August. The new operation will be known as East Midlands Railway.
With major investment committed, passengers have been promised a range of improvements including new trains, more peak time seats, faster long-distance services, station enhancements and free Wi-Fi. Delay Repay Compensation will be available for delays of 15 minutes or more.
Transport Focus worked hard to identify passengers' aspirations for a new franchise and promoted the priorities to both Department for Transport and bidders during the franchise competition.
Responding to the award Anthony Smith, CE of the watchdog said: "It's good to see efforts to meet these aspirations at the heart of the new franchise…Abellio East Midlands now has an unrivalled opportunity to provide outstanding journeys and customer service for rail passengers in the region."
West Coast Partnership – award announced 
First Trenitalia has been chosen to run the West Coast Partnership rail franchise. They will take over from Virgin Trains and operate West Coast Main Line services from December this year. They will also be the 'shadow operator' as further plans for HS2 are developed.
This announcement concludes the franchise competition that started in 2017. Transport Focus worked with bidders and Department for Transport to highlight passenger priorities and expectations throughout the process.
Commenting on the award, David Sidebottom, director of Transport Focus, said:
"First Trenitalia has a real opportunity to shape the future and integrate the smooth running of HS2 with the West Coast Partnership. This is an exciting moment for passengers, with the promise of a new high-speed line that has state-of-the-art trains, more seats and faster journey times. However, the new operator must communicate effectively with passengers about the engineering work needed to build HS2, not least at Euston where works are already underway to deliver long term improvements that we know passengers want.
"Transport Focus looks forward to working closely with First Trenitalia to ensure the needs of passengers feature strongly at the heart of the new operation and any major decisions about HS2."
South Eastern franchise competition cancelled 
After several years of work, it was disappointing when the Department for Transport announced on 7th August that the competition to find a new operator for South Eastern has been cancelled.
The current operator's franchise will continue until April 2020 while options for the future are assessed.
Transport Focus will be talking to the Department to press for a clear plan to deliver the improvements that passengers are still waiting for.
Back to newsletter.