Transport User Voice – You and your train company
19 December 2017
Passengers' needs at the heart of long-term planning
Our report on passengers' priorities has already started to drive change. Rail passengers' priorities for improvement found that value for money remains the top thing rail passengers want to see improved.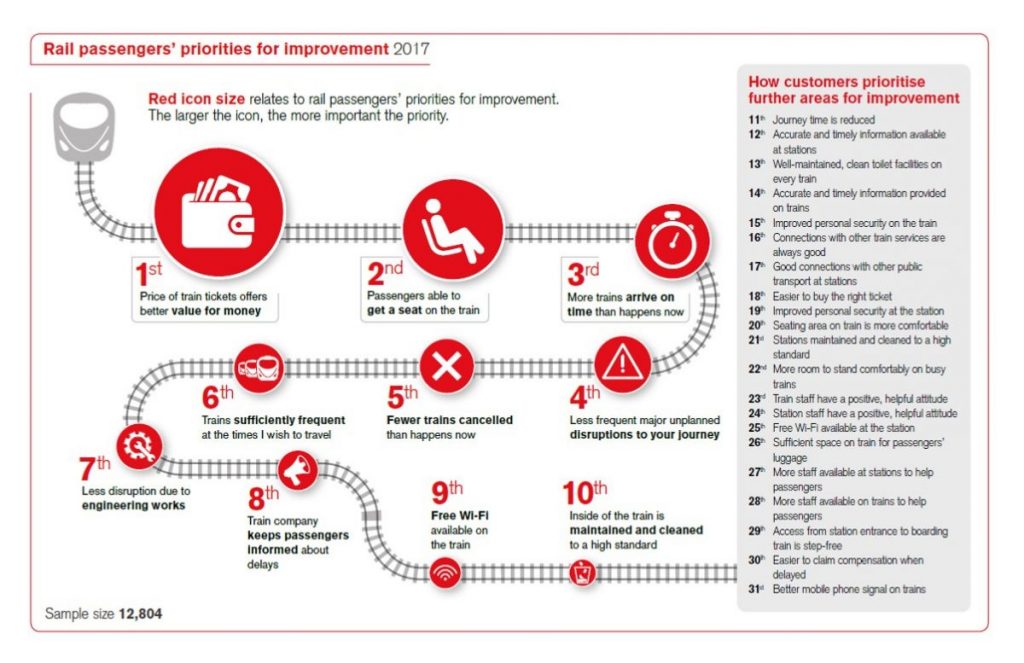 Connecting people: a strategic vision for rail covered wide-ranging elements of the rail service, including a number of statements about franchising policy.
The Department for Transport (DfT) confirms an end to 'the one size fits all' approach to franchises, setting out three main models for the future:
a conventional franchise where the bidder takes the financial risk
a management contract (when there is a lot of engineering work/disruption during the franchise)
longer-term (15-year) integrated partnerships.
The vision also sets out the next franchise competitions. In addition to Southeastern and Great Western (covered further below), key points include:
East Midlands: Invitation to Tender (ITT) to be published in 2018.
Cross Country: public consultation during 2018.
West Coast: partnership-based franchise planning and then running integrated services on HS2 infrastructure alongside existing west coast services.
East Coast: launching a new 'long-term regional partnership', called the East Coast Partnership, from 2020. This will see the operator and Network Rail working together, developing future plans and a 'one team' identity and brand. In the meantime, there will be discussions with the current operator on the short-term needs for the franchise.
Thameslink Southern and Great Northern (TSGN): confirmation of the intention to split the franchise into two operators after completion of the Thameslink programme. In advance, DfT will work with Transport for London (TfL) to "explore options for transferring selected services such as the West London line to TfL".
Great Western
Following the rescheduling of infrastructure improvements for the network, DfT has announced a 12-month extension to the current franchise and open discussions with FirstGroup on a further direct award to 2022.
A public consultation on the future of the Great Western franchise was also launched on 29 November, and will close on 21 February 2018.
The consultation seeks views on the possibility of splitting the franchise into two (or more) smaller franchises and transferring some services to other operators. Views are also sought on the objectives for Great Western in the 2020s and a range of other issues that might be addressed in future specifications.
The DfT will be holding public consultation events in various locations across the Great Western network in the New Year. Further details are available from GWconsultation@dft.gsi.gov.uk
Southeastern
The ITT for the Southeastern franchise and a stakeholder briefing document were published alongside the DfT Rail Strategy on 29 November. A number of the themes of the strategy are developed in this document, which also confirms the Government response to issues raised in the consultation document.
Strategic developments:
alliance agreement with Network Rail (NR) to be established
a Digital Rail proposal is required with funding available for the capital cost
service quality regime and National Railway Passenger Survey targets to drive improvements to the customer experience
fares and ticketing initiatives, including pilot to simplify fares, Pay-As-You Go travel introduced across the Medway towns and a product for passengers travelling fewer than five days per week
Delay Repay at 15 minutes.
Consultation outcomes:
no move to a single London terminal but changes will be introduced on four routes
first class to be abolished from 2020 and longer trains on more routes
metro services to be reconfigured for increased capacity and an improved standing experience
Wi-Fi coverage for 90 per cent of passenger journey time.
In line with an emphasis on the basics and delivering a more reliable railway, the franchisee will be required to collaborate with Network Rail 'to deliver a railway run on a daily basis by a single team'. A jointly appointed director will be responsible for providing strategic oversight, direction to integrated joint teams and promoting a common culture of shared responsibility for continuous improvement in the passenger experience. The concept of the passenger-focused Route Supervisory Board is to be further developed and implemented.
The National Rail Passenger Survey regime will include a specific target for passenger satisfaction on dealing with delays, as well as groupings of factors that measure views on stations, trains and customer service.
West Midlands Trains (WMT) comes into service
The new West Midlands franchise came into operation on 10 December. WMT is a joint venture, owned by Abellio and partners, Mitsui and East Japan Railway Company (JR East).
Transport Focus will be maintaining close contact with the operator as it starts to embark on the introduction of the many commitments to passengers and stakeholders.