Another strike day on Southern – but how good were the alternatives?
12 January 2017
Commuters using Southern Rail faced more travel misery this week due to further strike action. Southern has told passengers to only travel if it was necessary, with a small number of buses linking to particular train stations.
Southern has made substantial efforts to provide alternative transport for passengers during the strikes. Colleagues have been out and about travelling on the Southern network to gain a picture of what the Southern feeder buses, and 'alternative routes', have been like for passengers. We have also tracked how passengers were reporting their experiences on social media. The picture is a mixed bag.
Early on Tuesday morning one colleague travelled with a passenger who normally travels from Hastings to London via Ashford International to catch Southeastearn High Speed into St Pancras. His preference during strike action is to use the Southeastern train into Charing Cross, so adding significantly to his normal journey time.
The journey into Charing Cross started off fairly quiet, but quickly filled up as commuters were bussed by Southern to stations on route. The train filled up at Tonbridge Wells with some passengers having to stand the rest of the journey into London.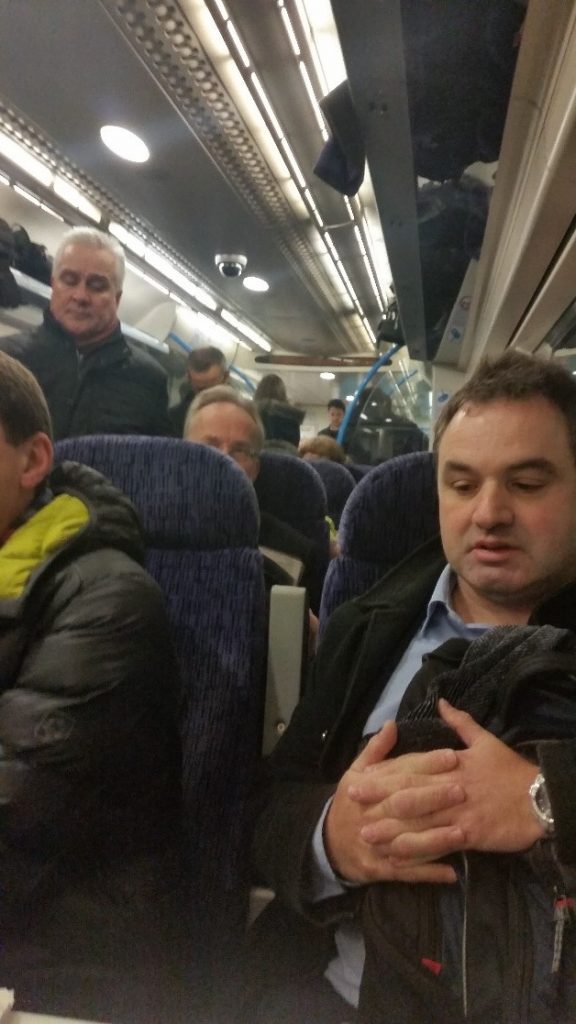 Bus replacement provision and information was found to be very good at Hastings.
On Wednesday, another colleague caught a bus from Horsham to Dorking and travelled into London with South West Trains. He found the replacement buses to have plenty of capacity; there were only three other passengers on the double decker that took him to Dorking (07.19 service). A previous bus had had a few people on it, but was by no means full. He was told it was the same yesterday.
Despite leaving on time, the local traffic between the two towns meant that he just missed the 8.00 Dorking to London Waterloo service; meaning a half hour wait.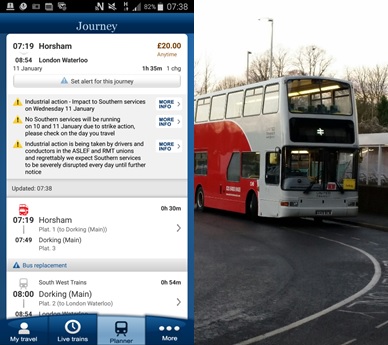 On boarding the 08.30 South West Trains service he got a seat and eventually arrived at Waterloo around ten minutes late, due to a passenger alarm being pulled on an earlier service. At several stages of the journey the guard advised both the intended time of arrival at Waterloo, the length and cause of the delay, and sincerely apologised for the inconvenience.
So my colleagues' experiences of the alternatives have been fairly positive. Reports on social media present a rather more mixed bag. Passengers have faced lengthy queues, and crowded station concourses, at those southern stations also served by London Overground. Those using Thameslink services have faced additional overcrowding on peak time trains; in some cases exacerbated by short formations, much to the disbelief of those who had little choice but to travel at the busiest times.
So, good that alternatives are being offered and these are assisting passengers through this severe disruption. But what is really needed is an end to this industrial unrest.