There and back again – a tale of timetable crisis woes
04 July 2018
Sunday before last one of my colleagues got first-hand experience of the passenger impact when timetables aren't finalised early enough. He needed to get from Peterborough to Ipswich on a Sunday morning before the first through train. This route starts up very late on a Sunday, 09:50 in the summer and 11:50 in the winter. Hopefully Greater Anglia will improve on this when the new trains arrive.
The previous day National Rail Enquiries (NRE) said that, with a very early start, it would be possible to get to Cambridge in time for Greater Anglia's 09:14 train to Ipswich. It involved going south to Hitchin and changing there for Cambridge – both Great Northern trains. Even finding that out took some doing, involving clicking on 'alterative trains' to those that were showing as cancelled. Many passengers would already have given up. Knowing the current timetable problems my colleague checked again just before heading for bed. The crucial train from Hitchin to Cambridge at 08:26 had now disappeared! Not showing as cancelled, just disappeared from the journey planners altogether. From thinking his plans were sorted, he was back on NRE researching.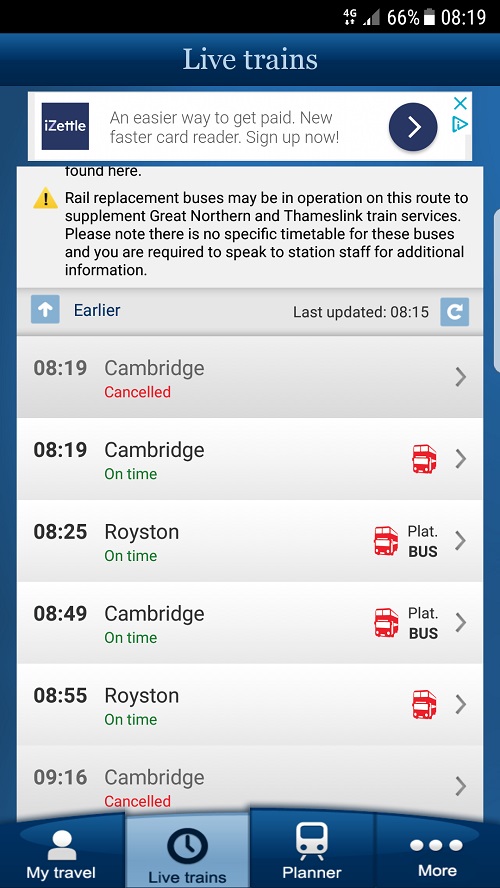 Although the early trains from Peterborough to London were cancelled, a click on 'alternative trains' showed a train to Hitchin – and then an hour later one into Kings Cross, just giving time to get to Liverpool Street. Talk about putting obstacles in the way of people who just want to get from A to B. Rising early on Sunday he found that, overnight, rail replacement buses from Hitchin to Cambridge via Royston had appeared in the NRE journey planner, meaning he could make the 09:14 from Cambridge after all!
There was a final twist to the information challenges facing passengers that Sunday. Passengers at Royston were directed to the 08:00 replacement coach to Cambridge, which set off on time and called in at the intermediate stations. Two passengers boarded the coach at Shepreth at 08:19 just as the level crossing barriers descended for the supposedly-cancelled 08:19 train to stop. The cancelled train really did run, here's a picture where you can just about see it a couple of minutes later in the platform at the next station, Foxton!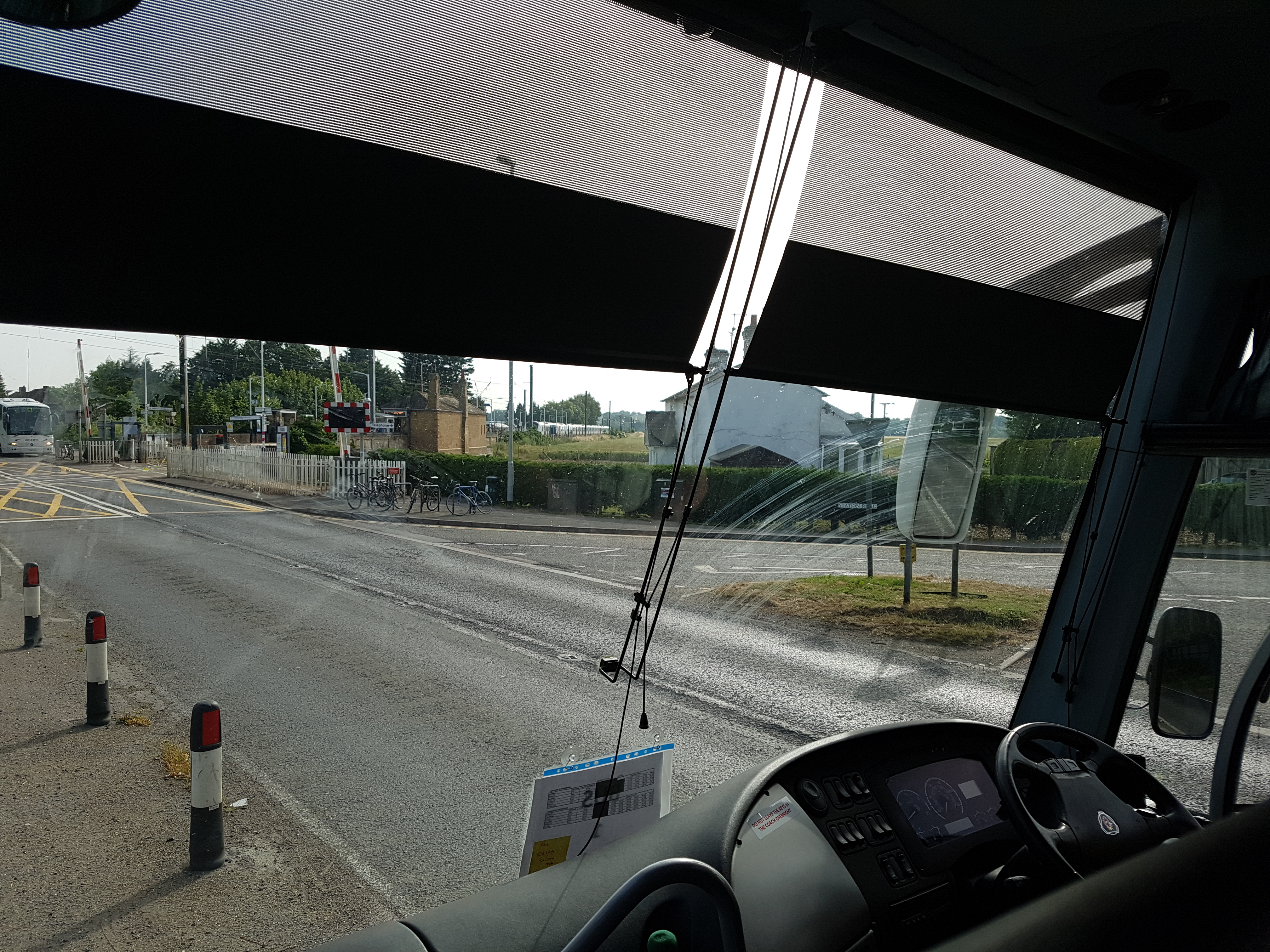 Now my colleague was making a leisure journey, albeit a time-critical one. But it stood out to him how the timetable crisis is having real impact on people getting to work and going about their lives, even at the weekend. This isn't just a Mondays to Fridays problem. He overheard a number of people phoning their employers to say they would be late for work that Sunday – hopefully those passengers still have a job to go to next Sunday.
If anybody was in any doubt, this illustrates why Transport Focus is pressing Govia Thameslink Railway hard to publish a timetable it is confident can be delivered reliably. Services need to be put into journey planning systems with full details of any buses that will be covering gaps in the service. It also underlines why it's crucial that the rail industry gets back to publishing accurate timetables 12 weeks in advance. If trains and replacement buses aren't correct in journey planning systems passengers are left frustrated, potentially stranded and many will just walk away concluding that it's all too much hassle. It is called 'Informed Traveller' for a reason.