Bus lanes – helping passengers along
07 March 2018
Why are bus lanes important? Here at Transport Focus we have a mass of evidence that clearly shows bus passengers want a good consistent 'core product' – by that we mean a frequent, punctual and reliable service that provides value for money.
Sounds easy? Well it's not. Buses by their very nature have to keep stopping to pick up the passengers, which makes them far slower than travelling by car. Also, just think how many traffic signals a bus has to travel through just on one journey, let alone all day. To give you an idea, buses can spend around a quarter of their time waiting to go through junctions and about a fifth of their time waiting at the bus stops – that's nearly half the journey time.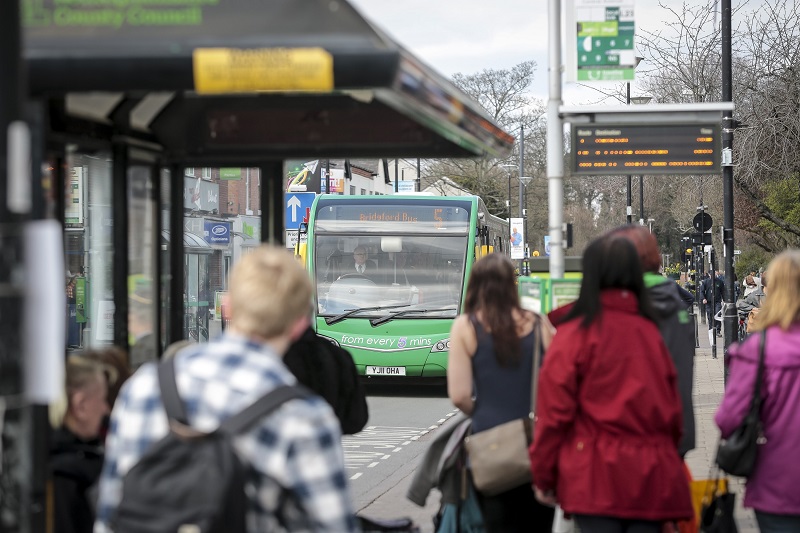 So, it sounds like we should help them along a bit. They do make much more efficient use of the road space and connect people to jobs, customers to businesses, provide access to essential services and reduce barriers that non-car ownership creates. Surely that's fair?
Well that's where sensible traffic management, focused around providing good facilities to aid people movement, rather than cars, can really help. One double decker bus can take more than 60 cars off the road. Bus lanes can speed up buses and make them more competitive than the car as well as improving bus reliability.
If designed well, and kept under review as traffic conditions change, they should be part of the solution to congestion – certainly not the cause!
In the age of technology we should not forget traffic lights – allowing buses priority at the lights all adds up in terms of improved reliability and journey times given the amount of times a bus goes through them each day. With the move to smart ticketing helping to speed up boarding, we really need to get buses through the traffic lights quicker.
Buses deserve to be part of a wider coherent plan and provided with their fair share of funding to improve operational performance but also to help tackle the air quality and congestion challenges facing many parts of the UK today.
So, let's maintain the focus on bus performance, and come up with some good congestion management plans based around people movement, let's tackle roadworks and get the focus back to delivering infrastructure to support the bus. Only that way will we see the true value of what the bus can deliver to local communities.
We will present the results of our latest Bus Passenger Survey at an event in Reading on Thursday 15 March. Click here to find out more, including how to attend.