Bus Services Bill: can it make a difference to passengers?
28 June 2016
Members of the House of Lords will no doubt have many things on their mind as they scrutinise the Bus Services Bill until the summer recess. Its laudable ambitions include improving bus services for passengers and increasing the number of people who travel by bus. It increases the range of agreements that transport authorities and bus operators can enter into, as well as requiring operators to make available much more data and information.
There is some way to go before the intentions and wording of this Bill become reality. Much of its implementation will be through more detailed regulations before anything changes on the streets.
But will the Bill make a difference to passengers? We know funding is important, but our research indicates where legislation could help their experience. Our research has identified passengers' 'top ten' priorities for improvement.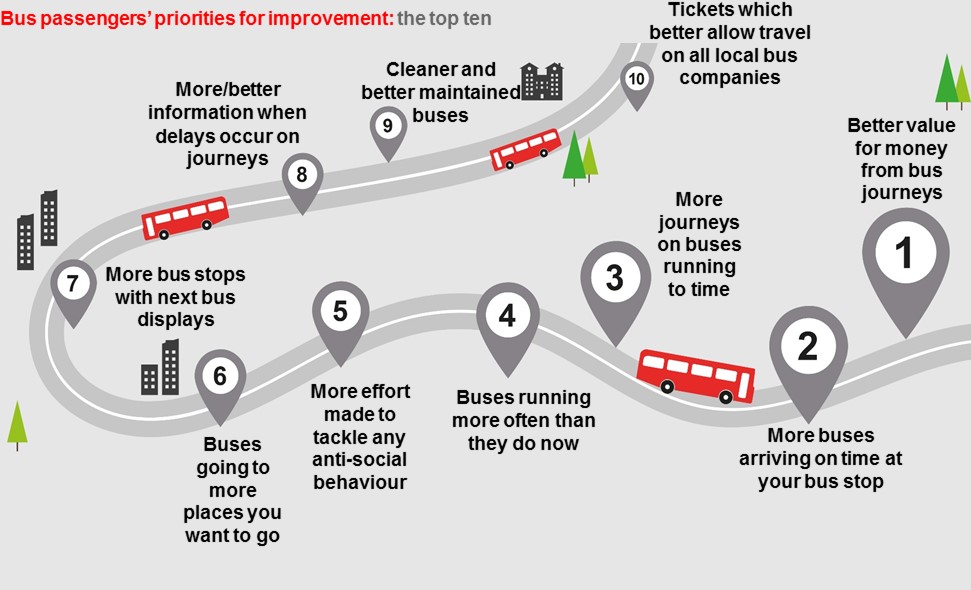 Let's see if they can be met by the Bill?
Passengers' first priority is for better value for money from their tickets. The Bill should make it far easier for local authorities and operators to work together to deliver new deals such as smart ticketing. Smart ticketing should also help with the tenth priority of having tickets to travel on all bus companies.
Many of these priorities could be delivered through the specifications in the agreements between bus operators and the local authority: improved punctuality (second and third); buses running more often than they do now (fourth); buses going to more places (sixth); and more bus stops with next bus displays (seventh) and better information when delays occur (eighth).
But engendering a spirit of co-operation could make a lot of difference. We saw this with Centro in the West Midlands working with operators (predominantly National Express) to focus on particular problems. This could work with the fifth priority relating to tackling anti-social behaviour and the ninth (cleaner and better maintained buses).
Finally, providing the data to monitor delivery could improve transparency, particularly in providing more real-time information to passengers.
Recent bus statistics were disappointing in showing a three per cent decline in use in England in the last quarter. Signs are that the Bill will improve the passenger experience and help reverse that decline. We hope that Parliament won't lose sight of this opportunity for improving the bus passenger's lot.