Clarity needed as public transport safety concerns grow
21 May 2020
"The level of traffic has been noticeably increasing over the last two weeks, not just the last 7 days​."
"Everyone was social distancing and the train was on time."​
"Good to be able to pay via contactless debit card, even for a very small fare. Drivers are well protected with a screen which is vital and reassuring."​
Just three of the comments from Transport Focus's latest research into travel habits and attitudes. It's the third week of this research, carried out last weekend 16 – 17 May. Overall, the findings have been pretty consistent throughout May. There has not been a huge rush back to travelling – not surprising, the lockdown has only just started to be eased.
However, this week's numbers suggest that traffic levels are starting to creep up – the proportion reporting traffic as 'light' has fallen again, with a rise in those saying traffic was 'moderate'. The findings also suggest signs of increasing caution about returning to public transport: the proportion saying they won't use it for any reason until they feel safe has risen for the second week running.
Clearly, keeping everybody two metres apart on a bus, train or tram is not easy. The number of passengers who can be safety accommodated is dramatically lower than before Covid 19 – resulting in the firm message to walk, cycle or drive if you can, leaving public transport to those who don't have an alternative.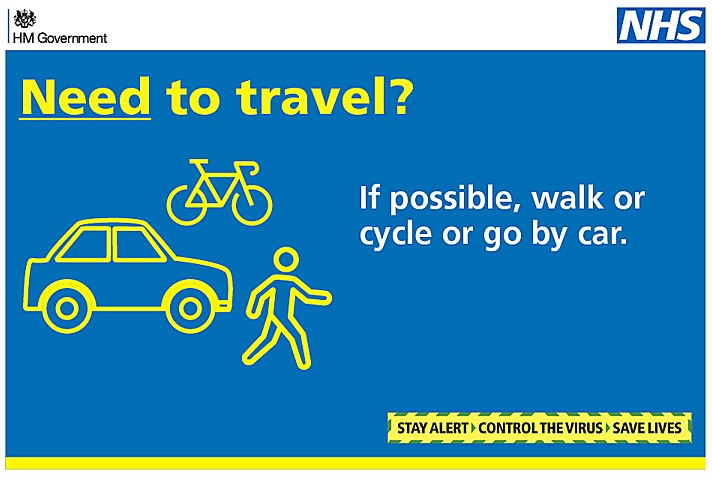 But what about those who can't walk, cycle or go by car? What do they need to know about, to be reassured about, to have the confidence to become bus, train and tram passengers again? The government in England has produced clear high-level advice. And we've seen good examples of this being echoed, such as by Nottingham City Transport.
But we think passengers will want greater clarity in various areas. So today we are writing to transport operators asking them to check that their websites are clear on the points outlined below. We'll be following up to see if everything is crystal clear.
Is it clear who may and may not travel?
Is it clear what timetable is being operated (for example, a Saturday service) and whether any changes are imminent?
Is it clear that the Passenger Assist service for disabled rail passengers is still being provided? If so, is it clear that it may be provided in a different way than before Covid 19?
Is it clear what the operator will do to maximise social distancing, stations/stops and on board, as well as what passengers should do?
Is it clear that you should* cover your face? If so, is it clear what type of face covering is appropriate? (*not applicable in Scotland and Wales)
Is it clear what additional cleaning is being carried out and whether there will be hand sanitiser provided for passengers?
In the context of maximising social distancing, is it clear when is best to travel and when is best to avoid?
Is it clear what happens if the bus, train or tram you want is full? If so, including what happens if the last service of the day is full?
For rail passengers, is it clear whether reservations are mandatory, advised or not required? If mandatory, is it clear how – if you have a flexible ticket – you change your reservation at short notice?
Is it clear whether cash is still accepted? And is it clear which station ticket offices are open (with opening hours stated) and which are closed?
Are these the right areas? Let me know if you think there is anything we should add.