Competition across the Pennines: can coach keep up?
08 February 2018
Good to see some new competition emerging across the Pennines. Bus company Transdev set up CityZap with some great head to head marketing with rail before Christmas.
Alex Hornby, the perennially cheerful, energetic and positive boss of Transdev, has led the extension of CityZap services. Initially piloted between York and Leeds, the services now bridge the Pennines between Manchester and Leeds. Initial fares at £1 and then less than a third of the Anytime return train fare – the open return ticket is £9 and there seem to be plenty of offers for students, NHS staff and others.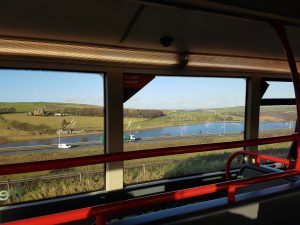 One stop at Ainley Top on the 75 minute journey, where an informal park and ride already happens, with high-quality buses. Most importantly no fixed route – the driver uses the SatNav (or the 'ZapNav' in Transdev language!) to plot the best route based on the traffic. This seems really intelligent. Even better the coaches run on Boxing Day when the railway shuts down.
While TransPennine Express run good rail services these suffer from overcrowding. Driving can be a challenge and just imagine what could be achieved if Highways England and local authorities started, as we are pressing them to do, to build in space for these types of service. These new services seem to offer a really good extension of choice for travellers – I hope they work.