Driving electric: how does it feel?
09 May 2022
Smooth, quiet, hassle-free with great acceleration and braking!
These were my initial impressions having finally got the chance to drive an electric car for the first time last week.
As we do more work on electric vehicle recharging, we needed to experience how it feels. So, colleagues and I headed up to the excellent Electric Vehicle Experience Centre in Milton Keynes – which is sadly soon to shut. I suppose this is a sign of success though as electric cars become more mainstream.
Daniel McLaren and colleagues gave us a great overview of what is happening in the electric vehicle market now. We hired a very large, shiny Hyundai Ioniq5. I felt nervous as I edged it around the roads of Milton Keynes, but these nerves quickly vanished as the experience is so relaxing.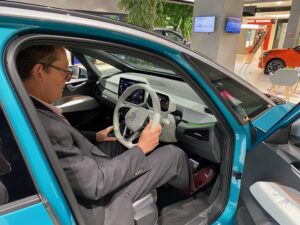 We travelled a variety of roads from the M1 covering 70 miles to Braintree. The car took it all in its stride and used what seemed like very little electricity. The acceleration was amazing. The regenerative braking, which feeds power back into the battery, was firm and reassuring.
Assuming I needed a new car and could afford one (leasing is making them more affordable but getting hold of one is still a long wait) then it would be electric.
Gridserve's state of the art, Electric Forecourt® is impressive. Their 'sun to wheel' model means that they generate their own power via solar farms. Even the forecourt canopy is a huge solar panel.
We deliberately avoided doing any research in advance as we wanted to turn up and re-charge, to find out just how easy and quick it is. The slogan is 'plug and pay', and it turns out to be true as it couldn't be easier. How a disabled motorist might find the experience is a different matter.
Overall, this was an impressive site but are chances being missed to make recharging more accessible? Sam Clarke from Gridserve, gave us a useful introduction and tour. The site seems set up to cope well with any future demands on recharging speed and capacity.
We'll be out and about more to look at the rollout of electric vehicle charging infrastructure across the country this year. We're also developing a survey to measure the consumer experience when charging up at service areas on England's motorways and major 'A' roads.
If you can, go electric. It feels like the future.