Fareham to Gosport bus route – a model for the future
20 December 2016
It takes quite a lot to dazzle on a grey, damp winter day. However, First's Fareham to Gosport 'Eclipse' dedicated bus route did just that.
The result of outstanding partnership working (and using existing legislation) between First Group and Hampshire County Council the use of a disused railway track as a dedicated bus route became a reality. The route offers a real transport choice for passengers faced with the crowded, slow single carriageway A32 which serves the Gosport peninsula.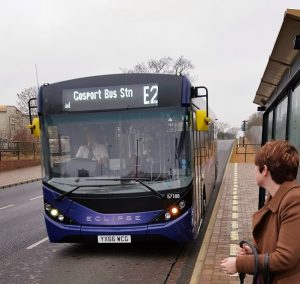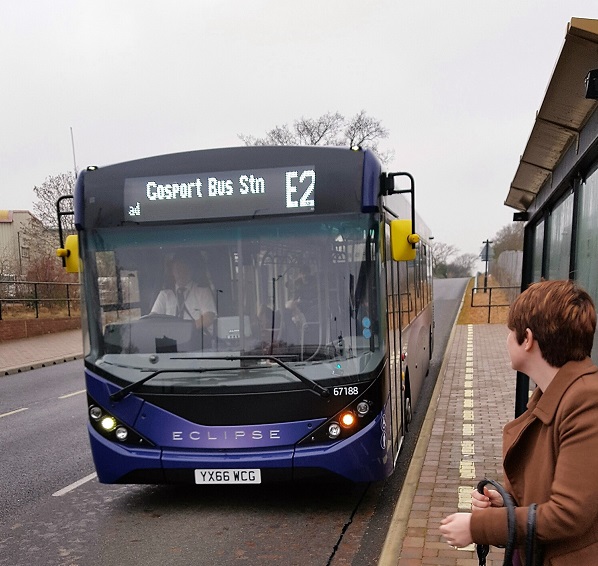 New buses with free Wi-Fi, great information, smart and friendly staff and above all else a very reliable and frequent (every six minutes in the peak) service has led to steady growth, high passenger satisfaction and more investment.
The use of a profit share arrangement just seems so sensible – both the Council and the private sector share both the risk and the upside. Judicious applications to central Government funding schemes unlocked money with potentially more to come. The final leg of the route, again using the disused rail bed, could soon be funded, improving the service even more. I hope that happens.
I was shown around the service by the incredibly energetic and enthusiastic team of Marc Reddy (First Hampshire, Dorset and Berkshire managing director), Dervla McKay (First Solent general manager), Keith Willcox (assistant director transport Hampshire County Council) and Andrew Wilson (Solent transport manager, Solent Transport – a local authority consortium) – all pictured below.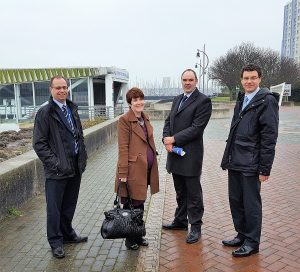 The only potential future problem seemed to centre on Gosport bus station. Functional but tired the bus station is, however, situated next to the ferry over to Portsmouth. Re-development looms; great to have flats there but a real shame if public transport is pushed out.
If you can, go and have a look. It certainly makes you think if the new mooted East West rail route is thinking ahead enough in terms of new technology. Maybe a dedicated bus or coach route, geared for potential future autonomous operation, could be an option?