M6 toll price increase – helpful timing?
02 August 2018
The M6 toll road in the West Midlands put its prices up this week. It may only be 50p extra for a car (though over 8 per cent is still steep at a time of static wages), but is it going to help keep traffic moving around Birmingham?
Roadworks on the original M6 make it important that the toll road is an attractive alternative to the congested, but free-at-point-of-use motorway. And of course Highways England is pushing the toll road as an alternative route to avoid its works on the M5 at Oldbury. This price increase could drive people back to congested roads. Unfortunate.
While I'm talking about the M6 toll, I'll air a couple of thoughts on behalf of road users – one is about information and the other about making better use of the toll road when there's disruption on the original route.
Road user information 
Consumer choice is a good thing – pay to use the M6 toll or take the old road for nothing (nothing extra, anyway!). But can consumers currently make an informed choice? Road users approaching the decision point see the M6 Toll prices, and they're told if the toll is 'clear' or not. But they don't get information about the original road. Why can't Highways England and Midland Expressway (owners of the M6 Toll) get together to provide, for through traffic, simple information about expected journey time by each route? Northbound it might look like this…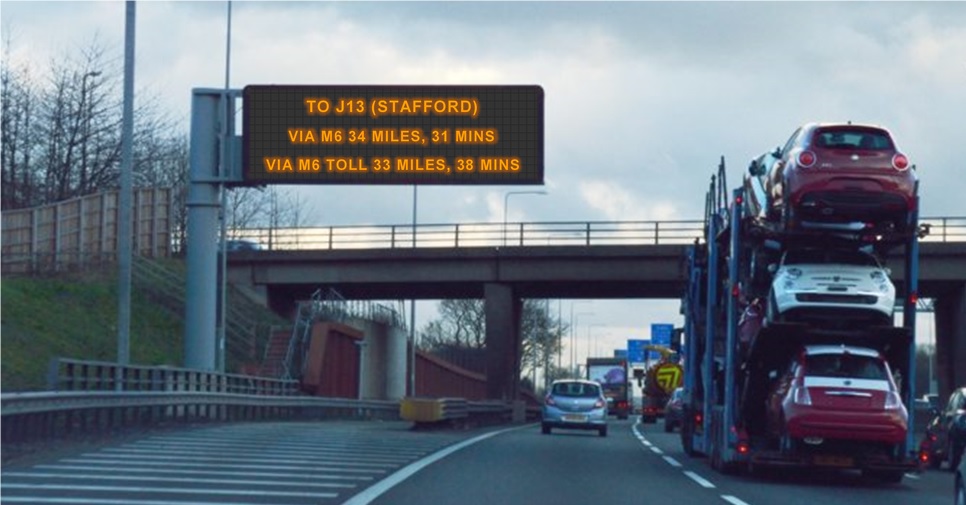 Using the M6 Toll more effectively in disruption.
Why isn't more use made of the Toll when there are problems on the M6? If the original route is closed, for whatever reason, why should Highways England's customers be forced to pay a premium just to get home? On the railway, although it could sometimes be smoother, if one line is in trouble other train companies get passengers home for no extra charge. There's no difference in principle. Clearly, Midland Expressway would need to be reimbursed for loss of revenue from those who would have used its road anyway. But if customers really are Highways England's second imperative, is it a price worth paying?