More rail chaos
07 June 2018
Earlier today Transport Focus met rail minister, Jo Johnson MP, in Manchester. The minister was there to see senior stakeholders and learn first-hand about the issues caused by the recent timetable and disruption chaos.
Our Manchester-based director talked to the minister about the impact on passengers, what has gone wrong, and most importantly what needs to be done to restore a reliable service and faith in the railway in the north.
We explained our asks for passengers to the minister:
reliable train performance and clear communication about the timetable that will be provided in the coming weeks.
compensation that recognises the extent of the disruption to people's lives and Delay Repay measured against the original timetable promised, not just the slimmed down one now on offer.
a robust plan to reinstate the 165 train services that have been removed from the timetable as soon as possible.
These are key points, amongst many others, that we are reinforcing on behalf of passengers to organisations including Northern, Transport for the North and the Mayor of Greater Manchester.
An illustration of the impact….  A colleague took a day's leave today to be around if needed to drive her daughter to college for her A level exams – as they weren't confident the trains would run properly during this timetable chaos. As it turned out the trains did run, but it illustrates the decisions people are needing to take to be sure they get to critical appointments.
Govia Thameslink Railway (GTR) today offered to get students to exams by taxi if needed. A sensible, responsible decision – but the very fact it has been necessary tells a tale.
Passengers continued to face delays and cancellations on Thameslink services today, and it appears this is being felt by commuters early in the morning and those travelling outside peak times.
Those travelling on Thameslink trains into St Pancras this morning would question the success of GTR's promises to stabilise the service – it again faced delayed and cancelled trains. The experience for Great Northern passengers into Kings Cross did seem better, however.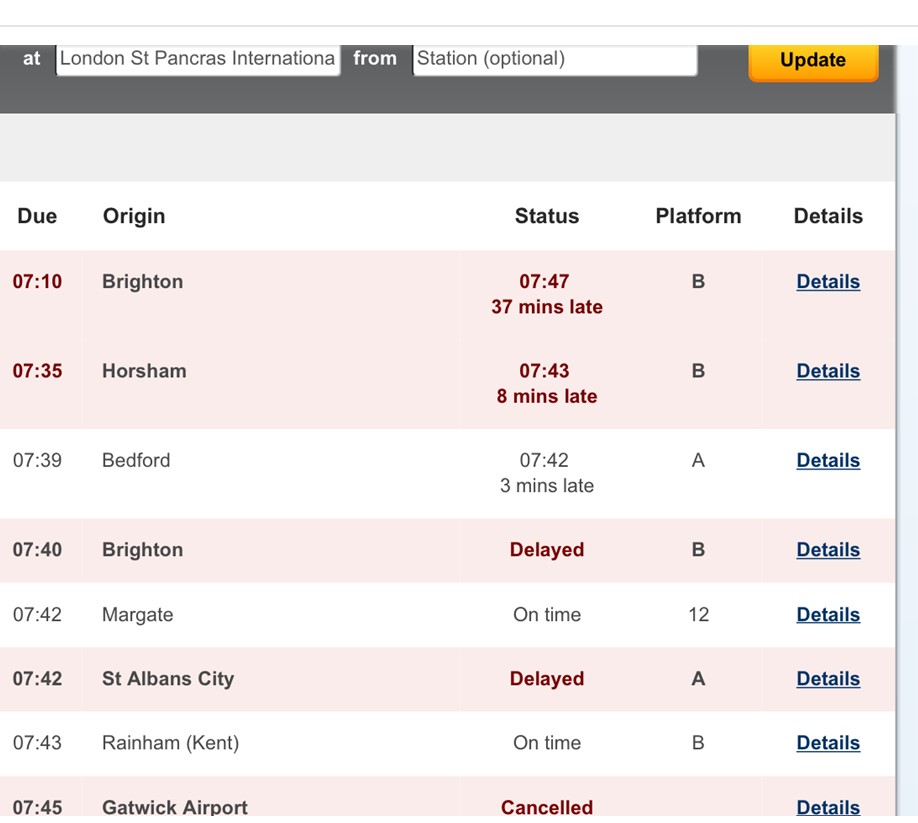 The situation really didn't improve through the morning as trains from Brighton to London St Pancras were impacted by severe delays. Passengers arriving at Horsham and Sutton stations found their services cancelled.
We continue to argue that GTR should introduce a formal temporary timetable on Thameslink, one they know they can deliver. Stability matters to passengers.
This morning we asked GTR to confirm that it is still doing automatic Delay Repay – there having been some suggestion that it had been suspended. We've been assured that it hasn't and season ticket holders will get compensation as normal.
We'll keep up our monitoring. And please let me know about your experiences – whether north or south.