Must do better next week!
08 June 2018
It's an understatement that it's not been a good week for many Govia Thameslink (GTR) and Northern passengers. There's not been much progress with the stability promised by GTR at the beginning of the week, with cancellations leaving long gaps in the service at some stations. There are early signs that the Northern temporary timetable is starting to help, though. Stability is crucial – the industry must do better next week. We've written to both GTR and Northern about this and you can see the letters here.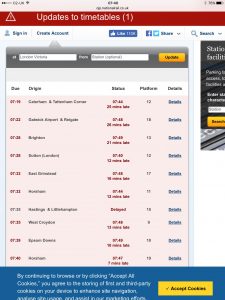 Thameslink cancellations and poor information
One of my colleagues arrived at Harpenden station at 9.50am this morning to catch a train to City Thameslink, only to find no train until 10.22. He and fellow passengers kept checking the information boards wondering why there were no trains going south. There was no explanation, all they could see were six trains going the other way to Luton and Bedford.
Then various of the northbound trains were cancelled or had the dreaded "delayed" appear next to them. There was still no explanation. Eventually a train arrived, extremely crowded, more like an early morning commuter service than a mid-morning off-peak train.
Replacement buses in the Lake District
Despite the temporary timetable that takes out 165 trains, Northern passengers continued to experience delays and cancellations. It has been better, but it's still not good enough.
Some of the passengers most affected by the interim timetable are on the line between Windermere and Oxenholme in Cumbria. We were monitoring on the ground there last month, at a time when passengers were experiencing a chaotic service. You can read our report here.
We were back there today speaking to passengers about the bus service that's replacing trains on the line for at least another three weeks. We found plenty of staff at Oxenholme and clear information about where to find the buses. Oddly, the bus timetable means some long waits for connecting trains – more than 45 minutes on occasion.
At Kendal we found volunteers from the Lakes Line Rail User Group helping out providing information to passengers. There's no shelter or waiting facilities there, not a problem on a nice sunny day, but what if the weather turns? At 11.30am there were school children coming home earlier than normal after exams and overwhelming the mini-buses – some passengers were left behind until extra buses arrived.
What did the passengers make of it all? On one hand a sense that the buses were better than the unreliable train service provided of late. But there was frustration that it has come to this. Next week we're going to be asking passengers on the Windermere route to complete a simple survey about their experiences using the buses.
Great Northern cancellations
Back on GTR, we heard from eight-months-pregnant Abi who had a pretty grim commute home yesterday from Huntingdon to South London. The journey should have taken 55 mins (5.41- 6.36pm) on Thameslink, and then another hour from Finsbury Park to South London. It actually took over four hours after successive cancellations at Huntingdon. How awful!
Relaxing ticket restrictions
We have pushed GTR this week to relax ticket restrictions so for the moment passengers can get the first train that comes going to where they want to be. We've suggested that passengers with tickets normally valid on Southern or Thameslink only should for now be able to use the Gatwick Express. I am pleased to hear that a decision has been made to do this. This is sensible and will be welcomed by passengers.
To reiterate, achieving stability is crucial. Next week we'll continue to push train companies on this, and also the need for generous compensation for passengers receiving a raw deal. Next Tuesday the Transport Focus board meets in public in London and we've invited GTR and Network Rail to attend.