Northern passengers losing patience
17 May 2018
'Enough is enough' said Andy Burnham, Mayor of Greater Manchester yesterday as he called for an investigation into an 'unacceptably poor' service from Northern.
Passengers across the North West have been feeling the effects of delays and cancellations to Northern train services due to a lack of train drivers, making just getting to work a challenge. Amongst the most affected passengers are those on lines near Blackpool and Bolton. These passengers have already been asked to put up with the impact of delayed electrification works and long periods of rail replacement buses. They deserve better. We have already made clear our view on compensation for passengers travelling via Bolton in letters to Andy Burnham. We will be writing to Transport for the North offering our help and reiterating our view that Northern must act and ensure passengers are compensated fairly.
ICYMI Andy says "enough is enough" and is calling for an official investigation into Northern Rail's performance. https://t.co/4xi37LF8lL pic.twitter.com/JOShWyNSQD

— Mayor Andy Burnham (@MayorofGM) May 16, 2018
Earlier this month Transport Focus colleagues visited stations on the Lakes Line in Cumbria, another of the worst affected lines. They couldn't take the train between Oxenholme and Windermere as the service here had disintegrated, with more than half the day's trains cancelled. The background to these problems is complex, including the scale of the May timetable changes, delayed completion of the electrification to Blackpool and the need to take drivers out of usual duties to train on new routes and train types. However, the passengers we saw waiting for bus replacement services are unlikely to be aware or frankly to be interested in the operational complexities of running a railway. They just want a reliable train service.
My colleagues were meeting members of the Lakes Line Rail Users Group. On arrival at Oxenholme we found them pitching in to help the Virgin staff direct bemused passengers up the hill to a replacement bus. They feel abandoned by Northern, with a lack of staff to help passengers during disruption. The group are tireless champions of the line, volunteering their time to help promote the service. It's telling that the group had felt they had no choice but to publicly criticise the service for the first time, branding it 'shambolic' in the local press.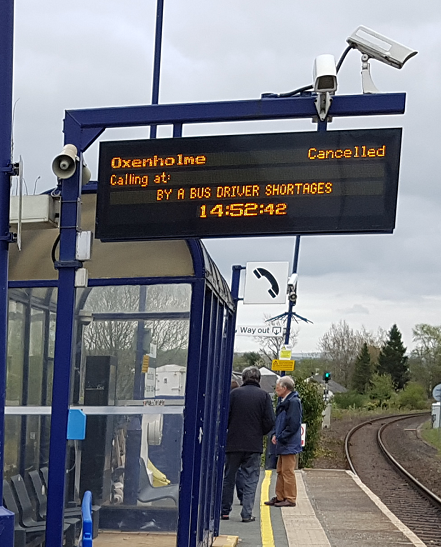 Perhaps the most striking scene was at Kendal in the afternoon as passengers waited in the drizzle for a replacement bus. We were told there would usually be around 130 'scholars' from the local school using the train to get home, but today only counted around 30. The rest must have given up and found another way home. And why not? The information screen on the platform showed the trains were cancelled and unfortunately stated 'trains will be replaced by a bus driver shortages'. Even if you could work this out there was no information about when the buses were due, where they would go from, or any staff to help out and reassure. The service had been poor for weeks, but in the last week of April two in five trains were cancelled. When we visited it was more than three in five. How many of these passengers that have been let down will come back?
Northern must improve the basics and run a service passengers can rely on, but it must also consider how it can make it up to passengers and start to win back trust