A smooth journey? What do drivers need from road surfaces?
09 November 2017
Nothing like the view from an HGV cab: "I've had times where I've had to move out of the inside lane because the ruts in the surface were so bad. Other road users couldn't understand what I was doing, I got a lot of funny looks!"
Precisely because motorways and major A roads are important, users want them maintained to a high standard for a better journey experience. Users told us in our latest research with Highways England that the strategic road network is in a pretty good condition but they want it kept that way:
"M25, A13 junction, they've redone the area so the road is very nice and smooth. So it's a smooth easy drive and they've also added another lane or something, going towards Lakeside, so that feels nice."
Our earlier research showed this was a priority for improvement for all road users. Driving on concrete surfaces or poor quality roads makes for a more stressful, noisy experience. Again a trucker sums it up well:
"Concrete roads are a no go-er, not as good as tarmac roads, slippery when it's rainy, on ice you can't get the grip, the noise is horrendous."
Drivers on England's major roads want road surfaces without dips, bumps and potholes, and with clearer white lines and 'cats eyes'. Where there is a safety impact road users expect permanent repairs to be carried out as quickly as possible.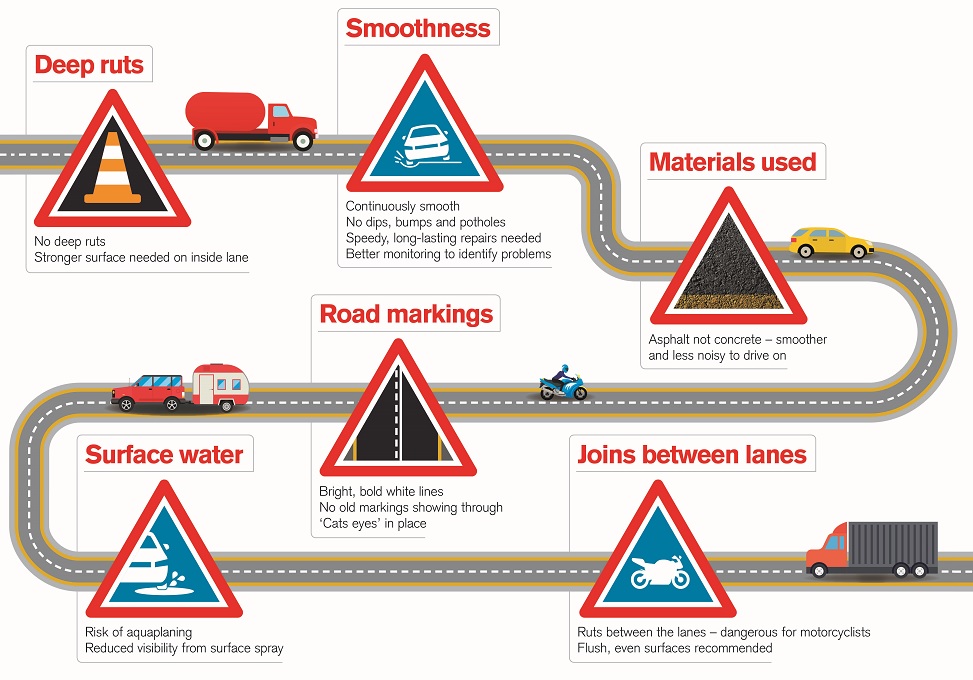 Transport Focus is calling for:
Highways England to make it easier for road users to report defects on its roads
the Department for Transport to establish a dedicated 'renewals backlog' fund
Highways England to develop construction and maintenance standards that will deliver the quality of surface road users expect from major roads
the metric used in Road Period 2, the next five year spending period for the Strategic Road Network, to measure surface quality from a user perspective avoiding technical measures which will mean nothing to users
the Department for Transport to set a challenging but achievable target for improvement in surface quality.
You can read the full report here.