Three go on a Great Western Adventure
09 October 2020
It felt good to be on an old route recently, both familiar and unfamiliar at the same time. I took my children down to Bristol and Exeter so my eldest could see what the universities look like, from the outside at least.
Booking tickets online was a bit frustrating – you need to know if the train is full before you get to the end of the process! Once on our way, it's good to report that on the Northern, Victoria and Bakerloo lines (that take you from Tooting Bec to Paddington), I saw almost 100 per cent of passengers wearing face coverings. You only hope the people that are not wearing them have good reason – having just reached 60 I am now much more cautious. Mind you this was at 8.30am on a Saturday morning and back at 5.30pm Sunday evening – not sure what it would be like at 10pm onwards!
Paddington on Saturday morning felt calm, clean and well signed. There were a few shops and takeaways open. The 9.30am to Temple Meads was pretty empty – plenty of room to spread out and distance. I hadn't heard the 'use window seats' message before which made sense, to keep staff and other passengers safer.
The train was clean, quiet, fast and modern – I like the new carriages. Best of all there was a ticket check. Makes the whole experience feel more under control and patrolled. Again, nearly everyone was wearing face coverings and there were good positive announcements about safety. While you are reserved on a particular train you don't have an allocated seat, so everyone just sorts themselves out. It seemed to work OK this time, but I've heard others have found this lack of seat reservations confusing.
As you pass various other Great Western Railway and Transport for London trains and see the investment in stations and depots at Reading and other places, it reminds you what a total transformation of this line has taken place. Covid-19 cut in just as years of work and investment really started to be noticeable.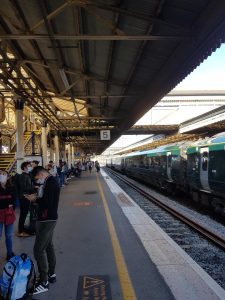 The next morning, we took the 9.52am from Bristol to Exeter. That afternoon the 3.15pm from Exeter to Paddington was much busier but again, people behaved sensibly, and it all felt OK.
The hard seats? I find them OK but the upright angle of back does make it hard to sleep in them!
My only real moan is about the price. So, even with a Family and Friends Railcard plus a 16-25 Railcard the round-trip cost over £123 plus tube fares. If there had been local lockdowns, we would have lost the lot. Not sure if my travel insurance would cover this.
The railways need to make Advance tickets more flexible or they will lose both custom and goodwill. Yet again, the need for fares reform is pressing. The old message of more flexible but more expensive doesn't really work when you have to reserve on a particular train anyway.
While driving was never really an option, as battling to get out of London has become even more difficult with bridge and road closures, that is a lot of money to put at risk. I doubt many people could accept that risk and so might drive instead.