What's the price at the pump?
04 January 2017
Fuel pricing – always a hot topic amongst drivers and one that came up in our recent research on roadside facilities. It's an important issue and affects a number of areas for us all. It plays a part in the price of goods we buy, the places we visit and the cash left in our pockets.
As a consumer organisation Transport Focus wants the best deal for all users of the Strategic Road Network. Users should have choice and it was interesting for a colleague to see the new fuel price trial on a trip along the M5 recently.
The trial is taking place southbound between Bristol and Exeter and features a number of electronic signs between Gordano, Sedgemoor, Bridgwater, Taunton Deane and Exeter motorway services. These signs display the next three (real time) prices for fuel at the upcoming motorway services.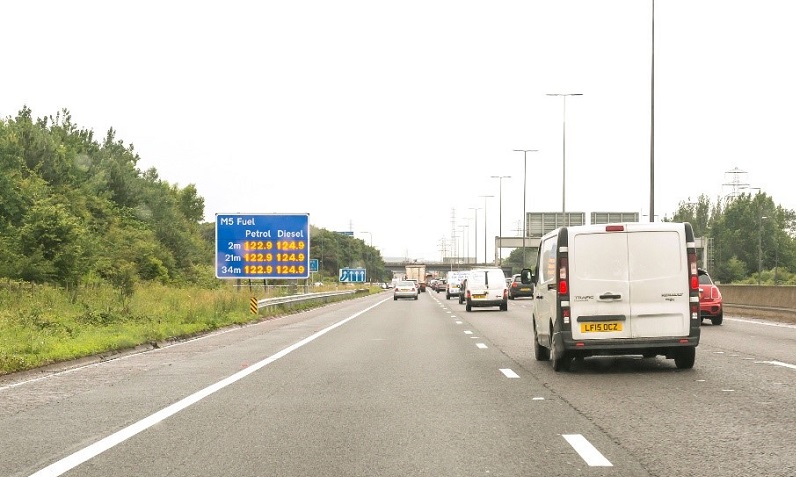 In theory it is a good concept and one that should allow road users to incorporate more planning into their journeys. After all, running out of fuel is a serious issue and is a completely avoidable problem. It is good to see the trial bringing together different organisations from the public and private sector to make the trial happen.
However, the reality of driving down the M5 possibly reveals a different experience. At the time of writing, the signs my colleague drove past all had fuel at exactly the same price. Therefore, do we stop at the first, second or third motorway services? Do these signs help to show the best value fuel in the area? Do the signs put off road users who might take more chances with the fuel in their tanks and risk breaking down? All of these factors will be monitored and fed back to those responsible for the trial.
A number of indicators will play a part, such as impact on driver behaviour, the number of stops made at services, the number of fatigue and fuel related incidents reported and the effect on fuel pricing itself. We live in the age of technology and looking back later after the journey, a few minutes searching on the internet revealed a number of places locally where fuel can be found cheaper. As mobile technology moves on and smartphones play a bigger role in our daily lives it will be interesting to see how road users might change their driving and planning habits before and during their journeys.
Will the trial be successful? At this stage it is difficult to say and whilst the trial will run until the end of 2017 it is fair to wait and see what road users make of this concept. One thing we can say is that it is good to see new ideas and innovative concepts being thought of with the intention of benefiting road users. It is something we are pushing hard for and we look forward to seeing more ideas breaking through that will make a difference.