Rail passenger survey: punctuality key to rail recovery
09 February 2022
A relentless focus on punctuality and reliability is needed from train operators, says the independent watchdog as it publishes its latest passenger satisfaction survey.
More than eight in 10 rail passengers (85 per cent) were satisfied with their journey in the most recent week of Transport Focus's survey.
Passengers rated how satisfied they were with their overall journey, how punctual their service was, the value for money of their ticket and a number of Covid-related safety measures.
Analysis of the survey results shows that satisfaction with punctuality and reliability is the most important driver of overall satisfaction, followed by the level of crowding onboard the train.
Rail commuters are almost as satisfied as leisure passengers with the data indicating less crowded trains are improving the commuter experience.
Key results:
83 per cent of passengers were satisfied with the punctuality and reliability of their service
72 per cent of passengers were satisfied with the level of crowding
72 per cent of passengers were satisfied with the frequency of services
passenger satisfaction for value for money is lower at 63 per cent
passenger satisfaction with information on how busy the train would be was 60 per cent.
The best performing operators tend to perform best on punctuality and reliability and level of crowding (12-week average results):
c2c top the list with the most satisfied passengers (95 per cent) followed by London Northwestern Railway (94 per cent) and Great Northern, East Midlands Railway and Merseyrail (91 per cent)
for the punctuality and reliability of the service passengers were most satisfied with Merseyrail (94 per cent), c2c (91 per cent) and Chiltern Railways (89 per cent)
passenger satisfaction with the level of crowding was highest on c2c (82 per cent), Merseyrail (81 per cent) and Thameslink (80 per cent).
Anthony Smith, chief executive of the independent watchdog Transport Focus, said:
"Passengers tell us that their top priority is rail services they can rely on. Our latest survey results show a punctual, reliable service will be key to attracting people back to the railway as restrictions ease.
"Frequent services with enough space on board to meet passenger demand and fares that are good value for money will help ensure rail is an attractive option."
Notes to editors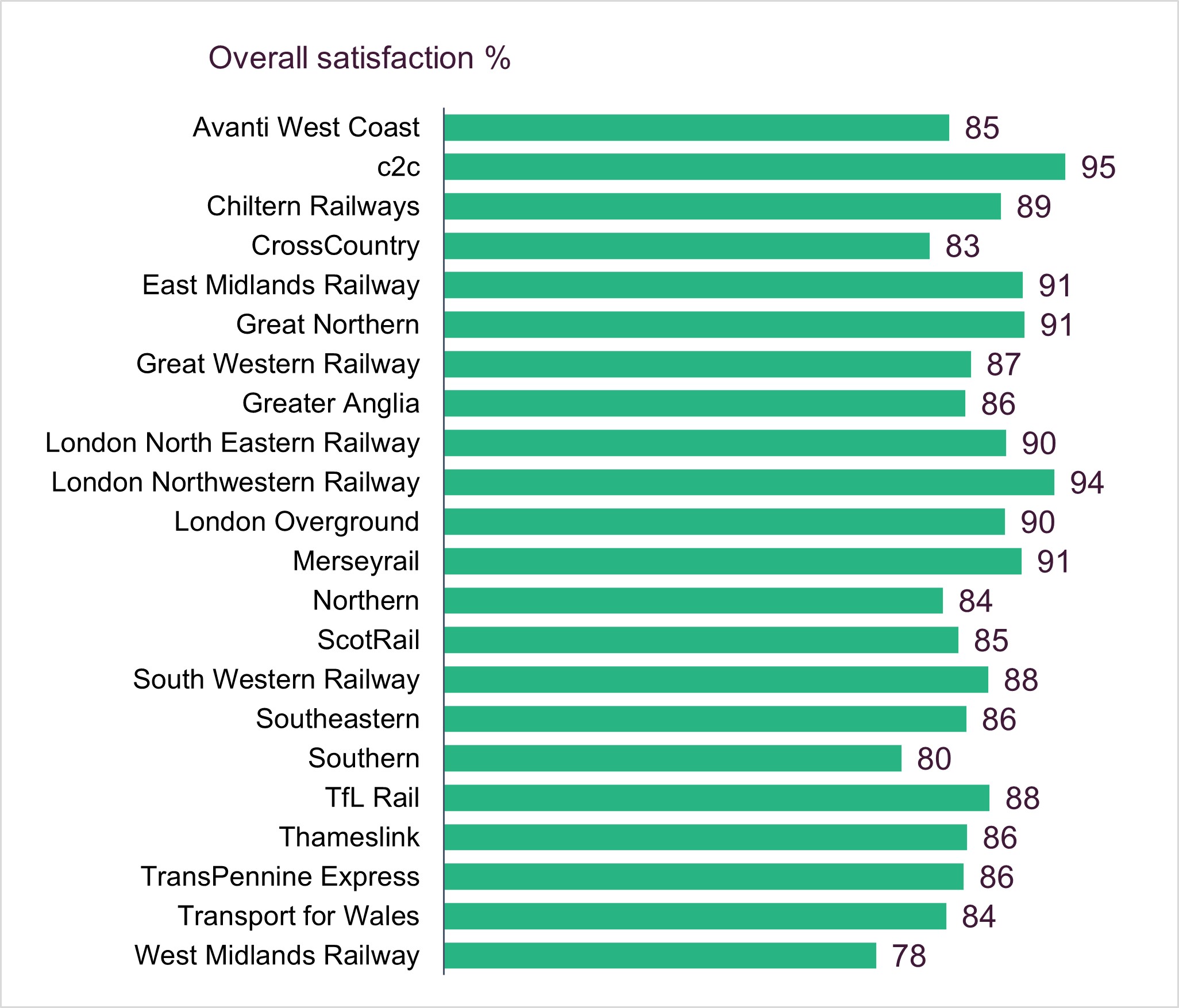 Transport Focus surveyed 5086 passengers across Great Britain over 12 weeks as part of the online survey between 27 October 2021 and 30 January 2022.
National satisfaction scores results are for 26 – 30 January 2022 (377 passengers surveyed) and the train operating company results are over 12 weeks.
For further information please contact: Kieran Watkins, Communications Manager, Tel: 07850 076 493 or email: kieran.watkins@transportfocus.org.uk