Transport User Voice – April 2022 – Around Great Britain
28 March 2022
West Midlands, Wales, Scotland and London
West Midlands
We're continuing our work as part of the Commonwealth Games Transport Steering group. To celebrate the games a bronze-coloured panel depicting athletes in action was installed on the front of the redeveloped Perry Barr railway station. The £30.9 million rebuilding project is nearing completion and will be ready for opening later in the spring.
We have helped West Midlands Trains set up new customer panels. These will give passengers a bigger voice across all 16 routes operated by West Midlands Trains. We have also been working with Network Rail on its long-term plans, as well as a new passenger panel for its north west and central route. This will ensure passengers will be considered when putting together plans that will affect them and the rail network.
On International Women's Day Transport for West Midlands (TfWM) launched its strategy as part of its role as Transport Champion in the Government's initiative to tackle violence against women and girls. You can find out more here.
Wales
Transport for Wales service design panel – West Wales
As part of the Transport for Wales (TfW) service design panel, we recently travelled to Tenby by way of Carmarthen with TfW staff to try out the station audit checklist. That is looking at the quality of things at stations such as cleanliness.
We have been feeding into the audit to ensure that issues important to passengers are being measured. We tested the new checklist at Tenby Station and gave feedback to TfW. We will be out and about trying it at more stations in the coming weeks along with other panel members to ensure the checklist and process are fit for purpose. We were also able to talk to the head of revenue protection and heard about how fare evasion is being tackled on the network – an issue we know is important to fare-paying passengers.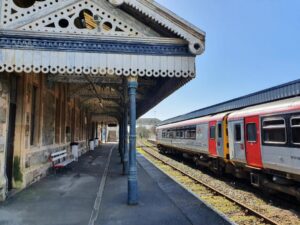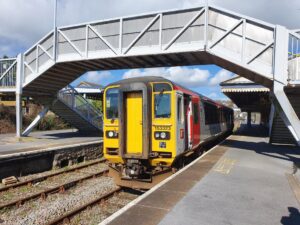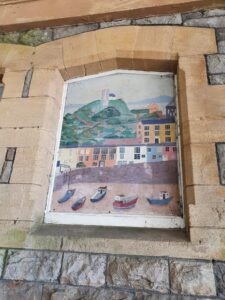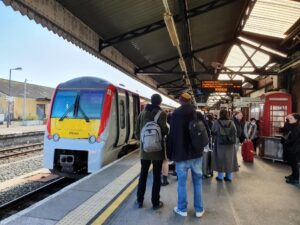 Covid restrictions
On 28 February in Wales, the first minister lifted the requirement to wear face coverings in many indoor settings. However, face coverings will still be a legal requirement on public transport. If the current public health situation remains stable though, all remaining restrictions are expected to be lifted from Monday 28 March.
Free rail travel for Ukrainian refugees
Wales has announced that refugees fleeing from Ukraine will be able to travel for free on Transport for Wales services for the next six months. They just have to show a Ukraine passport to conductors and station staff. The scheme is an extension of an ongoing Welsh Government programme that provides free public transport for asylum seekers in Wales, as part of its ambition to become the world's first nation of sanctuary.
Scotland
On Friday 1 April Abellio ScotRail will become ScotRail Trains Ltd, owned by the Scottish Government. Ahead of the change, we gave evidence to the Scottish Parliament net-zero, energy and transport committee on how passengers should be considered.
We discussed our insight on passenger priorities focussing on value for money and dependable and reliable services. We also looked at how to encourage people back to rail. Much of this was drawn from our weekly surveys during the Covid pandemic. The (draft) official report of the evidence session can be found here.
Also this month our Scottish Board member, Trisha McAuley, chaired the Rail Scotland Conference in Glasgow. The discussion looked at:
how rail can thrive with the new ownership of ScotRail Trains Ltd
what priorities are in place to achieve net zero targets by 2035
how rail can exploit positive trends in innovation and sustainability
how to make the rail network more socially relevant.
We ensured that a consumer perspective ran through the discussions. Trisha will be following up by speaking at Scottish Transport and Infrastructure Investment & Development Conference on Wednesday 30 March.
London
London TravelWatch has been ramping up the work on both its bus and personal security campaigns. On 11 March, following London TravelWatch's lobbying, Transport for London (TfL) released its new Bus Action Plan. This outlines a number of measures aimed at improving bus journey times across the capital. If these are successful it will not only make journeys quicker but will also save TfL millions by running a more efficient network. This is explained in London TravelWatch's bus savings briefing document.
On the 23 March the organisation released its latest research showing how people on lower incomes, people of colour, women and younger people use the bus more than anyone else. It also showed the extent to which many people on low incomes rely on the bus to get to work late at night or early in the morning, including hospital staff and hospitality workers.
London TravelWatch is talking to the transport industry, the police and policymakers to share findings from its personal security research. This includes recommendations on how to reduce levels of harassment experienced by people travelling across the city. This can especially affect young women, people of colour and disabled people.
TfL has now also begun a public awareness campaign about the issue including this  video you may have seen online. London TravelWatch was also delighted to hear Andy Byford, the Commissioner of TfL, praise its work on the issue during TfL's Board meeting on 23 March.
Back to newsletter.