Transport User Voice – July 2021 – Attitudes to public transport
29 June 2021
How different groups feel about travel
How are people feeling about returning to public transport again?
To help transport operators understand this Transport Focus has split the population into five groups according to key behaviours and attitudes as part of our segmentation analysis. This includes how concerned they are about Covid-19, current and former use of public transport and how likely they are to return in the future.
Our latest report shows how our five segments are feeling about public transport and Covid-19 after restrictions eased last month and before significant new announcements about the next roadmap stages. We've been tracking the segments for long enough now to begin aggregating two waves for the first time – making trends clearer and easier to follow.
All groups have continued to travel more for leisure reasons (by any means) and most of the segments have been using public transport more in recent weeks. The Anxious and Affected are the most likely to have ramped up use with one in three saying they've used public transport. However, one in three still say they are avoiding it.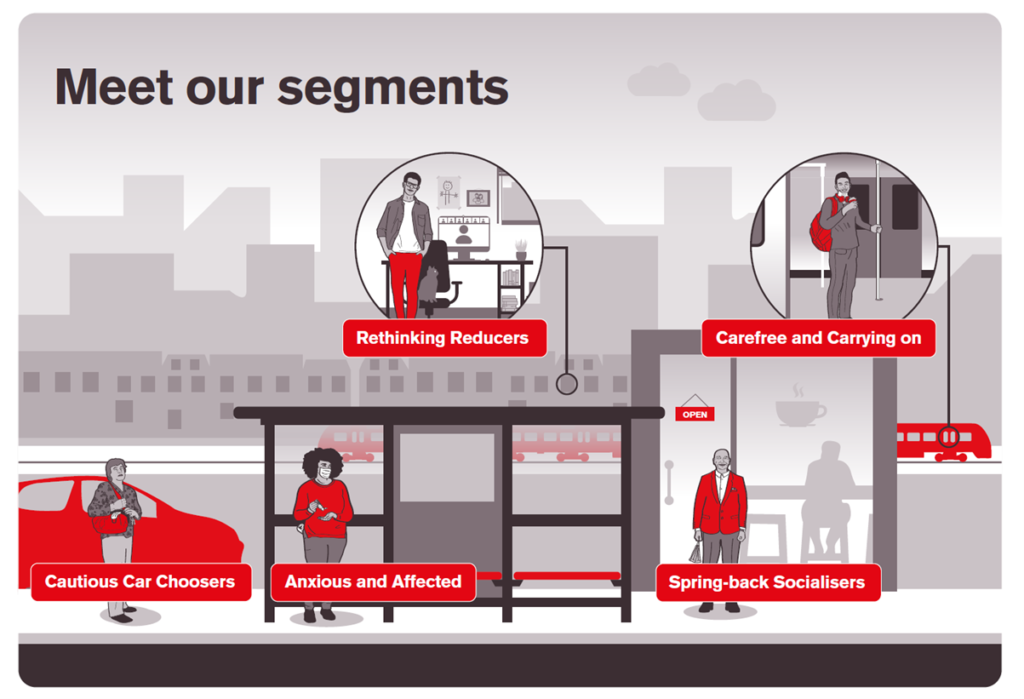 In recent weeks there have been slow and steady improvements across the segments in how people feel about using public transport. However, a majority of each of the segments, with the notable exception of the Carefree and Carrying On, continue to say they won't use public transport unless social distancing is in place.
This time we've asked the segments more questions about face coverings too. Again, the Carefree and Carrying On are the exception, with just three in 10 saying they won't use public transport unless face coverings are required too, while a clear majority of all the other segments say the same. The recent announcement of delays to the easing of further restrictions provides more time for these attitudes to soften.
Looking further ahead, we asked the segments about their use of face coverings on public transport in three months. It's clear that most people expect face coverings to be part of the experience of using public transport for some time. As ever the differences between the segments were striking. At one extreme almost six in 10 of the Anxious and Affected say they will wear a face covering at all times, even if it is not a requirement. While almost half of the Carefree and Carrying On say they will only wear a face covering if it is a requirement. It's clear that despite growing usage there is still some way to go for attitudes to public transport.
We'll continue to track people's feelings and will monitor how the delay to the next stages of lockdown easing affects their views.
Back to newsletter.