Transport User Voice – September 2018 – Compensation for timetable chaos?
29 August 2018
We asked season ticket holders in the north how easy it's been to claim
In early July Northern and TransPennine Express (TPE) announced detail about additional compensation available to passengers with season tickets who had been impacted by disruption caused by changes being made to the timetables in May.
Throughout the disruption Transport Focus had been monitoring the impact on passengers, including asking members of our Transport User Panel about their experiences. In mid-August we asked these Northern and TransPennine Express passengers about their awareness of the additional compensation and their experience of making a claim.
Overall it is encouraging that our findings indicate most eligible passengers are aware of the additional compensation, but some still say that they know nothing about it. We are encouraging the train companies to continue efforts to raise awareness and prompt eligible passengers to claim.
A summary of the key findings below (or download the full report)
Awareness and eligibility:
Awareness of the availability of the compensation amongst our panellists who use Northern or TPE trains at least a few times a month is good. 80 per cent say that they have at least heard about the additional compensation.
The majority of panelists who believe themselves to be entitled to the compensation say they have already made a claim. However, some passengers are not sure if they are eligible for compensation, for example if using multi-modal season tickets.
It appears the experience of being denied Delay Repay compensation means they mistakenly believe they cannot claim this additional compensation either.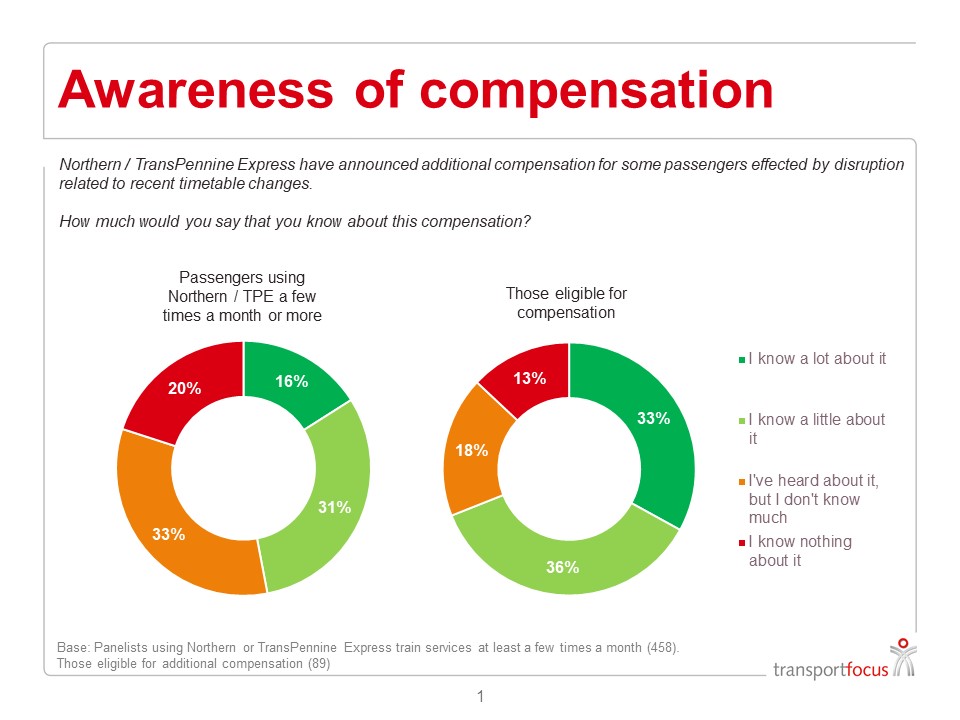 Experience of claiming and views on the compensation:
The majority of panelists who have made a claim for compensation say that they found the process easy. However, a small number of passengers report not having received an acknowledgement or confirmation of the award of compensation. Others indicate confusion over the submission of appropriate evidence.
Passengers have a wide range of opinions on the additional compensation. Some are pleased to have received it, while others feel that it is inadequate considering the impact and continuing delays and disruption they are experiencing.
Passengers affected by the disruption who are unable to claim because they do not use season tickets feel particularly aggrieved. It is important the industry compensates these passengers fairly too.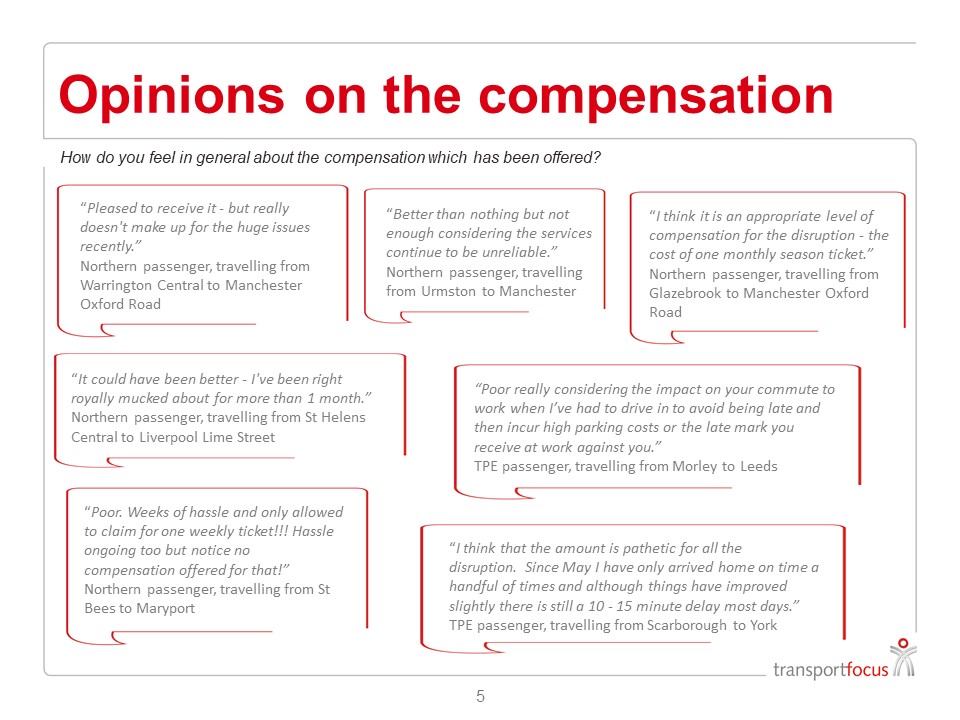 Back to newsletter