Transport User Voice – September 2018 – High Quality Buses for Harrogate
29 August 2018
Evaluating a new fleet designed to offer passengers a good experience 
Passengers in Harrogate can now travel on new buses in improved comfort and do their bit for the environment.
Transport Focus joined industry colleagues to see Transdev Blazefield's fleet of eight new zero-emission electric buses when they were launched by Transport Minister Nusrat Ghani MP and Andrew Jones MP.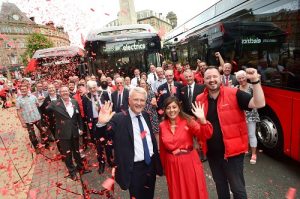 On board, the buses have good audio-visual information to tell passengers where they are along the route. Our Bus Passenger Survey shows that where passengers see this in place, satisfaction with information is improved by around 20 per cent. Young people also tell us this gives them better confidence to travel by bus.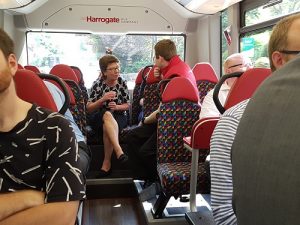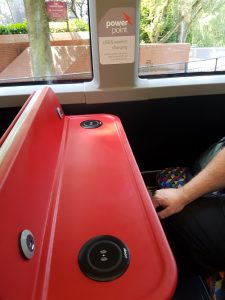 The interior is uncluttered with seats that are comfortable, well-spaced, and have lots of legroom. The high ceilings, deep windows and air conditioning give the buses a light and airy feel. There are even recycling bins. Passengers can also take advantage of USB charging points at every seat to top-up their devices – an increasing priority, particularly for young people.
Passengers tell us that one of the key ingredients for high satisfaction is the quality of the on-bus environment and comfort. So it's good to see this at the heart of creating an inviting travel experience. We will also be sharing this good practice, so passengers in other areas can enjoy better journeys in future too.
Pictures: TransDev Blazefield/The Harrogate Bus Company