Transport User Voice – Waterloo station upgrade: giving passengers a voice
31 August 2017
How was the London Waterloo station upgrade for you?
Transport Focus has be monitoring the impact of the station disruption on passengers over the summer and making sure the passenger voice is heard.
The works at the UK's busiest station extending the platforms for longer trains will make room for more seats and creating extra space for passengers. This meant over half of the station closed while the major works could take place.
Prior to the works beginning we worked with South West Trains and Network Rail to carry out a number of surveys with passengers assessing their knowledge of the works. Having spoken to 1000 passengers, over nine out of ten passengers were aware of the planned works. Knowledge of the reasons for the work also went up and the information available was seen as good.
During the works we were on the ground at the station and also speaking to passengers in our Transport User Panel through a number of short surveys. By and large passengers said they were content with their journeys throughout the works. However, in our latest survey there was a shift in passenger sentiment with more passengers being angry, frustrated, stressed and worried linked to the additional disruption at the end of last week.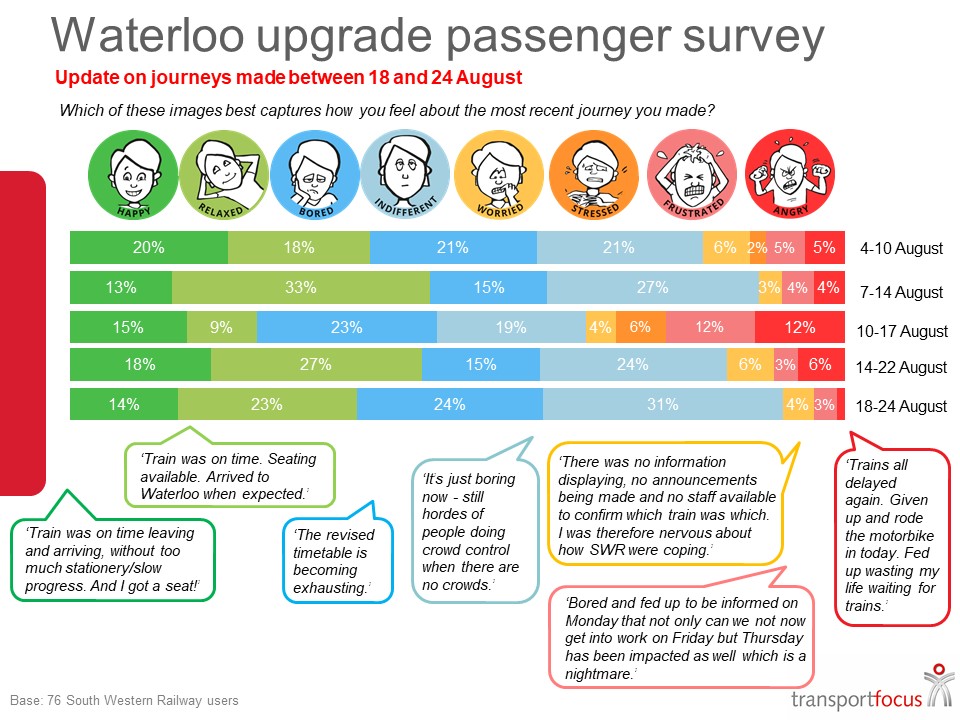 Throughout the works we raised a number of issues which have been affecting commuters with South West Trains and Network Rail and the new operator South Western Railway. We're pleased to report that many of these issue were quickly been responded to and resulted in a number of improvements for passengers.
Compensation: we welcomed the announcement that South West Trains monthly and annual season ticket holders would have two weeks free travel in compensation for inconvenience during the works. We have continually urged the industry to do the right thing – it's good that, at last, they've listened. You can read our response here.
However, through our monitoring, passengers have indicated they are unclear how to make a claim. Transport Focus has asked South Western Railway to make information clearer and simpler for passengers to claim compensation, and, asked how the train operator is alerting passengers about the compensation on offer.
Passenger information: far too many passengers using Windsor Line services were waiting in front of the screens by platforms 11 to 19 as it was not clear enough that their services would depart from platforms 20 to 24. This resulted in them needing to rush across the concourse to catch trains once announced. We secured increased signage from Network Rail to help inform passengers which services were leaving from these platforms. The new screens had a clear impact with more passengers waiting by the right platforms.
Bus information: Transport Focus spoke to a number of staff at Waterloo about where they could catch buses as bus stops had been relocated. We found a real lack of knowledge about this with staff unable to quickly locate the information themselves. South West Trains responded by re-briefing its agency staff and volunteers regarding bus information. Wayfinding maps highlighting where bus stops were located were also issued to staff and passengers.
You can see all our updates capturing the passenger experience during the works here.