Transport User Voice – November 2018 – Saturday strikes – the passenger viewpoint
29 October 2018
Northern passengers tell us how they have been affected
Industrial action by members of the National Union of Rail, Maritime and Transport Workers (RMT) has affected Northern train services on consecutive Saturdays since 25 August. On strike days, Northern has run only around 30 per cent of train services, with bus replacements on some lines, very few services before 9am or after 6pm and no service at all at some stations. At present, this dispute is set to continue until 10 November, for what will by then be a total of 35 days overall.  It is passengers who suffer most in rail strikes, it is important all parties get back around the table and reach an agreement without bringing the railway to a standstill.
In early October, Transport Focus contacted Northern passengers on our Transport User Panel to ask them about the impact of the ongoing strike action on them, and their views about how this long-running dispute is affecting their lives.
In summary, this panel research shows the disruption is eroding trust among the travelling public, coming on top of the damage caused by the disruption following the May timetable change.It remains unclear to passengers exactly what changes Northern may seek to make to staffing on trains or at stations and how these changes might affect their journeys in future. If trust is to be rebuilt, then Northern, Department for Transport and Transport for the North will need to communicate much more clearly, and transparently, about the plans for the franchise and urgently address passengers' concerns about accessibility and personal safety.
Around seven in 10 passengers who responded to our survey say that they have been affected by the strikes in some way.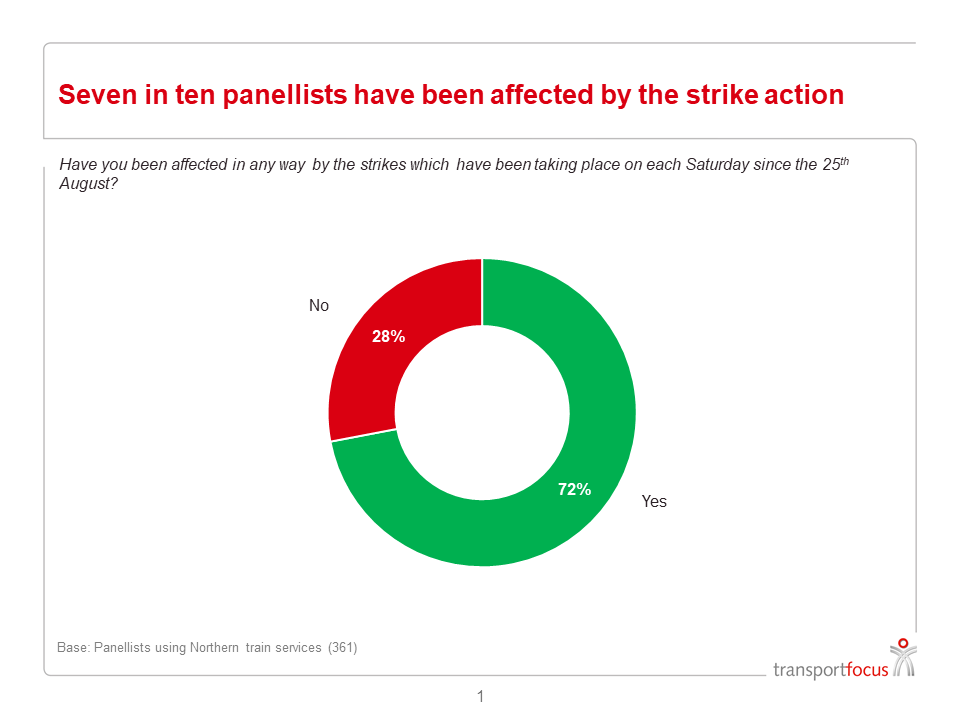 When asked about the impact of the strike action, passengers indicate a high degree of frustration. Many have had to abandon their travel plans, while for others getting to places at the weekend has been, or will be, a real struggle. The strikes have had a severe impact on passengers who are required to work at the weekend.
'Unable to travel for work. I have to finish work early as there is no late service home. I am impacted financially by this.'
Commuter, Leeds to Skipton
Passengers are often sharply critical of Northern or the RMT or both. Many are frustrated there seems to be no end in sight to the disruption.
'There is no sign of a resolution and both Northern and the RMT seem happy to let the strikes drift on. The situation should be brought to a head. Nine weeks of Saturday strikes is totally unacceptable.'
Leisure traveller, Horsforth
Some passengers indicate that the strike action has severely affected their confidence in travelling with Northern.
'I no longer have any confidence in the Northern network. I have only used the train three times since May and feel trapped in my home because I have not been able to get out and about as I would have done. I feel really depressed about the rail services and am not sure whether I will ever return to routinely travelling by Northern trains.'
Leisure traveller, St Annes-on-Sea
We asked passengers whether they think the eventual outcome of the dispute could mean their journeys are different in future. Some passengers say they don't know enough about Northern's plans; others think their journeys could be improved if the role of the guard changes.
'I do not think the travelling public are being fully informed of what Northern wishes to achieve.'
Leisure traveller, Knaresborough to York
'Journey times should improve because passengers will be able to get on and off trains faster with driver-operated doors… The on-board staff will have more time to assist passengers, check tickets and collect unpaid fares.'
Business traveller, Rotherham to Doncaster
However, many passengers raised concerns about travelling on a train without a second member of staff in future. Common themes are accessibility and assistance for those who need it, as well as personal safety and the behaviour of other passengers, especially late at night.
'The guards are helpful and an important part of the journey. Help travellers, provide information, sell tickets. They help disabled people to get on and off the trains so who would do that job without them?'
Commuter, St Bees to Whitehaven
'Late night trains can be rowdy, I would hesitate to travel late night if no staff on the train.'
Commuter, Worksop to Sheffield
The full survey report, Impact of strikes on Northern passengers and their views on the dispute – Transport User Panel Survey, is available to download.