Value for money still key priority for rail passengers
27 November 2017
Value for money remains the top thing rail passengers want to see improved.
The independent watchdog Transport Focus asked more than 12,800 people to rank things that would most improve their journey experience. Value for money came top, followed by getting a seat and improved punctuality.
Transport Focus chief executive Anthony Smith said:
"Improving value for money is about more than ticket prices, although passengers would welcome a price freeze. We know value also covers the basic delivery of the industry's promises about the timetable, length of trains and information during delays. Also making sure passengers feel they have bought the best value ticket for their journey is becoming increasingly important as split ticketing erodes trust and reform of the fares structure is still some way off.
"The desire to get a seat or at least stand in comfort can be hard to deliver even with the welcome new and bigger trains coming into use – passenger numbers continue to grow. However, this report throws a highlight on the industry to make sure that crowding is not made worse by poor performance, cancellations or short formed trains: again, the basic things we expect."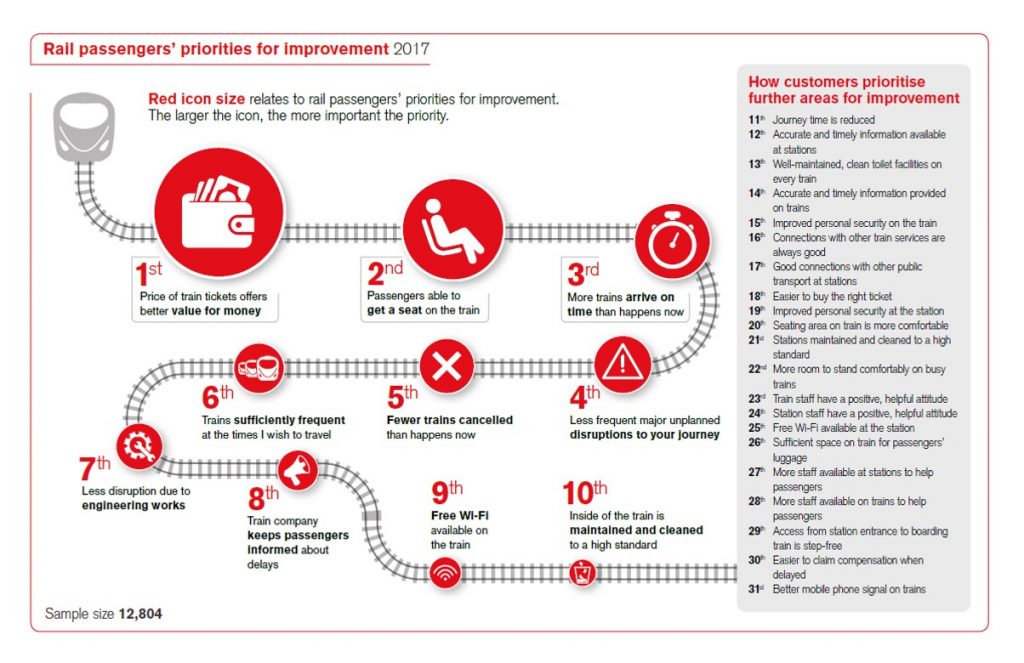 Notes to editors
This research was based purely on people's aspirations – the improvements were not costed, nor subject to a cost benefit analysis.
The watchdog speaks to more than 50,000 passengers a year as part of the National Rail Passenger Survey (NRPS). The NRPS measures passengers' satisfaction with various aspects of their rail journey.
We have produced a simulator tool that you can use to run priorities for different groups of passengers. For example, you can run priorities by train company, region or nation, journey purpose, age and gender.