Bus drivers – making all the difference for passengers
15 March 2018
The recent cold snap of weather in the UK has shown how vital transport is to everyone, whether that is getting deliveries to shops to keep the shelves well stocked, or getting people to work through the snow. None more so than bus drivers who have worked hard to keep services going, even in the harshest of conditions.
Battling through snow on slippery road surfaces in a large, heavy vehicle must be a tough job. Ensuring the safe transit of passengers to their destinations carries a large responsibility, and we've seen numerous examples recently in the media where buses continue to provide valued services to passengers in extreme weather.
Our annual Bus Passenger Survey is out today having spoken to over 48,000 passengers across Great Britain. Overall passenger satisfaction was 88 per cent in England, outside of London, 89 per cent in Scotland and 90 per cent in Wales.
Passengers are telling us in the survey that bus drivers are key to a 'great' service. Time and time and time again we consistently find that the bus driver, through their appearance, greeting, attitude and quality of driving makes all the difference between a 'good', and a 'fantastic' journey. It is reassuring to see that passenger satisfaction with all the measures relating to the bus driver show a slight improvement in 2017. Is the time and investment in supporting and training drivers by the industry starting to reap some reward for passengers?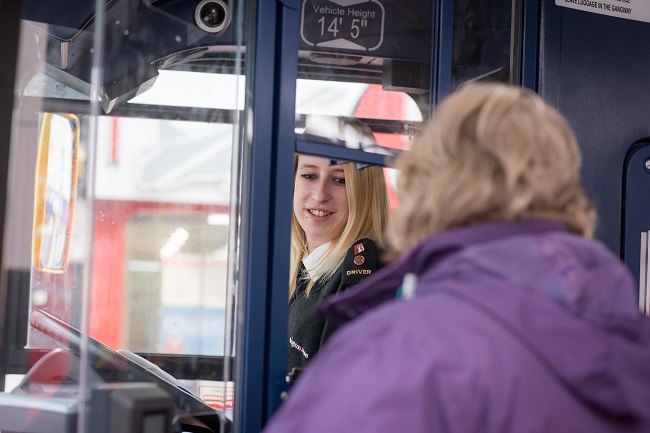 Colleagues in our Manchester office recently reported back on a couple of journeys using buses, with interesting observations. In the first instance, a colleague's journey by tram was cut short by a problem further up the line, resulting in the need to switch modes to continue their journey. Not great, but when these things happen it's usually a bus that provides the alternative and so was in this case.
Thankfully, the bus arrived quickly and with enough seating to accommodate everyone, was warm and provided free Wi-Fi – all important aspects of a good journey. Unfortunately the journey wasn't without its issues. The problem was with the driver of the bus. Quite grumpy, abrupt and unwilling to provide much in the way of useful information to passengers already having a disrupted journey. A few passengers on the bus were heard complaining about similar treatment. Not good in what should have eventually been a positive experience.
The other observation from a colleague again involved the driver. This time, their bus driver was heard being far from considerate to other motorists, with examples of what was said as unrepeatable in this blog! Stressful, congested roads aside, we would hope that passengers and other road users experience a high level of professionalism from their bus drivers.
Important then, that bus drivers are supported by operators to understand how vital their role is within public transport, and how what they do plays a major part in making the difference for passengers. Good customer service is key to improving passenger trust and can encourage more journeys by bus. The bus industry is making a real effort to improve the training it gives its drivers, the work we have carried out and today's survey results should help to build on these efforts.
For all the latest results from our Bus Passenger Survey click here.