Wow, train tickets can be confusing…
02 October 2020
Working out what's going on when you're planning a train trip or buying a ticket isn't always easy on some routes at the moment. It's mainly longer-distance trips that are the problem. On most journeys a ticket from your station to the next is no different than before.
We understand that Covid-19 has disrupted everything, but there are real consequences for passengers in the current situation – uncertainty, potential to pay over the odds, false confidence that you'll have a socially distanced seat, or simply time wasted researching and buying a ticket. The ability to make an informed purchase is a key consumer principle: it mustn't go out of the window because of Covid-19.
And there are potential long-term consequences for the rail industry in this, including for leisure travel – getting in your car is remarkably simple in comparison!
First, the timetable isn't currently confirmed as correct for more than about two or three weeks ahead. You've got to be careful not to buy a more expensive ticket simply because the Advance prices aren't yet showing. The tweet below highlights that passengers are finding it difficult to distinguish between trains that are full and those that haven't yet gone on sale.
On the plus side, it's good to see that train companies are working on plans to get Christmas and Easter tickets on sale sooner than two to three weeks before – but frustratingly, given that it is the leisure market that has recovered first, it's still going to take until late 2021 to get back to the industry standard for the timetable being correct 12 weeks ahead. You can read our letters to the rail industry about this here.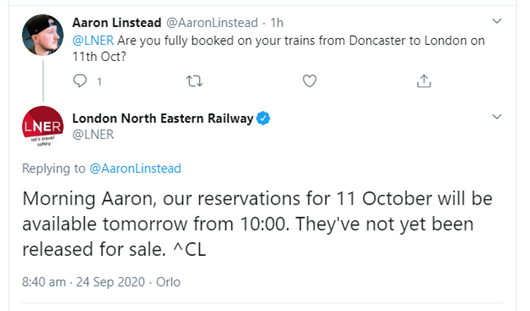 Second, the introduction of compulsory reservations by some train companies – with or without an allocated seat – seems to be causing all sorts of confusion. It's not always clear why no prices are showing for a particular train. If the train is full in Covid-safe terms, just say so!
And judging from passengers' tweets, train companies aren't doing well at explaining the concept of a 'counted place' – the right to get on a particular train, but not with an allocated seat. Some of the replies from the industry seem to make no sense. How can you have a reserved seat that is not a specific seat? No wonder the passengers are confused. You can see the concerns we've raised with the Rail Delivery Group about this here.

Finally, there are the railway's refund policies and 'change' fees. Passengers who don't travel because of local lockdowns shouldn't be out of pocket for doing the right thing and staying put. This was done well earlier in the year: refunds were given and £10 fees waived. But then local lockdowns came along just as the normal rules came back in. You can see what our Transport User Community said in our latest report. We have asked the Government to look again at the 'no refund' rule for Advance tickets and the £10 fee to move your reservation to a new date or get a refund on Off-Peak or Anytime tickets.
In the meantime, is the following clear enough to passengers buying tickets?
that if you buy an Advance ticket it is not refundable, even if you can't make the trip because of Covid-19 regulations or a local lockdown?
that on some routes Off-Peak and Anytime tickets (the ones we used to think of as 'walk up' tickets) are no longer turn up and catch any train you wish, you now have to reserve as well?
Transport Focus will continue helping the rail industry to improve information so passengers are clear what they are buying.