Before the Coronavirus pandemic, the Tram Passenger Survey (TPS) benchmarked tram operators and authorities against one another across robust measurements of satisfaction. This allowed us to seek improvements for transport users by understanding their needs and experiences, measuring passenger satisfaction across numerous transport modes.
This survey was recognised as a benchmark for understanding the passenger experience and was used by local authorities to plan service improvements.
Download the most recent TPS report, published in June 2020.
Due to the pandemic and a significant drop in the numbers of people using public transport, TPS has been paused. Transport Focus continues to speak to thousands of passengers and former passengers to get a picture of future travel plans, feelings about travel and experiences of travel. This is reported weekly – please see our Coronavirus insight page.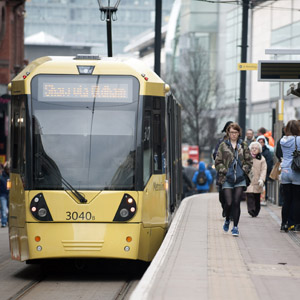 Manchester tram passengers more satisfied with staff
Following a focus on making improvements based on our Tram Passenger Survey, passengers reported increased satisfaction with staff on the Manchester Metrolink. Ratings rose from 82 per cent in 2017 to 89 per cent in 2018.